Home Business Magazine Online
It is easy to launch a home-based business. In fact, statistics show that over 40 percent of entrepreneurs do it for $5,000 or less.
However, making that business succeed is much more difficult. Studies show that 20 percent of small businesses will not survive the first year, and by the five-year mark, nearly 50 percent have failed.
One of the best ways to beat the odds and launch a successful, long-term business is to learn from a mentor who has proven that he or she knows what it takes. Sarah Otto is one such mentor.
Training entrepreneurs through LINKED
Otto is the founder of LINKED, a leading provider of training for entrepreneurs in the permanent jewelry industry. The training Otto provides gives her students the skills and materials they need to make as much as $350 per hour selling permanent jewelry.
"Permanent jewelry is not the type of business that takes tens of thousands of dollars to launch," Otto explains. "The barriers to entry are incredibly low, and getting it going happens very quickly. I have seen entrepreneurs with very little business experience have amazing success by setting up tables at spots or events right in their neighborhoods, like boutiques, coffee shops, farmer's markets, or concerts."
Otto's training is especially valuable because it happens completely online. All of the classes are virtual, which means entrepreneurs can access them whenever and wherever it works best for them. Students, moms, and those working a 9-to-5 job will find LINKED training to be a valuable tool for getting the skills they need to launch an entrepreneurial lifestyle.
Those who participate in the training courses get all the knowledge and skills they need to prepare the jewelry and market their new business. They also get all the tools and materials they need.
"My course gives you everything you need to start your very own, independent permanent jewelry business," Otto explains. "It also gives you lifetime access to business support, which means we'll be here to help you figure out problems that pop up along the way."
Understanding the allure of permanent jewelry
Permanent jewelry is a relatively recent trend in the fashion world. As the name suggests, it is jewelry that is not meant to be removed. The bracelets, necklaces, anklets, and other pieces of permanent jewelry are secured through electrical welding rather than by a clasp.
"When people first hear about it, they have the impression that we are soldering the jewelry," Otto says, "but it is welding that is used to secure the jewelry. It is a completely safe and painless process during which the welding instrument, jewelry, and customer's skin all remain cool."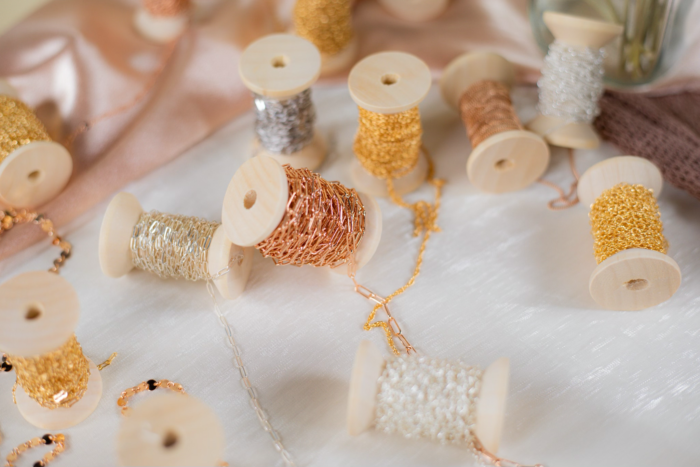 Fashion experts believe people enjoy permanent jewelry because they see it as a sign of commitment. Otto agrees, saying it can be a serious bonding experience. She says she sees a lot of people get "zapped" — the term used to describe the process used to weld the jewelry — in groups.
"Permanent jewelry becomes a powerful memory for husbands and wives, mothers and daughters, best friends, or dating couples who take home a long-lasting, tangible memento of their time together," Otto says.
Otto also says the jewelry is extremely convenient because it does away with the problem of forgetting to put on jewelry before leaving the house. "Permanent jewelry works every day," she says. "You don't need to remember to put it on because it is already there."
Creating more than memories
For Otto, training people on permanent jewelry is not the end goal. The true mission of LINKED is to help people from all walks of life develop and use their skills to create financial freedom. What she really loves is seeing female entrepreneurs have true, sustainable success by becoming empowered as entrepreneurs. LINKED has allowed her to empower numerous women to achieve success, and she hopes to continue to inspire more.
The post LINKED Teaches Entrepreneurs How to Run a Business from Home appeared first on Home Business Magazine.
Original source: https://homebusinessmag.com/success-stories-lifestyles/linked-teaches-entrepreneurs-how-to-run-business-home/