Home Business Magazine Online
To stay as productive as can be every workday, it is vital to have great sleep hygiene — as a business owner, you know how difficult it can be to focus on tasks and plow through emails if you didn't sleep well the night before! That said, have you been thinking of upgrading your mattress because your current one is uncomfortable and/or makes you wake up in pain each day? Or, do you overheat while sleeping on your current mattress? If so, the MOLECULE 2 AirTEC

Mattress is an absolute must-have for you.
Home Business Magazine had the opportunity to check out the MOLECULE 2 AirTEC

Mattress, and it absolutely exceeded expectations. This first-of-its-kind, recovery-based mattress will guarantee an incredible night of sleep, every night! How? Well, it is über-comfy, clean, and backed by science.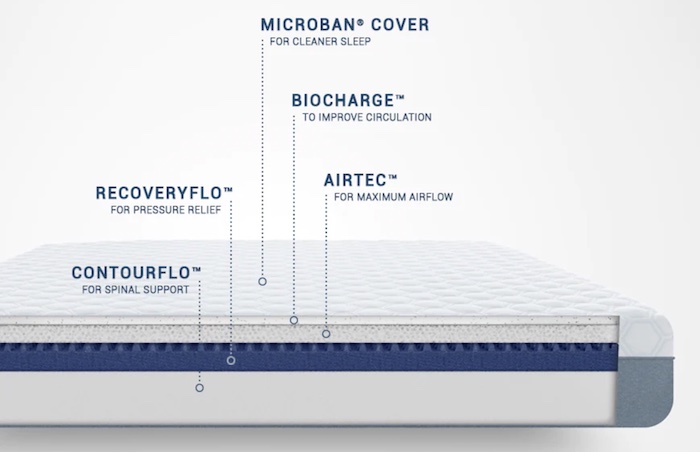 First off, the MOLECULE 2 AirTEC

mattress contains proprietary open-cell AirTEC

foam made with Air-Engineered

technology that forms a matrix of open cells for unprecedented airflow — it delivers double the airflow of the leading competition! This results in better heat dissipation and better sleep. This foam provides the responsiveness and buoyant feel of latex, but with unsurpassable airflow and a high level of durability. The foam's unique properties also relieve pressure from the heavier parts of the body (like the head).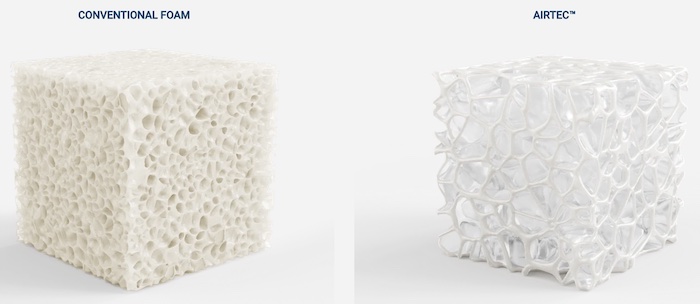 Above the AirTEC

layer is MOLECULE'S proprietary BIOCHARGE

foam technology infused with a natural and powerful crystal combination that is lab-tested and clinically proven to promote proper cell function, boost oxygen consumption, and improve circulation to help your body recover while you sleep. This helps you get the restorative, deep sleep you need to feel well-rested and maintain a healthy life balance. There's a reason why this mattress is a top pick for elite athletes like NFL quarterback Russell Wilson!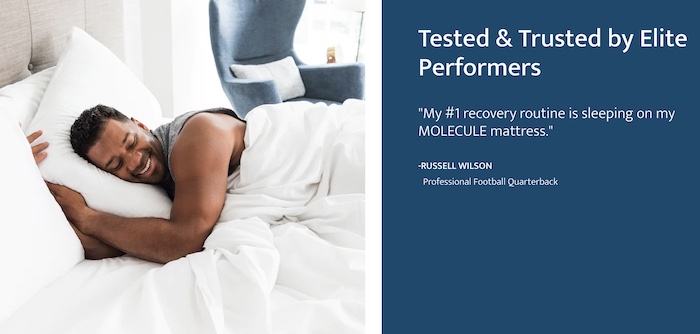 And above the BIOCHARGE

foam technology is MOLECULE's advanced, extra plush quilted cover designed to maximize airflow to help you sleep cooler. This cover is infused with a MOLECULEshield

treatment to help prevent the growth of odor and stain-causing bacteria, mold, and mildew for a cleaner sleep and more restful nights. Sleep experts agree that a clean, cool sleep environment is essential for enhancing your restorative sleep stages — this mattress will ensure you have just that.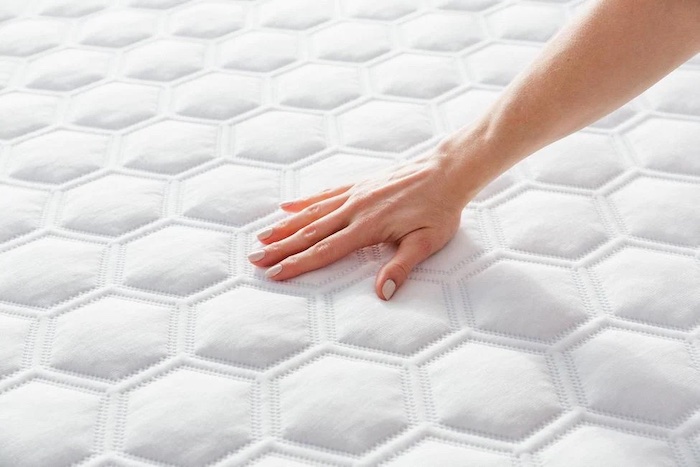 Below the AirTEC

layer is MOLECULE's precision-contoured 3D geometric RECOVERYFLO

surface with 5 zones that provide hyper-targeted, self-adjusting support for different parts of the body. This helps ensure you feel entirely supported while you sleep. This mattress's firm base support also fosters healthy spine alignment and features breathable materials that promote even more airflow and heat transfer.
With a focus on rest and recovery, MOLECULE mattresses are ideal to maximize performance in active lifestyles and beyond. MOLECULE helps achieve optimal — non-REM or slow wave — sleep, which enables the body to restore its muscles, joints, and bones. By creating a mattress that regulates and lowers the body's core temperature, MOLECULE allows for more time spent in this most restorative type of rest, leading to better recovery and heightened physical and mental performance.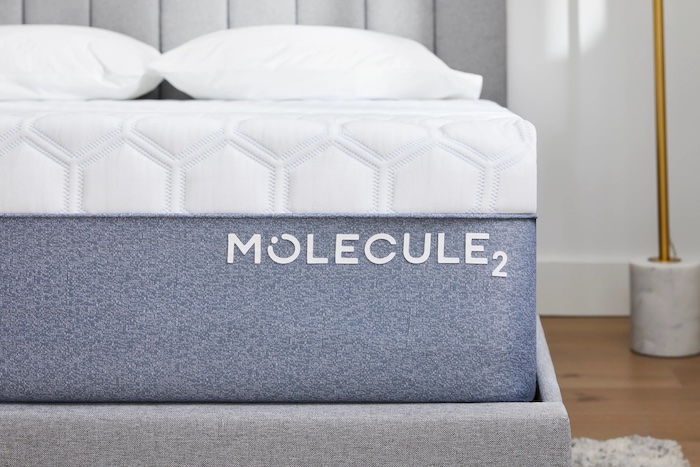 The MOLECULE 2 AirTEC

Mattress is CertiPUR-US® certified and made with eco-friendly manufacturing in the USA. Even better, there is no need to make an inconvenient trip to the local mattress store, as MOLECULE's mattresses are shipped directly to customers in a box and easy-to-open wrapping! MOLECULE also offers a 365-night risk-free trial and free shipping. This outstanding mattress retails for $1199 at onmolecule.com.
The post Maximize Your Sleep Quality with the MOLECULE 2 AirTEC™ Mattress appeared first on Home Business Magazine.
Original source: https://homebusinessmag.com/lifestyles/maximize-your-sleep-quality-molecule-2-airtec-mattress/