Home Business Magazine Online
The 2022 holiday season is now upon us! As 2023 quickly approaches, business owners and startups are finding time for peaceful moments with friends and loved ones. It is so essential to take a breather, regroup, plan ahead, and rest up before a new year. Live with a present moment awareness and soak up the cherished times with those you care about. This will lead to physical and mental wellbeing, and continued positive growth. To assist you on your holiday gift search, we have put together an extensive guide featuring some truly top-notch products. Peruse snazzy tech, lifestyle products, food, beverages, and wellness products. Happy Holidays and good health to you all!
Epson EpiqVision Flex CO-FH02 Smart Streaming Portable Projector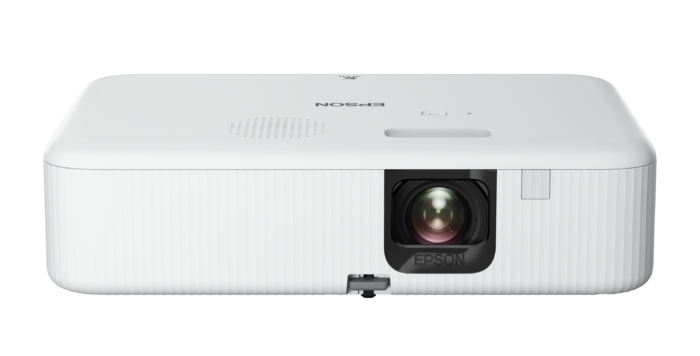 Designed to own any room, the Epson EpiqVision Flex CO-FH02 Smart Streaming Portable Projector allows versatile projection for remote work, home entertainment and beyond. Equipped with 3,000 lumens and Best-in-Class Color Brightness, the CO-FH02 delivers a full HD 1080p picture up to 300 inches – four times larger than a 75-inch flat panel. With its compact design, built-in bass reflex speaker and integrated Android TV, users can easily stream all their favorite channels virtually anywhere in various lighting environments. They can stream channels including Amazon Prime, Apple TV+, Disney+, HBO Max

, Hulu, YouTube

and more, straight from the box. The CO-FH02 even supports Chromecast

, making it easy to wirelessly cast content directly from a smartphone, tablet or computer, and other popular Android

and Apple® Devices. With advanced 3-chip 3LCD technology, the projectors deliver detailed, high-quality visuals in a variety of lighting situations. The projectors easily fit into satchels or backpacks for on-the-go viewing virtually anywhere.
The Epson EpiqVision® Flex CO-FH02 Smart Portable Projector (MSRP $629.99) is available now through the Epson online store and select retailers. The model offers a standard one-year limited warranty, full-unit replacement and free technical phone support for the life of the product. Visit https://epson.com/usa.
Haymaker Headphones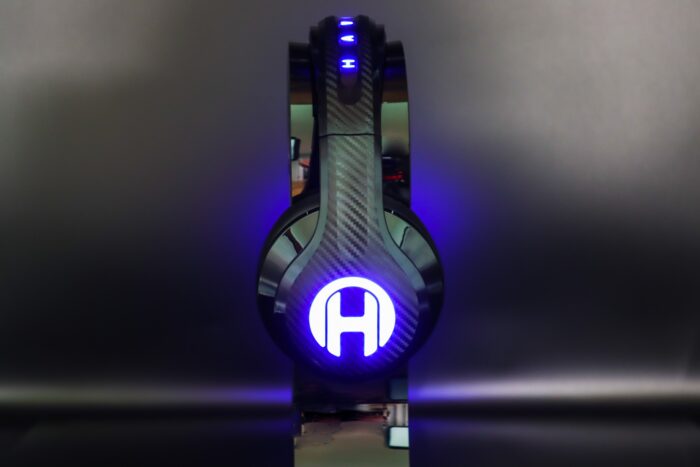 The Haymaker delivers Bluetooth capability, a touch screen interface and active noise cancelling technology in a lightweight, durable frame with a carbon fiber-inspired finish. The premium design is perfect for travelers, audiophiles, fitness junkies, gamers and more! Haymaker Headphones will be an exciting gift for a friend or loved one.
With a sleek, black carbon fiber finish, The Haymaker is the definition of premium. It features two magnetic interchangeable memory foam speaker pad sets – one leather set and one perforated cloth set for both music and gaming. Multicolor synchronous RGB LED lights (eight color options total) line the earphone housing and the headband which is both stretchable and foldable. Haymaker Headphones are equipped with dual mode adaptive noise canceling and touch sensor interfaces to control music, calls and lighting. They are compatible with smart devices and desktop computers via Bluetooth to control music transmission and play, telephone reception and buzz off.
An LED indicator (red/blue double-color LED lighting) on the headphone frame also indicates Bluetooth connectivity, power charge status and low voltage. Additional accessories include a 3.5mm auxiliary cord, universal micro-USB-C cord, carrying case, PC gaming controller adaptor, additional set of memory foam speaker pads and a quick-start guide. The Haymaker is available now at The-Haymaker.com for $329.95. Visit https://www.the-haymaker.com/.
Midea U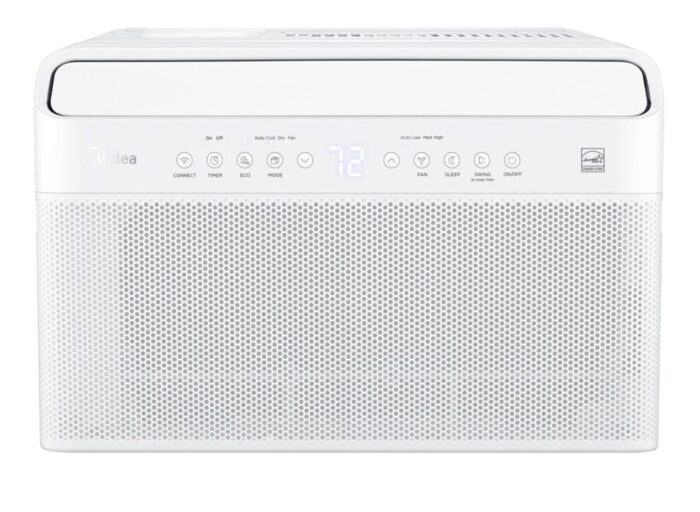 Midea U is the world's first U-shaped inverter window air conditioner. The Midea U boasts an innovative design, simple installation and smart connectivity and is currently the best-selling Window AC with the Works With Alexa certification.
The compact U-shaped design of Midea U enables consumers to normally open and close the window after installation. The exclusive design also blocks the operating noise and compressor sound, creating ultra-quiet operation as low as 42 dB, which is almost as quiet as a library and up to nine times quieter than traditional window AC units.
Midea U is the first window AC unit to obtain the ENERGY STAR Most Efficient 2020 certification. It provides cooling up to 12,000 BTU/h with a record-breaking low estimated yearly energy cost as low as $58, which is more than 35 percent less than similar models already on the market. This is possible due to its patented Inverter Quattro technology, which enables it to do more with considerably less electricity than traditional window AC units. The Midea U was also named Wirecutter's Best Air Conditioner, hailed as the quietest and most energy-efficient window AC ever tested.
A typical AC unit remote has numerous features, and Midea set out to provide users with the ability to unlock many features with natural conversational voice commands through an Alexa smart device. When connected, the Midea U will respond to voice commands like "Alexa, turn on the air conditioner" or "Alexa, change the temperature to 68 degrees" among others.
With Wi-Fi, users can also operate the Midea U via the Midea Air smartphone app, which is available for iOS and Android devices.
In addition to its innovative design and Alexa connectivity, the Midea U offers several other advanced features. Midea U has a stronger airflow than traditional units, cooling spaces in only seconds of being powered on and allowing users to feel the cold air blowing up to 20 feet away. It also offers added home security, deploying an anti-theft mechanism while closed. This feature locks the Midea U to the window frame while another lock prevents it from being raised from the outside. Midea U also comes with an additional window sash lock that can be installed for extra security.
The Midea U is available in three cooling capacities from 8,000 to 12,000 BTU/h, ideal for cooling rooms up to 550 square feet and can only be purchased on Amazon. Delight your friends and family during the holidays with this innovation. More information can be found on their website. Visit https://www.midea.com/us.
Holiday Bakery Boxes from BakeMeAWish.com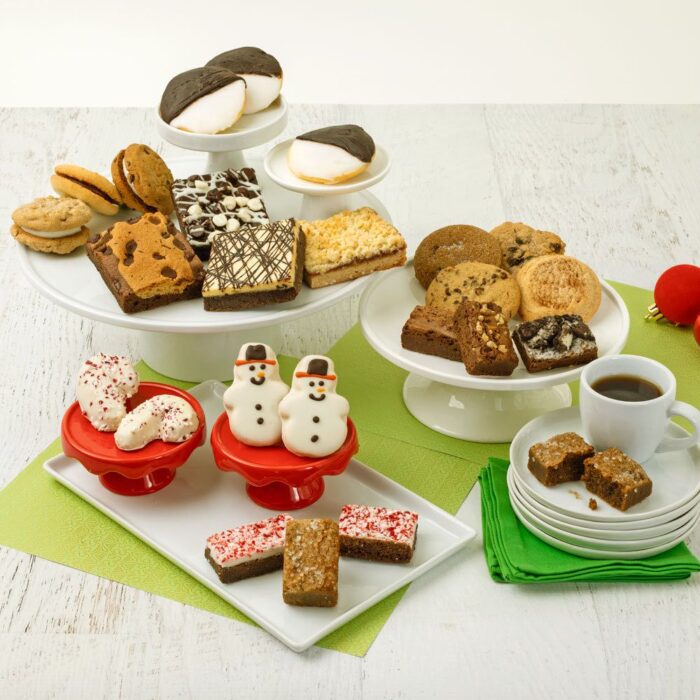 The new decadent bakery boxes include a wonderful selection of cookies and brownies from the Wonderland Bakery Box, the Supreme Cookie Tower, which has enough cookies to share with Santa, and their delicious, best combo size Yuletide Bakery Box. With guaranteed next-day delivery, you can make sure everyone's holiday season is merry and bright! In keeping with their seasonal good-will efforts, 5% of sales support Bake Me A Wish! Cares.
Also included in the holiday lineup are favorites like cheerfully-decorated JUMBO Holiday Cupcakes to the festively-fashioned cookies like the snowman and candy cane cookies in the Gingerbread Snack Box to the beautiful red, white and green colored "Happy Holidays" Cake.  BakeMeAWish.com has the perfect gourmet options for any holiday celebration. "We're thrilled to introduce so many festive new gifts for the upcoming holiday season," says Joseph Dornoff, President of BakeMeAWish.com. "The holidays are a joyous time to celebrate with loved ones, and we're glad our gifts can add to that cheer." Visit https://www.bakemeawish.com/.
Eastern Standard Provisions "The More the Merrier" Holiday Gift Box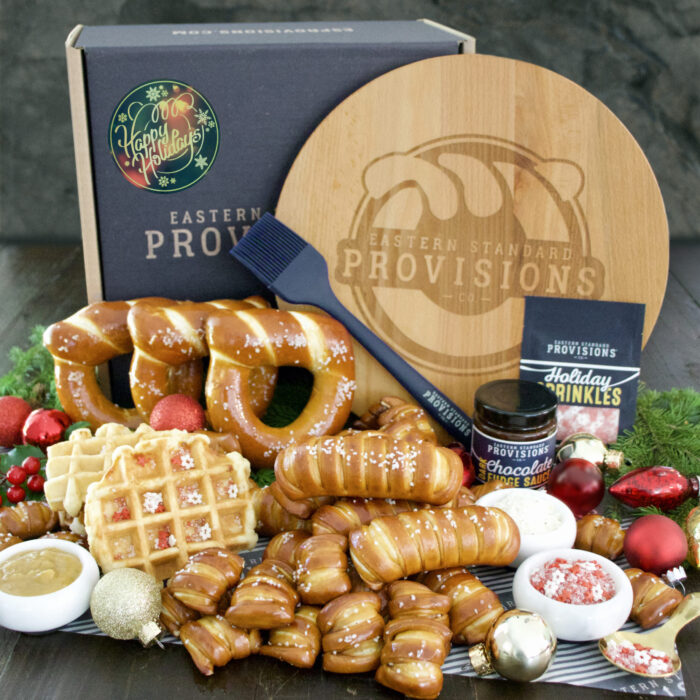 If you're looking to win the holiday gift-giving season, "The More the Merrier" Holiday Gift Box is the way to do it. This is a gift they'll be talking about for years to come and the gift by which all others will be compared.
"The More the Merrier" Holiday Gift Box is a deluxe combination filled with both sweet and savory offerings including their artisanal soft pretzels, Liège Belgian waffles, their gourmet flavored salts, sugars and sprinkles, and artfully crafted mustards. It combines all the sentiments of this festive season into one delicious box and features the widest array of their products you can get in one single gift box including their exclusive Serving Board. It's the perfect gift to give for the person who loves to celebrate anything and everything this season. It includes: (3) Wheelhouse Signature Soft Pretzels, (6) Turnbuckle Soft Pretzel Sticks, (1) Bag One-Timer Soft Pretzel Bites, (3) Classic Liège Belgian Waffles, (1) Dark Chocolate Fudge Sauce (4 oz. Jar), (1) Maui Onion Mustard (4 oz. Jar), (1) Holiday Sprinkles, (1) Three Cheese Pretzel Salt, (1) Classic Pretzel Salt, (1) Eastern Standard Provisions Serving Board, (1) Eastern Standard Provisions Butter Brush, (1) "Happy Holidays" sticker on the outside of the box. "The More the Merrier" Holiday Gift Box is $99.99. Visit https://esprovisions.com/.
Austere Power 4-Outlet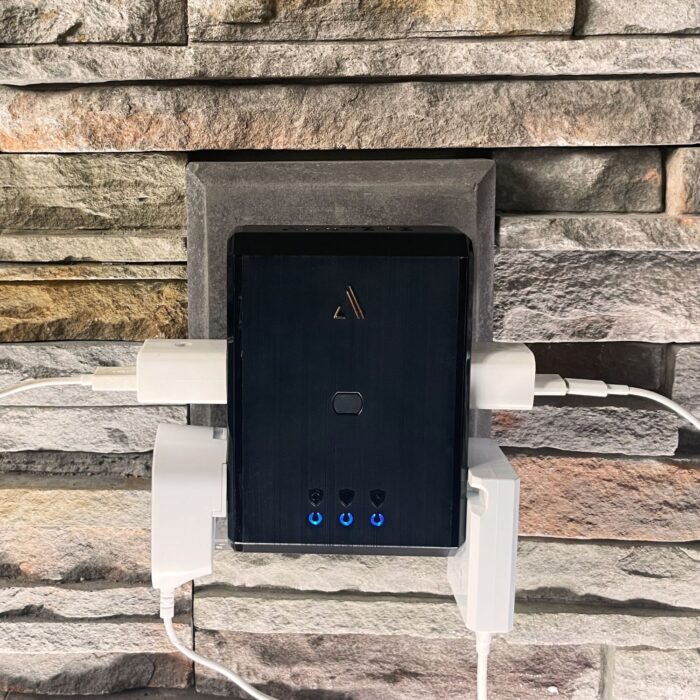 Austere, a leading manufacturer of premium A/V accessories, cables, and Clean & Protect

, is introducing a new line of full-featured, low-profile 4-outlet surge protectors. Designed to fit discreetly in the tightest of spaces, near furniture, or behind wall-mounted TVs, Austere's new VII Series ($129.99), V Series ($99.99), and III Series ($79.99) sit flush with the wall for an elegant and unobtrusive appearance.
Austere believes how a product looks is just as important as what it does. The company's aDesign philosophy elevates function through purposeful engineering and minimalistic design. With the same proven technologies that define the Austere brand, the new models feature durable, fireproof enclosures finished with a distinctive linear texture and Flameless MOV protection which gives you peace of mind that powerful surges will not result in a dangerous fire. Austere's signature three blue LED lights ensure power, proper grounding, and surge protection.
Austere surge protection regulates the power coming from the outside powerline which guarantees devices will not burn out from a high voltage spike that can be harmful to your equipment. Each unit features Austere's OverCurrent protection preventing circuit overload which could cause devices to short-circuit or create dangerous temperatures that may lead to a fire. They are priced at $79.99-$129.99. Visit https://austere.com/.
ZVOX AV52 Bluetooth Noise Cancelling Headphones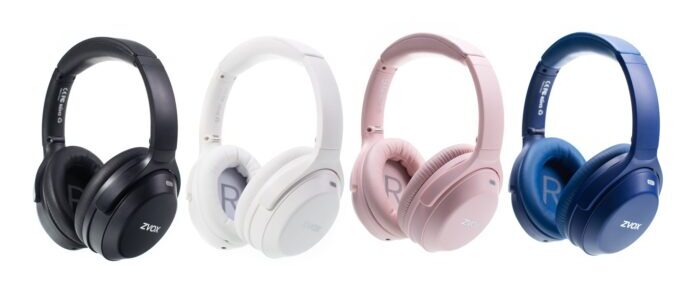 Everyone needs some peace and quiet during the busy holidays. Noise cancelling headphones by ZVOX can help with just that! Two years ago, ZVOX introduced the first noise cancelling headphones with dialogue clarifying technology. The AV50s were hugely successful, and now they are announcing a new and improved version — the ZVOX AV52 Bluetooth Noise Cancelling Headphones. They have a noise cancelling microphone that reduces ambient sounds during call or video conferences. They have improved noise can­cellation which blocks 15% more ambient noise reduction. Its rechargeable battery system lasts for 24 hours or more in noise cancelling mode; this is 3x longer than the AV50.
Your go-getter friend will be extremely comfortable while wearing these headphones. You can wear AV52 headphones for hours without fatigue. They connect wirelessly via Bluetooth or with the supplied cord. A compact carrycase is included. AccuVoice technology gives a boost to voices while reducing unwanted noise. Therefore, the wearer will understand dialogue clearly, without having to turn up the volume. If you are thinking of gifting a friend these amazing headphones and want to check out further products, visit https://zvox.com/.
Ekrin B37S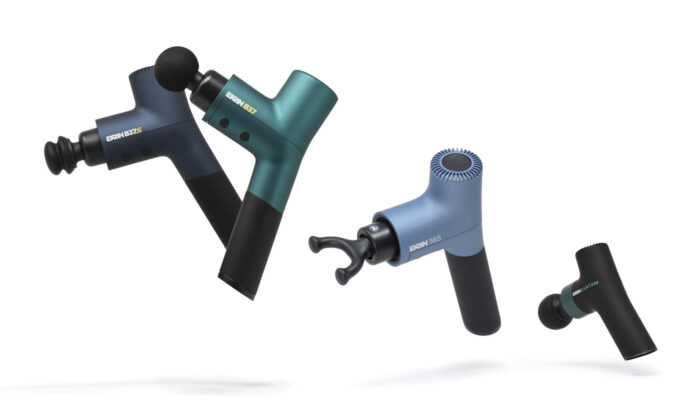 Ekrin Athletics has designed their percussive therapy devices to provide a powerful, efficient, and quiet approach to pain relief, athletic performance and recovery, and increased range of motion. Ekrin Athletics' percussive therapy overrides the pain signals to the brain, increases blood flow in the tissue, and releases tension through a combination of 56 lbs. of force and frequency of 3200 revolutions per minute.
Up to 2 minutes is all you need to take your athletic performance to the next level. Glide the Ekrin B37S along each muscle group post workout to help breakdown fascia and lactic acid for fast, natural recovery. It has 6 attachments. Each attachment is specifically designed with its shape and impact level in mind to give the proper treatment for each area. Its Reactive Force Sensor enables the user to execute precise control over their treatment. The blue light from the Reactive Force Sensor conveniently displays the amount of pressure applied to the massage. At speeds 1-3, the B37S delivers 30% more force than the B37. Added power at lower speeds allows for greater percussive treatment. The B37S delivers power and performance trusted by the pros. From meticulously designed ergonomics to industry leading battery life, every detail is engineered for those serious about whole-body wellness. Ekrin B37S will be a superb gift for your athletic friend and will help soothe their muscles, leading to improved performance.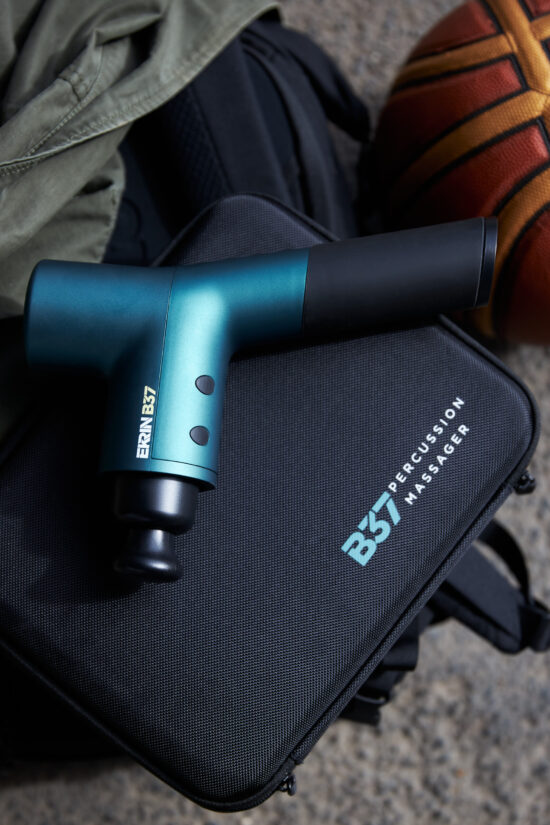 Ekrin Athletics was founded by Dan Kozak and Elise Williams in 2019. As former collegiate athletes, they strive to bring their knowledge and experience in maintaining a fit and healthy body to others. Ekrin Athletics collaborates with pro and collegiate athletes, and trainers to help design products that meet their high standard of performance. Today, Ekrin Athletics is managed by a small but dedicated team to bring muscle recovery products to athletes everywhere. Visit https://ekrinathletics.com/.
Soli Pillow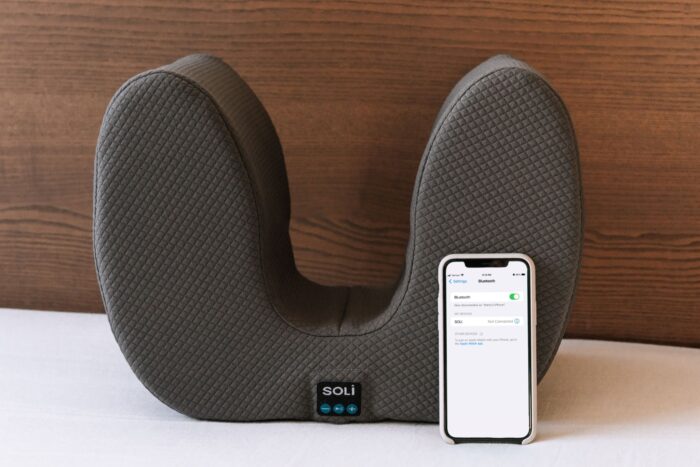 The Soli Pillow is a unique memory foam pillow with soft speakers built into it so you can listen to white noise, music, podcasts, or audio books while you sleep and block out external noises keeping you awake at night. The Soli Pillow is designed to provide ideal head and neck support and incredible comfort in any position, side or back, so you can relax and fall asleep in a peaceful oasis. The embedded soft silicone headphones conform gently to your head with zero pressure or discomfort and deliver hifi sound over your ears. Play time is 10 hours, standby time is 100 hours, and charging time is 2 hours.
The Soli Pillow is the first and only product of its kind, with multiple patents pending in the United States and abroad. Their team designed and sourced every component from scratch, searching for the best materials and the most skilled manufacturers to bring their idea to life. Visit https://solipillow.com/.
Soli True Wireless ANC EarBuds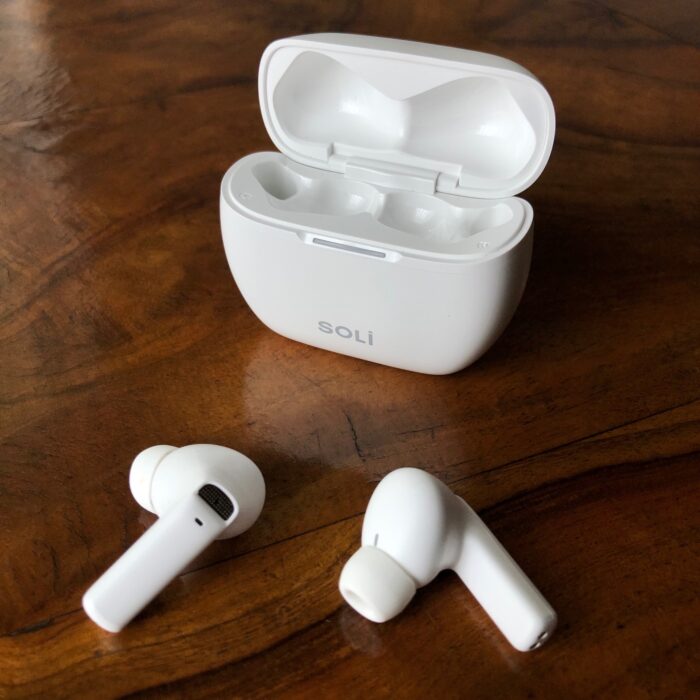 The perfect companion to the EarBliss Pillow, the Soli True Wireless Earbuds are light and comfortable, designed for all-night comfort. The EarBuds feature ANC (active noise cancellation) technology and Bluetooth 5.2, making them ideal for music, movies or video games. Cycle between ANC on, ANC off, and Transparency modes by simply touching either earbud for 2 seconds. ENC (Environmental Noise Cancellation) makes phone calls clearer by filtering out environmental noise. Three pairs of small, medium, and large interchangeable ear canal silicone adaptors are included for a perfect, custom, comfortable fit. Visit https://solipillow.com/.
Level Lock – Touch Edition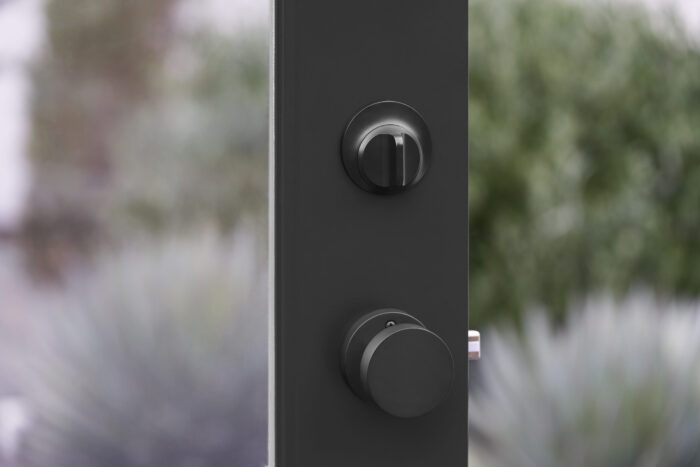 Level, the company redefining the smart home experience, has created secure and aesthetic-forward smart locks. Level Lock – Touch Edition is the smallest and most advanced smart lock ever. Access your home effortlessly with a touch of a finger, key card, app, voice, or regular key. Level Lock – Touch Edition has an adjustable backset that fits both 2 ⅜" and 2 ¾" profiles. It has 4 colorways: Satin Nickel, Satin Chrome, Polished Brass, Matte Black. It is available with a matching OMNIA lever set. Level Lock – Touch Edition is $299. Visit https://level.co/.
SpunkyJunky's Classic Bowl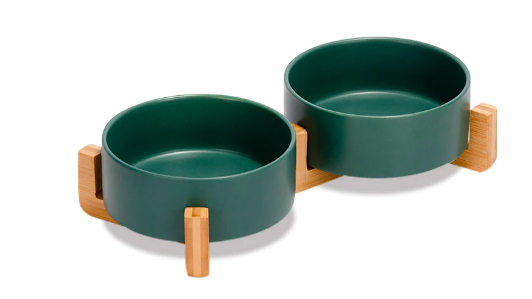 SpunkyJunky has the perfect gift for pet lovers who also love home decor. SpunkyJunky offers high-quality ceramic bowls that meet dogs' health requirements while making a stylish addition to your home. SpunkyJunky's bowls are made from eco-friendly, safe and durable materials, and come in a variety of sizes and styles that are specifically designed to promote healthy eating habits for dogs of all breeds and sizes.
With top ratings on Amazon, SpunkyJunky's Classic Bowl is durable enough to resist damage from chewing, while the Functional Slanted Bowl is ergonomically designed to minimize the strain on shoulders and throat. The newly released Galaxy Bowl is manually glazed, making each product as unique as your pet. All bowls feature a unique non-slip bamboo stand that minimizes spilling, keeping your floor spotless. SpunkyJunky's Classic Bowl has a retail price that starts at $27.99 (depends on size and style). Visit https://www.spunkyjunky.com/.
KEEP>GOING GoKit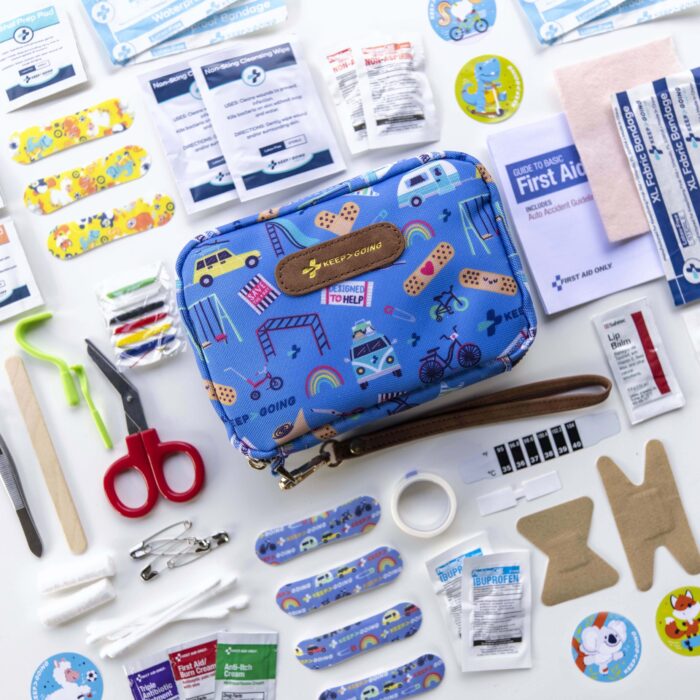 KEEP>GOING First Aid has the perfect gift for the active family. For families, a well-stocked first aid kit is absolutely essential, as every parent knows that nothing derails a family adventure more quickly than an unexpected scrape or tumble. Unfortunately, most commercial first aid kits are simply too bulky to be easily carried along on any given trip.
KEEP>GOING First Aid designed their premium first aid kits with the needs of active families directly in mind. Unlike anything else on the market, the KEEP>GOING GoKit contains 130 pieces, deftly packed into a portable, highly organized, and visually appealing pouch. It is convenient to carry and includes everything needed to treat everything from small scrapes to more significant injuries, including splints, antiseptic wipes, tick removers, and much more. KEEP>GOING GoKit has a retail price of $49.99. Visit https://www.keepgoingfirstaid.com/.
A Bar Above's 10 pc Craft Mixology Set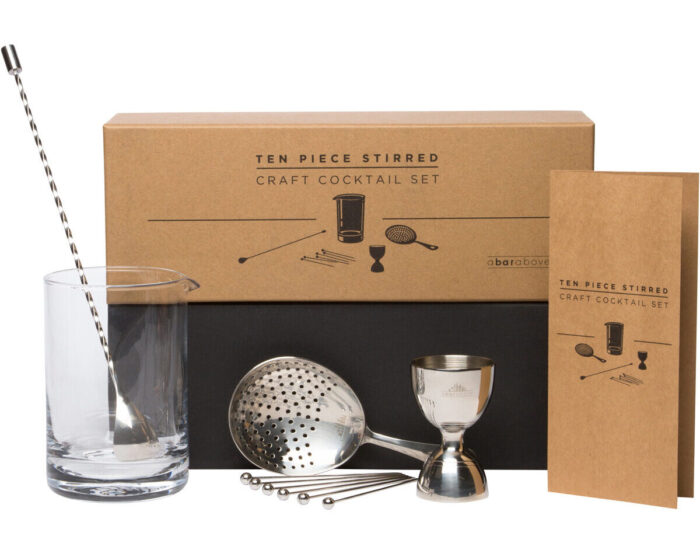 A Bar Above has the perfect set of gifts for the cocktail lover. A Bar Above is a premium barware brand that has developed professional-grade bar tools for cocktail lovers of all levels of interest and experience. Co-founded by a mixology expert with over fifteen years of industry experience, A Bar Above offers wallet-friendly, durable, and ergonomic cocktail tools.
With top ratings on Amazon, A Bar Above's 10 pc Craft Mixology Set has all of the tools necessary to turn a home bar of any size into a fully stocked cocktail emporium. You can't go wrong with a classic stainless steel cocktail kit. With a mixing glass, julep strainer that fits the glass perfectly, bell jigger with measuring marks every ¼ oz, and bar mixing spoon, your Manhattans will be the talk of the town! Get Glitzy in Gold: Channel your inner Gatsby with this gold 10-piece cocktail set, and mix your Martinis in style. Use the included cocktail picks to show off your garnishes and really make your drinks shine at your next holiday party. A Bar Above's 10 pc Craft Mixology Set has a retail price of $99.98. Visit  https://abarabove.com/.
Oral-B iO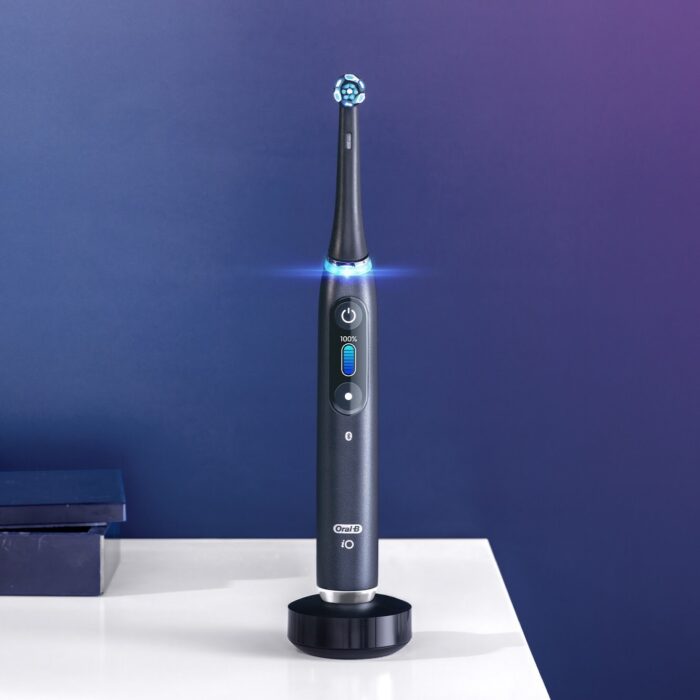 The most-awarded toothbrush of 2020, Oral-B iO strikes the right balance between effectiveness and experience and reimagines how a brush performs, cleans and feels. Oral-B iO is the result of six years of dedicated research with dental professionals to ensure people have the best possible oral health outcomes at home. Before Oral-B iO, it was only possible to get a dental professional clean feel two times a year, but now you can get a professional clean feel at home, every day!
The brush offers a unique blend of innovative features, such as a linear magnetic drive and redesigned brush head, to deliver superior oral health. The iconic round brush head shape now has a redesigned Ultimate Clean Brush Head featuring twisted and reinforced bristles, plus micro-vibrations, to deliver a sensational brushing experience. Moreover, the Oral-B iO's Smart Pressure Sensor provides positive feedback when users are brushing with just the right amount of pressure. The brush also pairs with the Oral-B app to provide real-time individual tracking and feedback thanks to an AI platform powered by thousands of recorded brushing sessions. With a simple and intuitive user interface, AI Brushing Recognition technology recognizes where you are brushing and guides users to ensure 100% coverage. Finally, each iO brush comes with Smart Display with personalized brushing modes that provides timing, coaching and motivation throughout the cleaning process. Visit https://oralb.com/.
Primula 3-in-1 Flavor It Pitcher Set
Chill, steep, and infuse all with the Flavor It Pitcher! Create delicious beverage recipes using the interchangeable cores to serve and enjoy with family and friends. This is a great gift for the hosts and hostesses in your life! It holds 2.9 Qt, and includes Tea, Infusion, and Chill Core. Whether you're brewing hot or cold coffee or tea, infusing fresh fruit flavors into water, infusing mint or lavender into lemonade, or chilling mojitos for entertaining – Flavor It is an eco-friendly alternative to infused bottled beverages. The pitcher, tea infuser, flavor infuser, lid, and top are dishwasher safe. The BPA free Tritan pitcher is odor and stain resistant, and was masterfully designed with a perfect pour spout, a leak proof and keep-fresh airtight lid, and a soft touch inset silicone handle. Flavor It Pitcher is $35.99. Visit https://primulaproducts.com/.
Primula Discovery Stainless Steel Bottle, 40 Oz
With the new year around the corner, the Primula Discovery Stainless Steel Bottle makes a great gift for those whose goal it is to stay more hydrated! The Discovery water bottle is made without BPA and is constructed of high quality stainless steel so you can enjoy your beverages in a healthy way without flavors transferring from the bottle into your drink. Its double wall vacuum sealed insulated design can keep drinks icy cold for up to 24 hours or hot for up to 8 hours. The screw on lid is leak proof, so you can place this bottle in a gym bag, purse, in a car cup holder and more without worrying about your beverage leaking everywhere. The Discovery also features a rugged powder coated finish, which will maintain its beautiful look for years to come. Primula Discovery Stainless Steel Bottle is $17.32. Visit https://primulaproducts.com/.
Ecolution Micro-Pop Popcorn Popper, With 3-in-1 Lid
The Micro-Pop Popcorn Popper is an award winning and best selling snack gadget! It offers a healthier alternative to bagged popcorn by putting you in control of what goes into your popcorn. The Micro-Pop features a temperature safe borosilicate glass bowl that is safe to use. The multifunctional lid works to measure out kernels, melt butter, and cover the top while heating in the microwave. Once you have your snack popped, it's time to mix and
match toppings to make your perfect popcorn combo! The Micro-Pop comes in Snack Size (1.5 Qt) and Share Size (3 Qt). The price is $15.99. Visit https://ecolutionhome.com/.
BakeIns 3 Piece Cookie Sheet Set
You'll use these versatile baking sheets for much more than cookies. BakeIns 3 Piece Cookie Sheet Set is ideal for everything from roasted vegetables and hot hors d'oeuvres to your favorite frozen foods. It features effortless non-stick that prevents your foods from getting stuck to the surface. Heavy-duty carbon steel bakes and browns evenly. This multipurpose sheet pan set is built to perform and last. Extra durable construction offers even heat distribution. These cookie and baking sheets are dishwasher safe and easy to clean. BakeIns 3 Piece Cookie Sheet Set is $24.99. Visit https://ecolutionhome.com/.
Capresso Cafe TS
Touchscreen espresso machine that easily creates barista quality espresso and delicious coffee specialties. This compact machine features a 15-bar stainless-steel lined ThermoBlock system, which heats the water immediately prior to brewing. The intuitive touchscreen interface comes with four preset features for brewing espresso (single or double), steamed milk for flawlessly layered latte, a light layer of foam for a delightful cappuccino, or hot water for an Americano or tea. The illuminated touchscreen also includes an on/off button, with 30-minute auto-off to save energy. Capresso Cafe TS is $199. Visit capresso.com and Amazon.
CDN Folding Thermocouple Thermometer (TCT572)
This quick, precise and handy thermocouple thermometer features a highly durable design that is water resistant, shatterproof, and is manufactured with BioCote technology. With its 1.5 mm reduced tip, large digital readout and easy-to-press buttons, this NSF Certified thermometer has rapid response for accurate temperature measurements in a wide range from -58 to +572°F/-50 to +300°C. It is perfect for thin cuts of meat, fish or poultry. Simply flip down the rapid-response thermocouple probe and insert it into food as thin as 1/8 inch.The display can be backlit for low light conditions. CDN Folding Thermocouple Thermometer (TCT572) is $79.99. Visit Amazon.
Tramontina BBQ Tools
Prepare and serve your grilled masterpieces with ease, using Tramontina Churrasco Spatula and Barbecue Tongs. Their long, wooden handles make it easy and safe for you to handle meats and vegetables, while the stainless steel construction offers extended durability for even the busiest grillmaster. After your grilled favorites have been enjoyed, Tramontina's Churrasco stainless steel grill brush is strong enough to remove food residue from your grill so it is ready for the next barbecue. Price is $39.99 on Amazon.
Tramontina Gourmet Tri-Ply Clad Stainless Steel Grill Pan
Tramontina Gourmet Tri-Ply Clad Stainless Steel Grill Pan features a large cooking surface for steaks, veggies and more, perfect for indoor grilling. It is made of premium 18/10 stainless steel, an aluminum core and a layer of magnetic stainless steel, for even heat distribution. It works on all cooktops, including induction, and is oven safe to 500°F. Tramontina Gourmet Tri-Ply Clad Stainless Steel Grill Pan is $54.95. Visit wayfair.com and Amazon.
PatPat "Go-Neat" Series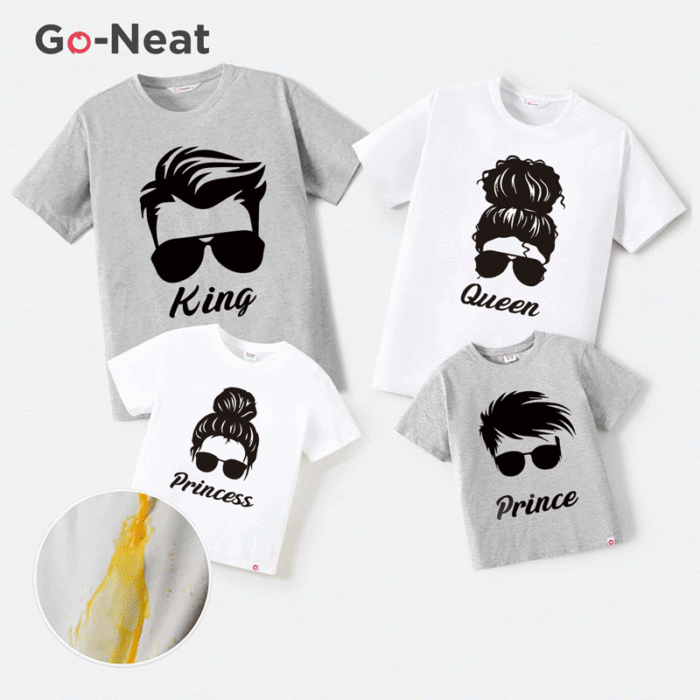 Children's e-commerce apparel brand PatPat is launching a new eco-friendly, sustainable and affordable product "Go-Neat" series, which is both water repellent and oil resistant. The whole family can match for the holidays! You can also delight another family with a gift of these clothing items.
The Go-Neat Water Repellent and Stain Resistant Family Matching Figure & Letter Print Short-sleeve Tee is priced at $7.99-$13.99. The fabric of Sorona can easily resist liquids, like drinks, oil stains, coffee, and dairy products. It's soft, smooth, skin-friendly, and quick-drying. Wash and dry like a normal shirt. Machine washable for easy care use. Safe to tumble dry. No special care is needed. Visit https://us.patpat.com/.
Barbie Line at PatPat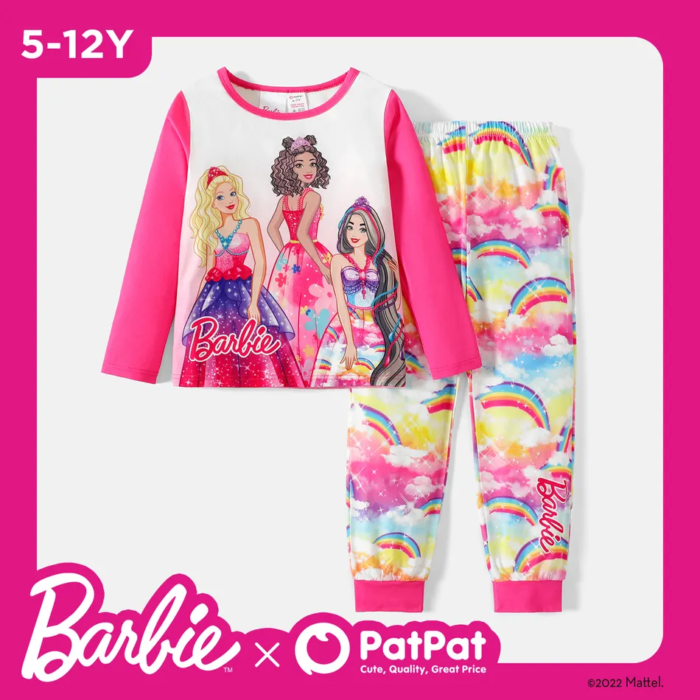 PatPat.com/PatPat app, your one-stop shop for affordable, quality kids clothing, launched its  special Barbie collection in September. The new line features four fun themes to match the dreamer, animal lover, rock star, or sporty girl in the family. Take a sneak peek at these already launched styles: Cotton Ruffle Long-Sleeve Romper Set – Go glam with this 3 piece onesie featuring vintage Barbie vibes; Unicorn Long-Sleeve Tee and Leggings Set – Spread a little magic with this vibrant and oh-so-soft outfit; Embroidered Pullover – Say it in style with this simply chic sweatshirt; Leopard Print Pullover & Pants Set – Embrace her wild side while giving her style that extra touch with this adorable cold weather set. Pricing starts at $10.99. Visit https://us.patpat.com/.
Willamette Valley Pie Company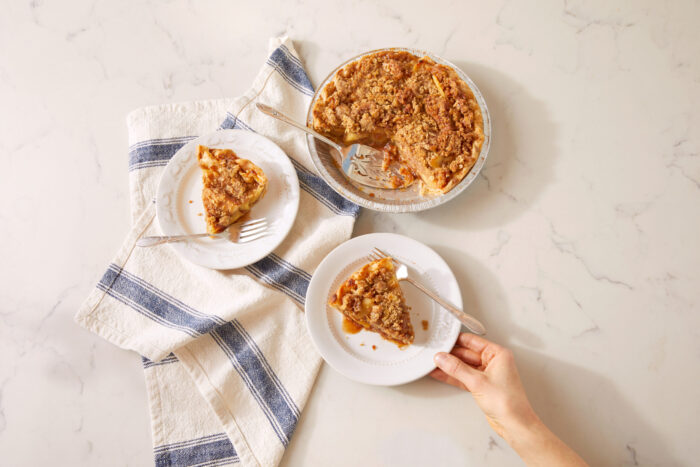 Willamette Valley Pie Company, LLC. is one of the original all-natural pie companies. With nearly 100 years of family farming history in the Willamette Valley of Oregon, vertically integrating in 2001 to make delicious pies and desserts was an obvious next step for the company. Made with non-GMO, local and sustainably sourced ingredients, Willamette Valley Pie Co. now offers 9-inch fruit and cream pies, 5-inch mini pies, as well as a variety of hand pies, cobblers, crisps, and IQF frozen fruit.
Their new product line includes the first 100% all-butter crust pies in the market, featuring fan favorites like the Dutch Caramel Apple Pie, Triple Chocolate Cream and scratch made Key Lime Pies incorporate farm fresh ingredients you would use at home. Willamette Valley Pie Co. continues to be committed to bringing families and communities together around the table and through their fundraising program. For more information about Willamette Valley Pie Co., visit https://www.wvpie.com/, or @wvpie on Instagram and @WVPIECO on Facebook.
Bushwick Kitchen Bees Knees Honey Gift Set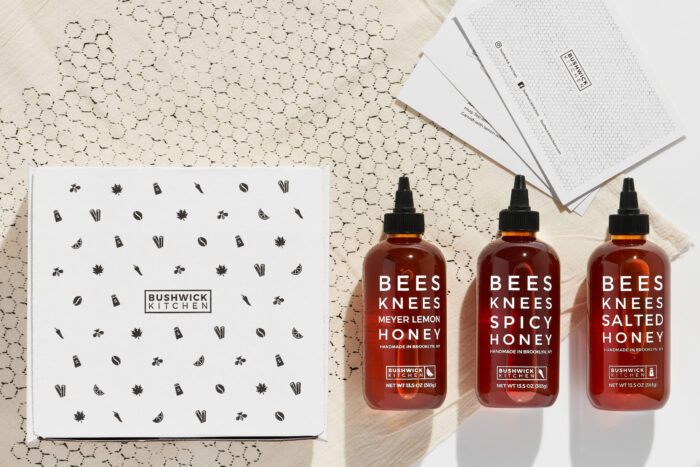 This is the ultimate gift set for every honey fan! All three of these Honey flavors (Spicy, Meyer Lemon and Salted) are beautifully packaged with a BK dish towel. A unique QR code will take you to a collection of recipes. Use it on: biscuits, pizza, ice cream, cheese plates, fried chicken, and more!
Bushwick Kitchen offers a variety of gourmet condiments and ingredients for every dining occasion. Perfect for charcuterie boards and a variety of beverages and dishes (from breakfast to dessert), they offer culinary gift sets for all palates. Bushwick Kitchen is a sauce company that's here to serve up finger-licking, flavor-addicting sauces and condiments for every kitchen creative and foodie looking to elevate their meals or share a unique culinary gift to inspire friends and family. Visit https://bushwickkitchen.com/.
Woolloomooloo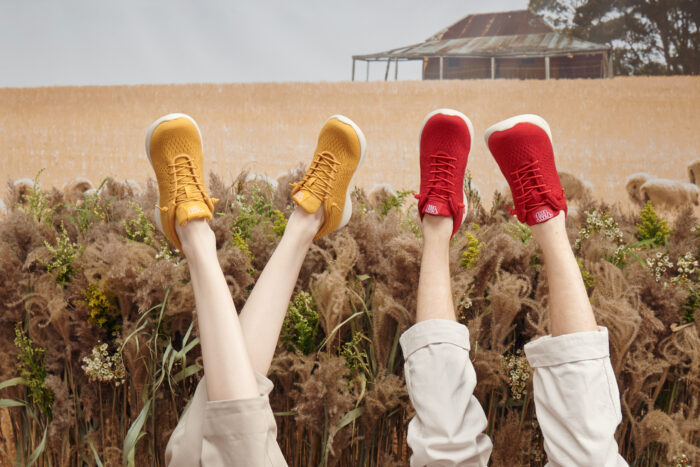 Show off your holiday spirit and add some color to your style this season with color coordinating shoes from Woolloomooloo. At Woolloomooloo, they spin the finest Aussie Merino wool, to digitally knit the world's premium wool sneakers. Sustainable materials drive design to build shoes that are better for your feet and the planet.
A misconception about wool is that it's only appropriate for colder climates. However, wool absorbs 25% more moisture than synthetic fibers and wicks it away from the skin, making it twice as cool in warm environments. During chillier months, the natural crimps in the fiber cause it to trap heat and insulate the skin to keep your feet warm, even if worn sockless. Wool has been used in footwear for years, but it's usually filtered or boiled. They use knitting machines for all their uppers to give them their stylish texture and durability while retaining the natural elasticity and breathability that gets lost from boiling the threads.
As a hygroscopic fiber, wool readily absorbs moisture (up to 35% of its own weight) to keep your feet dry and prevent the build-up of sweat and bacteria. Therefore, Woolloomooloo shoes are odor resistant and machine washable. Woolloomooloo's merino wool is not only more comfortable and durable than synthetic fibers, but it's also biodegradable and better for the environment. Synthetic textiles contribute to massive emissions of greenhouse gasses, pollutants, and micro-plastics that contaminate our oceans and atmosphere.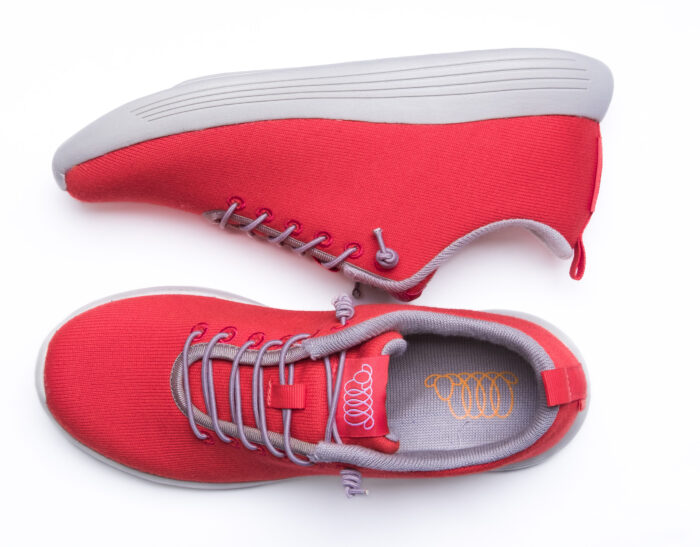 Featured above are the Cheviot with Tangerine merino wool. The Cheviot brings a micro-knitted Australian Merino wool upper treatment to give a cleaner and sleeker look. The Cheviot can take you from subway stop, to work, and out to happy hour with ease. Comfort doesn't mean underdressed, in their eyes the Cheviot can do it all. Price is $150.00. Visit https://www.woolloomoolooshoe.com/.
Wood Underwear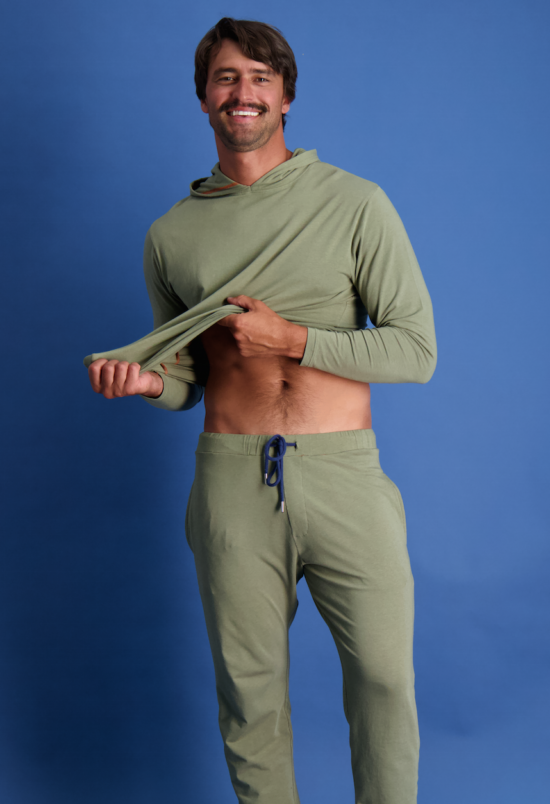 Wood Underwear is a premium men's underwear & lounge and is the only men's underwear brand founded & operated by a female, Terresa Zimmerman. They are currently celebrating their 10-year anniversary.
Their Tailored Lounge Pant, which is featured above, may be the most comfortable lounge pant you will ever put on. It's also very fashionable! As you begin to define your work locations, whether full-time WFH, hybrid or in the office, the trend is to up the level of dressing. Yes, even at home. That trend for more finished looks definitely carries over into lounge and hangout wear. Wood's latest pants in a tailored fit is just the ticket. They have deep pockets, are drawstring pants, and are super soft. They have a cotton/lenzing blend. This fabric is ultra-comfortable and provides high performance, which will be the perfect gift for your busy entrepreneurial friend. Their price is $89.
Another great gift option is their Hoodie, which is also $89. It has long sleeves, a hood and a tailored design which gives this solid hoodie an original hoodie twist. Built from Wood's premium cotton modal blend fabric, incredibly soft and super functional, it is your winning ticket to comfort and warmth. It can be worn out and about or worn while hanging out at home. It is available in several trendy colors, carving itself a place of choice in gift boxes under the tree. Visit https://www.woodunderwear.com/.
Voglia Swimwear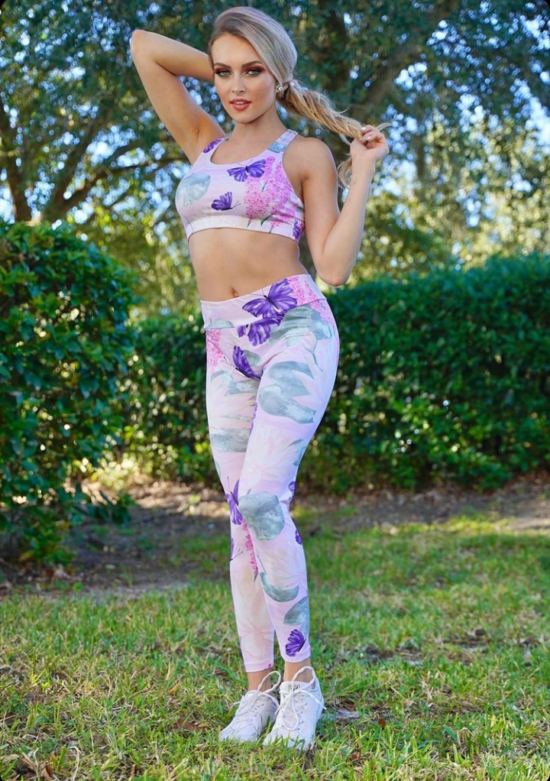 Voglia Swimwear, is a female owned business founded by Ashley-Victoria Smith. Meaning "wish" in Italian, Voglia Swimwear wishes for a "cleaner, healthier, better world and that starts by cleaning up our oceans, beaches, waterways and saving marine life. Our capsule collection, Spaced Out, is made in Italy from regenerated materials found in our oceans aka illegal fishing nets; surprisingly creating a softer nylon like material, but better."
Founder Ashley-Victoria Smith says, "I always say, you can stay asleep and dream or you can bring your dreams to life, so I am bringing my dream to life." Her brand's mission? "I am an advocate on minimal to zero waste and do my hardest to live a sustainable lifestyle – you can't have a sustainable brand and not live the lifestyle – I want to educate our consumers on our 70 tons of fashion waste a year and encourage them to reduce & reuse while introducing them to other sustainable and eco-friendly brands." 10% of all sales benefit The Role Foundation.
They have a new athleisure & activewear collection. Some great options are their Yoga Pants, which are $65. They are carefully crafted with high-tech breathable fabric to move with your body while perfectly flattering your figure. Their Cropped Hoodie is $65. It's a super soft hoodie, a relaxed fit with long sleeves. This hoodie is the perfect after workout gear or everyday comfy style. They also have Biker Shorts which are $45. With a comfortable waistband that lies flat against your skin, their sleek and stylish biker shorts are for more than just cycling. Visit https://www.vogliaswim.com/ to see their amazing clothing line.
I Am Eido Jewelry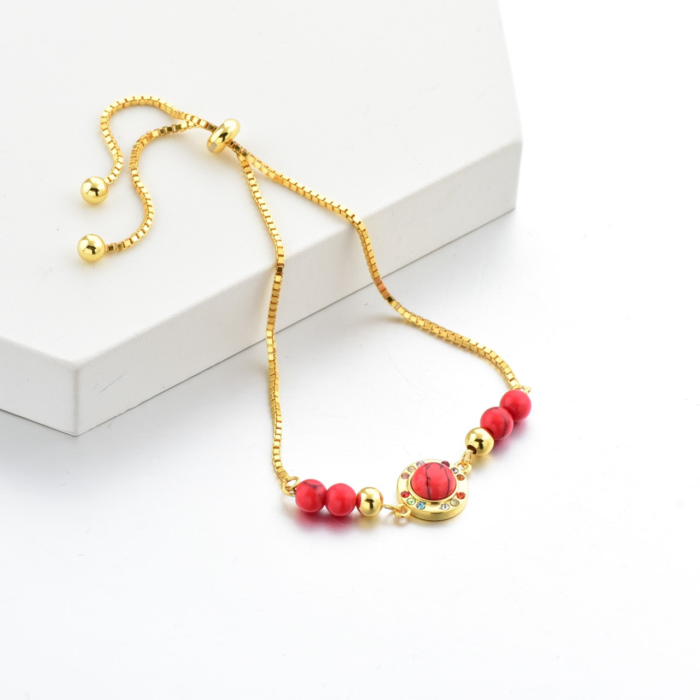 I Am Eido, founded in sunny Miami, Florida, in 2015, believes in purposeful living. Their mission is to "craft the narrative around the Essence of Humanity through a range of luxury and timeless pieces that exude a sense of Grace, and serve as catalysts for conversations and vehicles to address global issues." I Am Eido Jewelry has a Buy 1 – Give 1 model that allows each person that purchases their product the ability to plant a seed of empowerment and an emblem of dignity to many women and girls around the world who otherwise are unable to afford a luxury that is often taken for granted.
The Obirin Iyanu necklace, featured above, is inspired by the graceful essence of humanity and features a timeless artistic coin with the image of a woman that is wearing a turban on her head. The turban hints at the crown of her mind, which allows her to remain graceful in her essence throughout time and against all odds. This necklace will be a stunning gift for your loved one. Price is $160. Visit https://iameido.com/.
Cozy Earth Plush Lounge Socks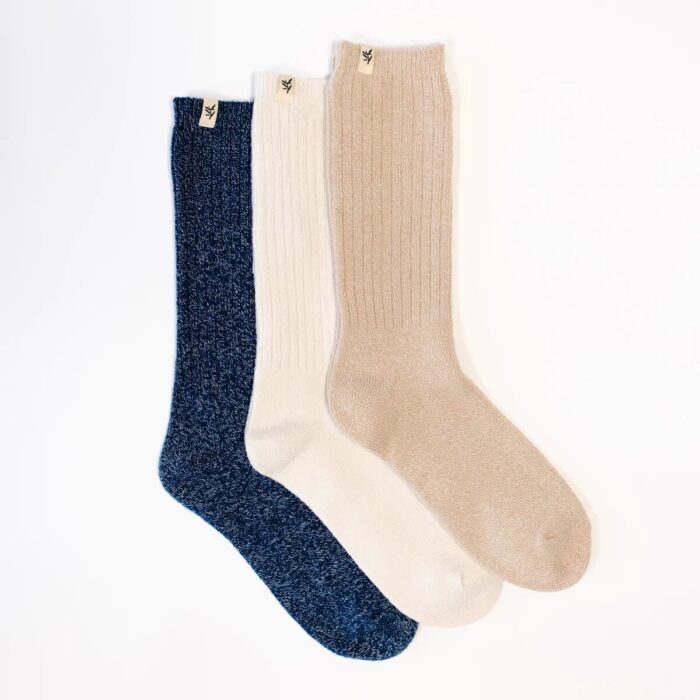 Cozy Earth Plush Lounge Socks are ultra-lightweight and extra-warm. The Plush Lounge Socks three-pack offers a variety of solid neutrals with a textural ribbed design allowing you to put your best foot forward every day. These everyday socks are perfect all year round. They have enhanced durability and are built to last without pilling. These socks will surely be a great gift for any individual looking to keep their feet warm and cozy in every season! Visit https://cozyearth.com/.
Cozy Earth Bamboo Joggers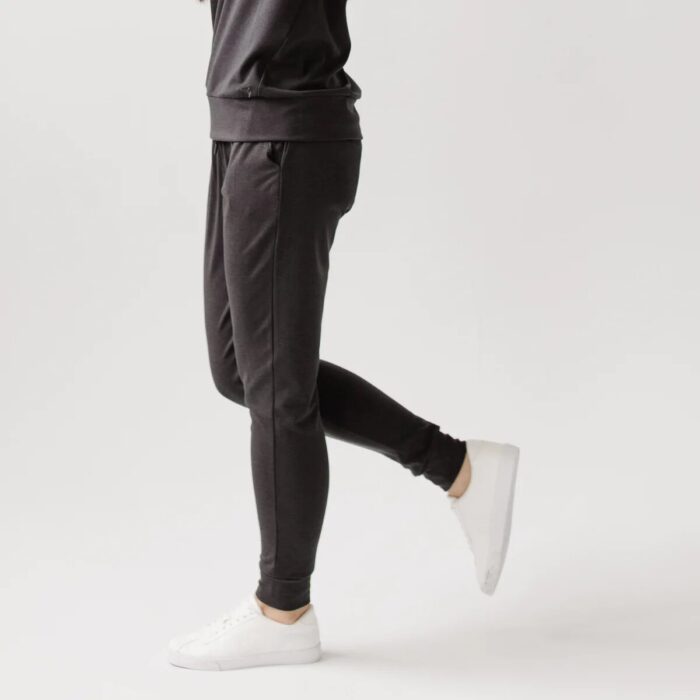 Cozy Earth Bamboo Joggers are made with 70% viscose from bamboo, 26% acrylic, and 4% spandex. They have breathable and moisture-wicking fabric that feels degrees cooler than cotton. Their enhanced weave prevents pilling and helps their products last longer. With their flattering fit and phone-friendly side pockets, these super soft joggers will be your softest all-season staple wardrobe whether you're staying in or stepping out. Cozy Earth team pride themselves on the responsible production of all their products. Visit https://cozyearth.com/.
The Anywhere 25L Duffel by Pakt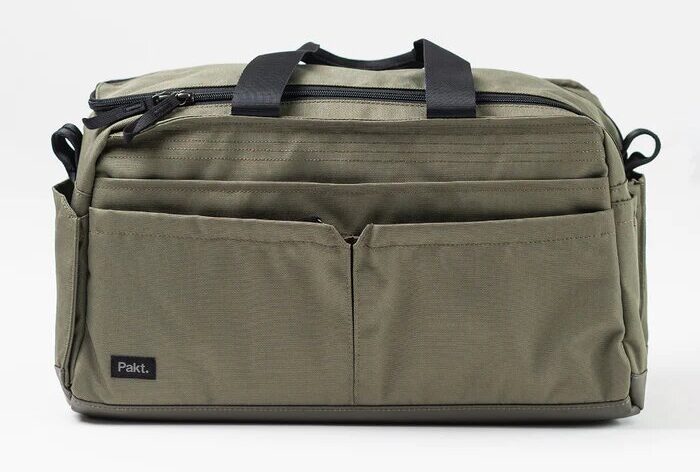 The Anywhere 25L Duffel is packed with features. This small but mighty bag makes an incredible family organizer, compact overnight bag, personal item for flights, or your go-to for everyday use. ⁠⁠It has multiple exterior pockets for easy access to tech, chargers, travel docs, and snacks. Its interior laptop compartment fits up to 16" devices, 12" pocket for e-readers or iPad. The Anywhere 25L Duffel has a luggage strap to secure on the handles of your rolling luggage. Its durable water-resistant materials are made from recycled single-use plastic. The Anywhere 25L Duffel is $210. Visit https://paktbags.com/.
Eli & Elm Side-Sleeper Pillow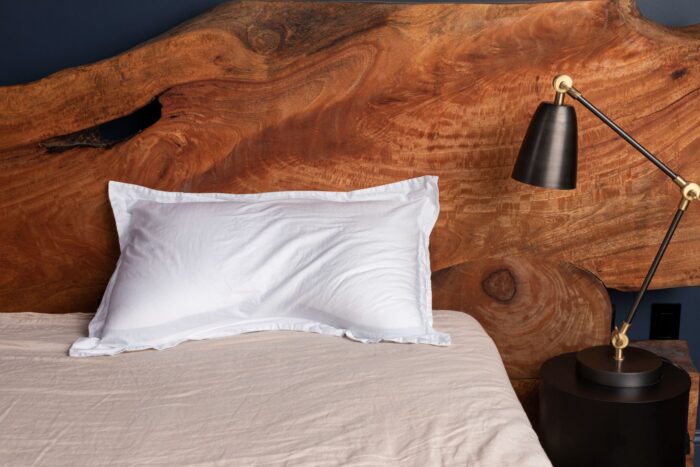 We've found a simple solution for better sleep while also nixing your neck & back pain — the Eli & Elm Side-Sleeper Pillow! With the unique U-shape design, these luxury pillows will conform to your head to provide proper support and alleviate neck pain. Created specifically for side sleepers, you can also customize your pillow's firmness with the removable latex and polyester filling. It has latex noodle fill that supports optimal airflow for a cooler pillow, and has a smooth cotton cover that is designed to dissipate heat. It is made from premium sourced materials, is OEKO-TEX certified, measures 17" x 29", and has over 1,400 positive reviews. Prices start at $99. Visit https://eliandelm.com/.
Riemot Snow Boots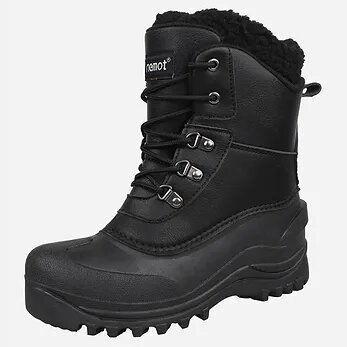 Cold weather shouldn't stop you from enjoying nature and exploring this winter. But it's only fun to adventure if you have footwear to keep your feet warm and dry, and with good traction to bite into slippery terrain. Riemot is an innovative travel goods brand that specializes in ultra-affordable hiking boots, and sneakers with a focus on natural, recycled, and bio-based materials.
The Riemot Snow Boots have waterproof PU material, moisture-proof and anti-wear. Rain, snow, or any other liquids are not easy to penetrate into the shoes, and the water resistance is very high. They are lined with soft lamb wool and 3M Thinsulate insulating inner material and removable 3M Thinsulate footbed to keep the feet warm all day long in winter. The slip-resistant TPR sole provides excellent grip on snow and rough surfaces. There are Men's and Women's sizing and styles. Price is $49.99. Visit https://www.riemot.com/.
Vellabox 6-Month Candle Subscription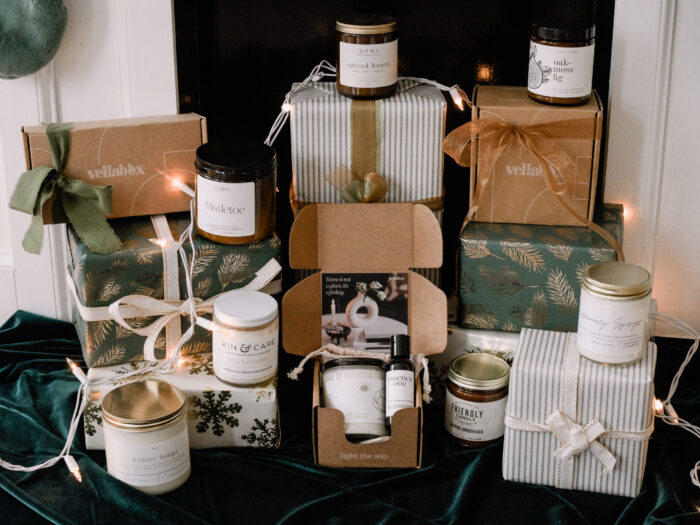 Vellabox is the #1 artisan candle subscription featuring a different US candle maker and surprise gift in every box. Their most popular subscription is the Ignis box aka a different 100% soy wax 8 oz candle and $10+ lifestyle gift value you can receive or gift. This box starts at $22 with free U.S.shipping. Looking for holiday presents? Curated to the recipient's scent preferences and personalized with a gift note, this is the gift for the candle lover / the light in your life! There is a curated Spotify playlist in every box to listen to as you burn your candle. It comes already prewrapped in a reusable canvas bag! Visit https://www.vellabox.com/.
Nebula Snacks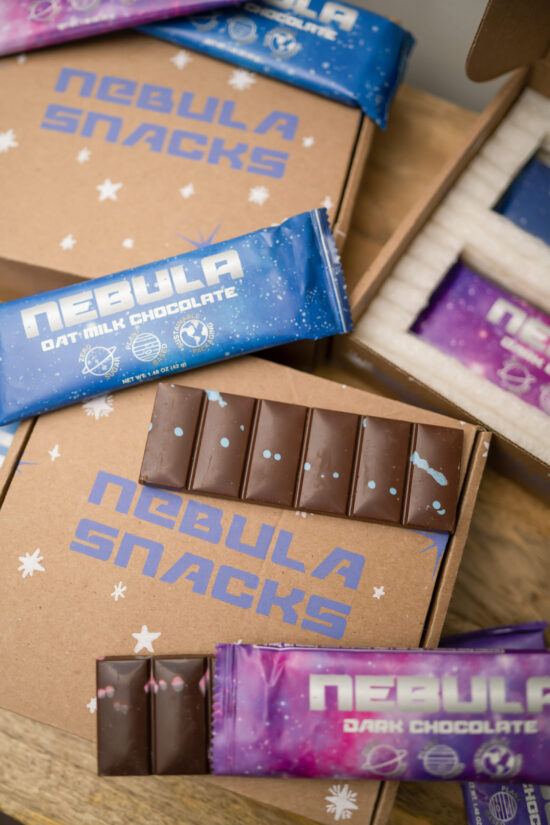 On a mission to eliminate added sugars from Earth's snacks, Nebula Snacks is a new startup making zero sugar, dairy free chocolate that's keto & diabetic diet friendly. Instead of using sugar alcohols like most zero sugar products, they use monk fruit and allulose bringing 'outta this world delicious' taste up there with premium chocolate.
Added sugars are sugars or syrups added during the processing or preparation of foods. While the American Heart Association recommends 6% of our daily caloric intake come from added sugars, adults consume ~77g of sugar daily. Worse, American children average 81g of sugar consumption daily.
Added sugars are not an essential macro-nutrient, meaning our bodies do not need them to function, yet they are packed into our snacks and beverages due to their sweet death grip on our taste buds and cheap cost to our largest snack manufacturers today. In fact, they are one of the primary drivers of obesity, type 2 diabetes, and heart disease. Nebula Snacks is an Austin, Texas CPG startup selling better-for-human snacks we can enjoy, without the ingredients that weigh us down. Their first batch of chocolate is now available as they look for customer feedback on how to improve the recipe and crowd source their new flavors. Visit https://nebulasnacks.com/.
Etude Winery 2018 Estate Heirloom Pinot Noir
Etude Winery, a leading Pinot Noir producer in Napa Valley, can be an integral part of quality time with loved ones, holiday meals, special gifts, and cozy sipping on winter nights. This elegant wine exemplifies the iconic, superb flavors that make Etude a leader in Pinot Noir. Dark black cherry, red raspberry and cola spice are delicately interwoven with lavender and rosemary, which will impress those the gift receivers toast alongside. While this is a structured wine with depth and balance, Etude Winery 2018 Estate Heirloom Pinot Noir is not overpowering, so it can be paired with a variety of holiday dishes, like a simple appetizer of tomato bruschetta or a heartier main course like roast beef. Etude Winery 2018 Estate Heirloom Pinot Noir is $95. Visit https://www.etudewines.com/.
Usual Wines Mixed Pack Box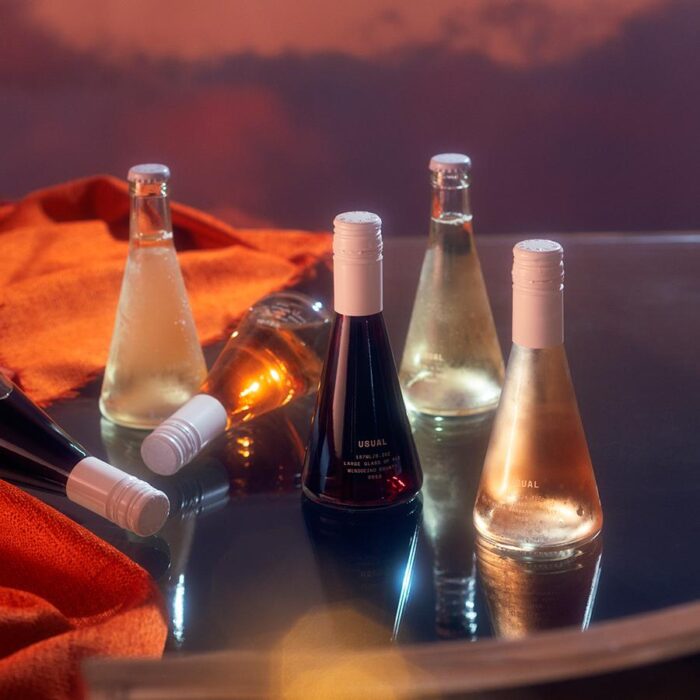 Usual Wines are naturally made from the best Californian grapes without any artificial process or ingredients (just grapes and sunshine) — single-serve wines in chic packaging. From the dry, sparkling Brut to the bright, fruity Red, gifting the Mixed Pack Box gives your favorite wine lover the full Sonoma, California wine experience. Usual Wines Mixed Pack Box is $48 for a pack of 6, $96 for a pack of 12, and $192 for a pack of 24. Visit https://usualwines.com/.
Moonglow Jewelry

Moonglow Jewelry has unique jewelry for special moments! The pieces can be customized to reflect a special moment in your life based on the phase of the moon. They also offer pieces based on people's astrology signs! The pieces also glow in the dark and range from necklaces, tie clips to key chains. There are so many amazing Moonglow Jewelry options to choose from this holiday season. Prices range from $28..00 – $199.00. Visit https://www.moonglow.com/.
Nickel's Nutrition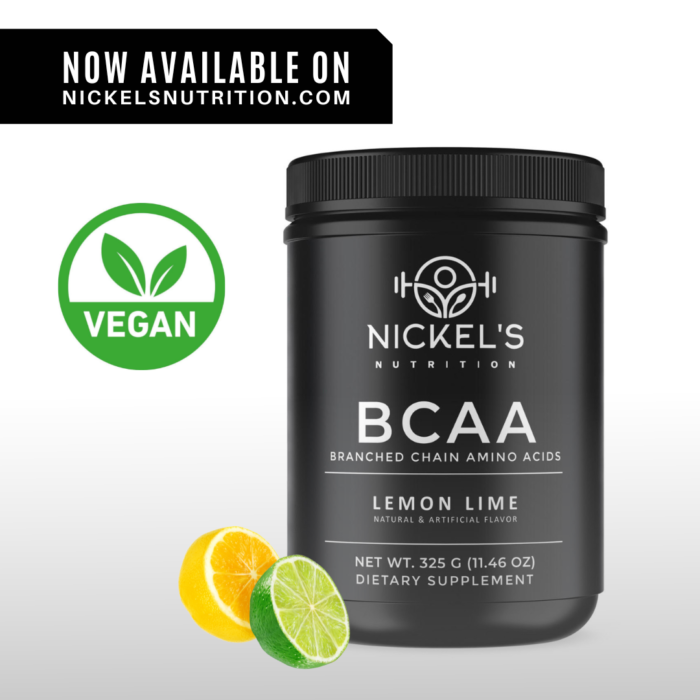 Nickel's Nutrition natural, plant-based supplements were launched by Black owner and pharmacist, Jarvis Francis. "After years of working as a licensed, practicing pharmacist, I decided to pair my education and expertise with my passion to help people at scale proactively achieve their optimal wellness, health and fitness. With Nickel's Nutrition, we're doing that by providing premium, plant-based supplements as well as meal programs, customized fitness plans and growing a supportive wellness community." – Jarvis Francis, Founder & CEO.
Some great products are as follows. Vegan 5-Branched Chain Amino Acids with Vitamin B6 from Nickel's Nutrition, 100% Lean Vanilla Milkshake Whey Protein, and Elite Burn. An advanced natural fat burning supplement formula from Nickel's Nutrition, Elite Burn is composed of premium natural, plant-based ingredients that have scientifically proven to support fat burning faster by speeding up the human body's metabolism. Enhancing the body's fat burning process isn't the only benefit. This new fat burning formula may reduce hunger cravings and boost energy levels as well. Visit https://www.nickelsnutrition.com/.
Marimekko Tiiliskivi Mug
Olson House is the vision of Teresa Olson, a Milwaukee-based interior designer, former "record store girl" and storyteller. The e-commerce site (and brick-and-mortar store) is a tribute to her family and Scandinavian heritage, both from her fiercely Norwegian grandfather on her father's side and from her Finnish immigrant grandmother on her mother's side, featuring locally crafted furniture, home décor and artwork.
The Oiva mug will be a snazzy gift for the coffee or tea drinker! It is made of brown stoneware, which is dishwasher, oven, microwave and freezer proof. The mug features the Tiiliskivi pattern made with a relief technique. The Tiiliskivi (brick) pattern was designed by Marimekko's founder Armi Ratia. The pattern reflects her belief in the simple beauty of everyday life. It measures 4 dl, has Terra/Blue color, and measures: 4" tall 4" diameter. Marimekko Tiiliskivi Mug is $33. Visit https://olson-house.com/.
Sugarwish Full Wine Bottle Offerings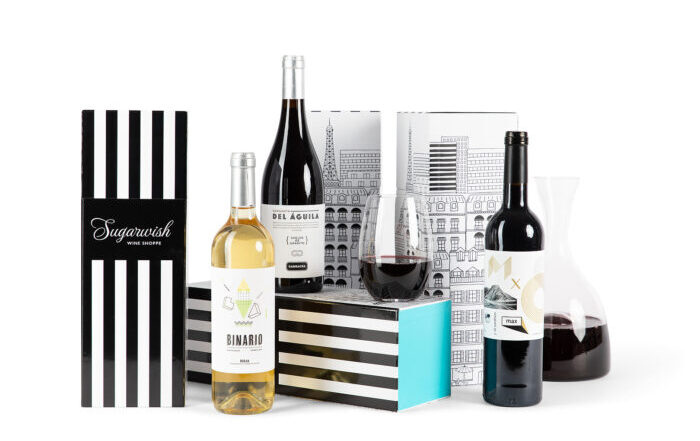 This holiday, Sugarwish is taking the guesswork out of corporate and colleague gifting with their *NEW* full wine bottle offerings! All product descriptions on the site include the country, region, year, and food pairings, along with additional details about the wine so you can ensure your giftees get  *exactly* what they want. The recipient is instantly alerted that they have been gifted a Sugarwish via email, text, socials, or Slack, and is directed to curate their ultimate gift experience at their leisure. Pricing: Small: 1 Premium Bottle ($34), Medium: 1 Ultra Premium Bottle ($45), Large: 2 Premium Bottles ($56), and X-Large: 2 Ultra Premium Bottles ($78). Visit https://sugarwish.com/us/index122022.
TBJ Gourmet Bacon Jam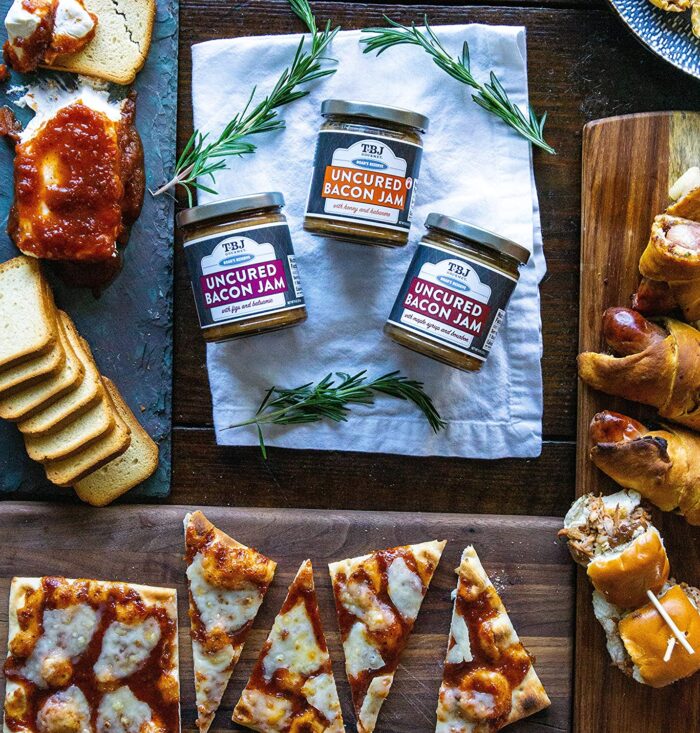 Bacon lovers will rejoice this holiday season when you gift them TBJ Gourmet Bacon Jam, a magical spread made with real bacon, brown sugar, and caramelized onions to create a delicious spread, dip, and marinade all in one. Each jar contains enough sweet 'n' savory flavor to transform even the simplest snack into a feast! TBJ Gourmet Bacon Jam comes in a variety of mouth-watering flavors, including The Boar's Reserve 3 Pack: Maple Bacon Jam, Habanero Bacon Jam, Bacon and Fig Jam. Price: $35.00 for the set.
Also available from TBJ Gourmet … They've got the cure for bacon fever! TBJ Gourmet Emergency Bacon Kit includes a 9 oz jar of Classic Bacon Jam and a jar of Smoked Bacon Salt and Maple Sugar Rub! Perfect for everything from burgers to veggies! It is made in the USA. All-natural ingredients and ethically sourced. Available at www.tbjgourmet.com and Amazon. Price is $38.00 for the kit. Visit https://tbjgourmet.com/.
Molly Bz Cookies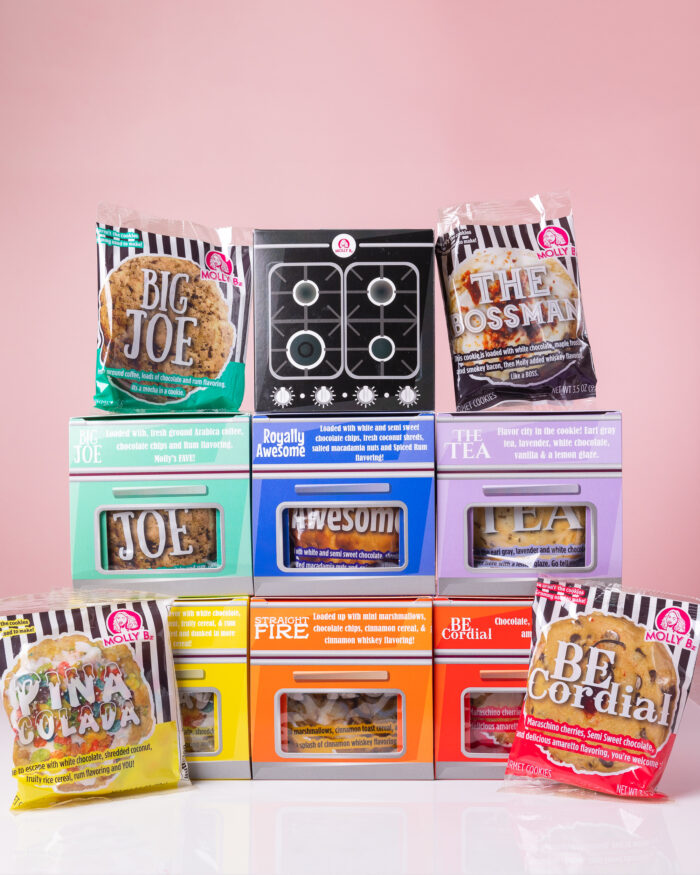 We believe you've never had cookies like Molly Bz cookies before! These oversize gourmet cookies are infused with tasty alcohol extracts (without the alcohol). Indulge in a variety of imaginative and explosive flavor combinations such as maple buttercream meets real smokey bacon and whiskey flavoring! Coffee your jam? How about chocolate and ground espresso mixed with rum flavoring? And don't get us started on our white chocolate, earl gray tea, lemon buttercream, and vanilla extract.
Molly Bz has a variety of scrumptious flavors to choose from; there is truly something for everyone to love! All Molly Bz cookies are made exclusively with Ghirardelli® chocolate. Cookies come individually wrapped in adorable gift boxes that look like little ovens. Perfect for gift giving for family, friends, co-workers, corporate gifts, stocking stuffers, and more. Available in half-dozen and full-dozen as well as 3 packs. Made with no fillers. Women-owned. Made in the USA. Priced from $12.59 (3-pack box); $23.99 (6/half-dozen box); and $45.99 (12/Dozen box). Available at Amazon. Visit https://mollybz.com/.
Holy Pals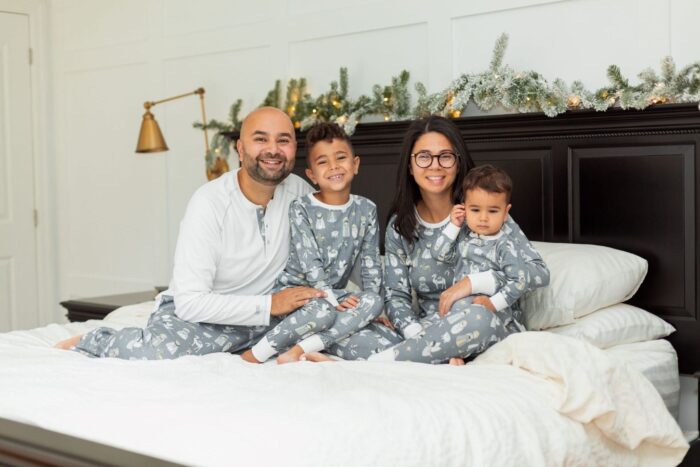 Holy Pals is a brand new line of holiday pajamas featuring sizes newborn to adult. Priced starting at $29, the pajamas are extremely high quality but priced affordably. The prints are not only adorable, but teach kids about the reason behind Christmas. Additionally, 10% of every pair sold go towards sending pajamas to Littlest Lamb Orphanage in Egypt and other children's organizations. They are made of 100% premium, ethically sourced cotton that is soft, breathable & durable. Sizes for newborn, toddler, big kids up to size 14, women & men. Holy Pals pajamas are priced from $29-$59. Visit https://holypals.com/.
Mary on the Mantel Bundle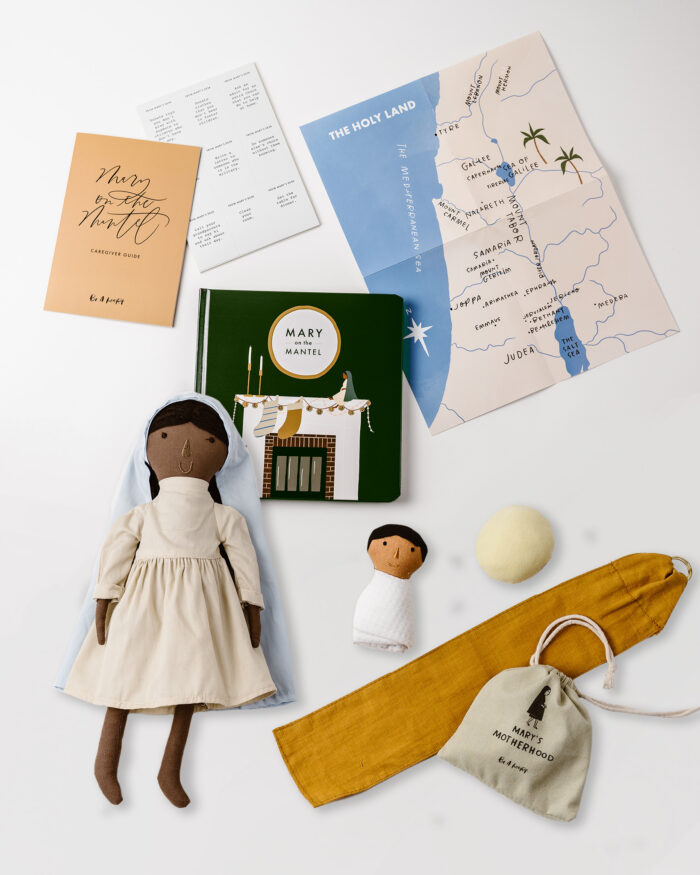 The Mary on the Mantel Bundle will be a wonderful holiday gift. It includes the Mary on the Mantel Activity Kit. This contains a beautiful book that explains the concept of Mary on the Mantel, a caregiver guide, 60 acts of kindness cards, and a map of the Holy Land. It also includes the Motherhood Set: a pregnant belly attachment, ring sling, and infant Jesus (please note that all infant Jesus dolls have medium skin tone). It also includes a Mary doll. Mary on the Mantel Bundle is $91.97. Visit https://beaheart.com/.
Honeysticks Ultimate Fun Bath Set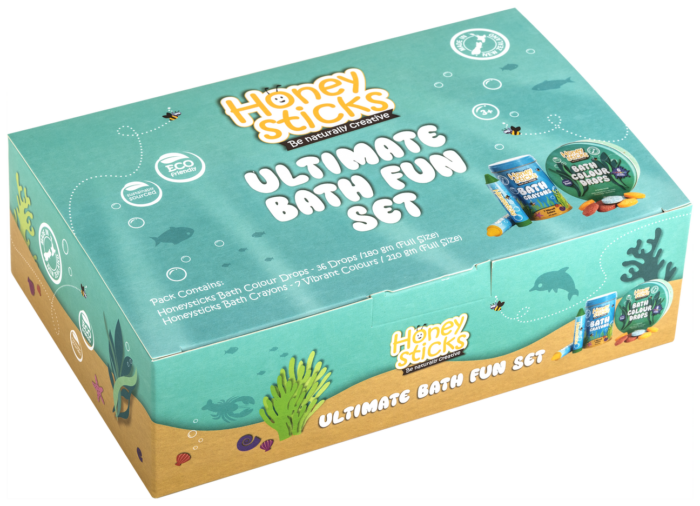 Honeysticks Ultimate Bath Fun Set is the perfect, ready-to-gift set for children of all ages. It includes two of their best-selling products, Honeysticks Bath Crayons and Bath Drops. Honeysticks is a family-owned business on a mission to provide children with the safest possible arts and craft products while being gentle on the planet. Honeysticks was developed in 2007 to provide children with a safer alternative to the traditional crayon which is made from petroleum derived wax and chemical printing pigments. The ingredients are natural and food grade, creating possibly the safest product on the market. They are eco-conscious to their core – all their products are packaged with recycled, recyclable, and biodegradable materials. Honeysticks Ultimate Fun Bath Set is $39.99. Visit https://honeysticks.com/.
Sproutlings First Grasp Crayons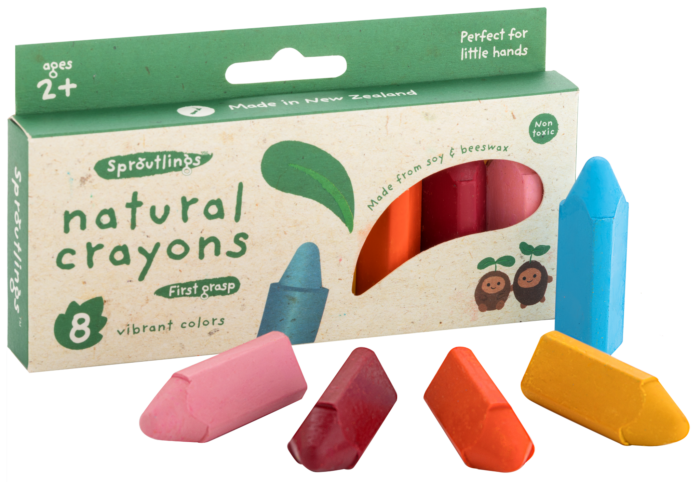 Sproutlings First Grasp Crayons are the perfect first crayon for toddlers.Unique easy to grip triangle shape, are made of natural soy and beeswax blend, have safe food-grade pigments for color, are 100% home compostable and have plastic-free packaging. They come in 8 colors. Crayon dimensions are 2.24 x 0.7 inches. Sproutlings First Grasp Crayons are $5.97.
Sproutlings Natural Crayons are larger, traditional shaped crayons that are 30% bigger than most comparable products, which makes them perfect for little hands grasp development. Formulated with a natural soy and beeswax blend and safe food grade pigments, these crayons deliver a smooth drawing experience and hours of bright, creative coloring. Along with safety, Sproutlings are committed to sustainability and making products that are gentle on the planet. The crayons are proudly handmade in New Zealand with plastic-free packaging that is 100% home compostable and sourced from certified responsible forests. Visit https://sproutlings.co/.
Doctor Plotka's Travel Toothbrush and All-Natural Fluoride Free Whitening Toothpaste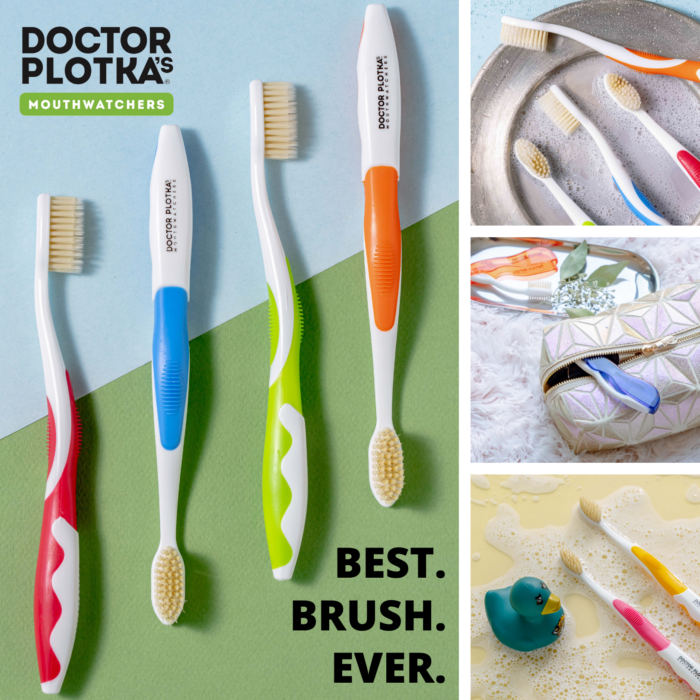 Different travelers require different things from their toothbrushes, but Mouthwatchers has everything you need. It's no-fuss foldable feature is guaranteed to give you an extra level of cleanliness, so you can easily throw it in your carry-on, purse, or gym bag, and go! PRO TIP: Need a stocking stuffer item that isn't candy or socks? Doctor Plotka's Travel Toothbrush and All-Natural Fluoride Free Whitening Toothpaste will soon become their favorite packing staples. You'll thank us later!
Manual Travel Toothbrush has a foldable design that is great for easy packing. Silver-infused bristles naturally eliminate 99% of bacteria, viruses, and fungi from your toothbrush within 6 hours after use. Flossing bristles reach deep into grooves, under the gum line, and between teeth to break up plaque and brush away food residue before it gets a grip on your teeth. Bristles made of high-quality polyester are more resilient and can last longer than a typical nylon brush. There are better results and no cross-contamination. Manual Travel Toothbrush starts at $5.99.
All-Natural Fluoride Free Whitening Toothpaste is another great gift option. Silica and Hydroxyapatite re-mineralizes teeth which lowers the risk of erosion and restores your teeth to their natural whiteness. Organic Propolis, a natural honeybee product known for its antimicrobial and antioxidant properties, reduces the risk of cavities, gum sensitivity, and plaque build-up. Mineral-rich Thermal Spring Water, sourced from France, is known for its anti-inflammatory benefits which can soothe irritation. Organic mint gives your mouth and breath long-lasting freshness. 100% of ingredients are sourced from natural origins. This tube is fully recyclable and made with 44% post-consumer recycled materials. It was developed by renowned Boston-area Dentist, Dr. Ronlad Plotka with proven results. All-Natural Fluoride Free Whitening Toothpaste is $6.99.
Pick up all products on Amazon.com. You can also find Doctor Plotka's toothbrushes at Sprouts Farmers Market, Wholefoods Market. Visit https://www.mouthwatchers.com/.
Women's Camellia ORIGINAL Crew Socks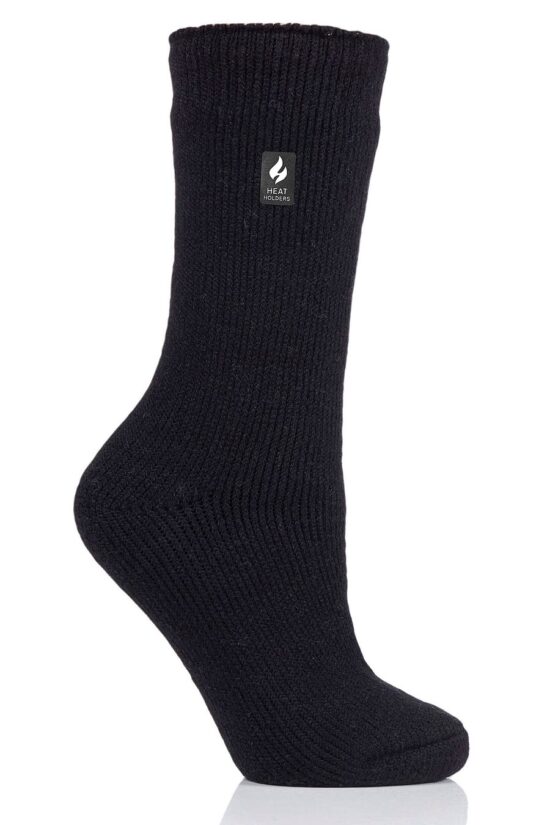 The first and original Heat Holders® Crew sock! Keep feet warm on the coldest of days and pull on this pair of solid color crew length Heat Holders® for women, the warmest thermal sock. Thick, chunky and with a massive tog rating of 2.34, Heat Holders® are made from a specially developed heavy bulk yarn which has extreme thermal qualities. With long pile cushioning, these thermal socks will help keep feet fully comfortable and supported. The inside of each sock has been intensively brushed that not only feels sensationally soft but also traps warm air close to the skin keeping your feet warmer for longer. Heat Holders® thermal socks are also designed and built to be non-binding. Women's Camellia ORIGINAL

Crew Socks are $17.99. Visit https://www.heatholders.com/.
19 Crimes "Martha's Chard"

19 Crimes tells the true story of rulebreakers who beat the odds and overcome adversity to become folk heroes. This spirit lives on today through innovators like Martha Stewart. Martha's Chard offers notes of bright citrus fruit with a firm acidic core keeping the savory notes from dominating the fruit for a crisp, refreshing finish. 19 Crimes "Martha's Chard" is $12. Visit https://19crimes.com/.
19 Crimes Snoop Dogg Cali Red Blend

19 Crimes is defiant by nature and bold in character and is proud to partner with entertainment icon, Snoop Dogg. Snoop Dogg's Cali Red Blend offers a blend of Petite Sirah, Zinfandel, and Merlot, creating aromas of vanilla and hazelnut accented with distant, smoky, American oak. This blend is full and dense on the palate with strong flavors of black and blue fruit and finishes on a slightly sweet note. Snoop Dogg and Martha Stewart have created the perfect gifts to keep the vibes 'young, wild & free' at this year's holiday gatherings. 19 Crimes Snoop Dogg Cali Red Blend is $12. Visit https://19crimes.com/.
Cakebread Cellars Treasured Classics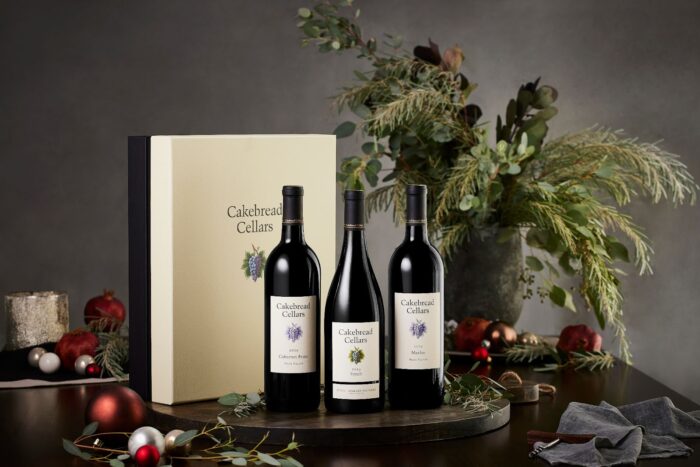 Family has been at the heart of Cakebread Cellars' tradition since Jack and Dolores Cakebread founded the winery in 1972. The holidays are all about celebrating our loved ones and spending time with family, which is why Cakebread Cellars puts extra thought behind each holiday wine collection, offering curated selections of bottles sure to impress whether enjoyed now or tucked away into the cellar for holidays to come.
Indulge in their collection of Treasured Classics, the wines that put Cakebread Cellars on the map and earned their loyal fanbase: Napa Chardonnay (2021) and Napa Cabernet Sauvignon (2019). The price is $128. Visit https://www.cakebread.com/.
Mersecco Blanc de Blancs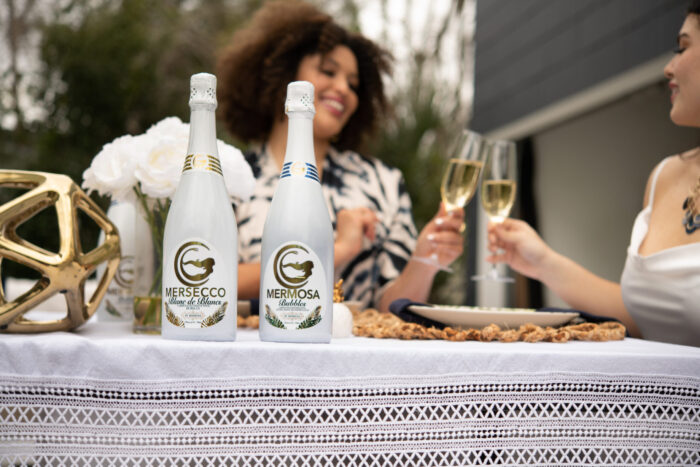 Mermosa's Mersecco is a classic wine with a bubbly personality – a brightly carbonated Blanc de Blancs with golden hues, fruit-forward notes of ripe pear and a crisp, dry finish. The perfect sparkler for holiday cocktails, Mersecco Blanc de Blancs is a blend of Oregon Pinot Gris, Riesling and Chardonnay (13% Alcohol by Volume). Awarded 90 points by Wine Enthusiast.
Florida's first Black woman-owned wine brand, Mermosa, is inspired by an epic tale of the founder's ancestors, Celestine, a Black Haitian woman, and Philippe Noisette, a white French gardener. They married in the late 1700s and blazed a trail of love and devotion that included Philippe claiming ownership of his wife and children to keep them out of the slave trade in Antebellum South Carolina.
Philippe's great success as a gardener led him to introduce the Noisette Rose, a flower bold and enduring like his beautiful Celestine. Upon his death in 1835, Philippe made sure that all of his money went to Celestine and their children. It could have led them out of the South to freedom, but Celestine took matters into her own hands and negotiated freedom. Her audacious spirit and their eternal love is infused in every sip of Mermosa.
Mermosa produces proprietary sparkling wines from premium grapes grown primarily in Coastal Oregon and Washington State. Bottles retail for $14.99. Mermosa is a Better for You beverage option; each light, refreshing sip is fat free and is low in sugar, calories and carbs, and contains low alcohol by volume. The brand welcomes everyone to the party at the beach, on a boat, having brunch or getting together with friends and family. Visit https://mermosa.com/.
Stags' Leap Winery 2018 The Leap Estate Grown Napa Valley Cabernet Sauvignon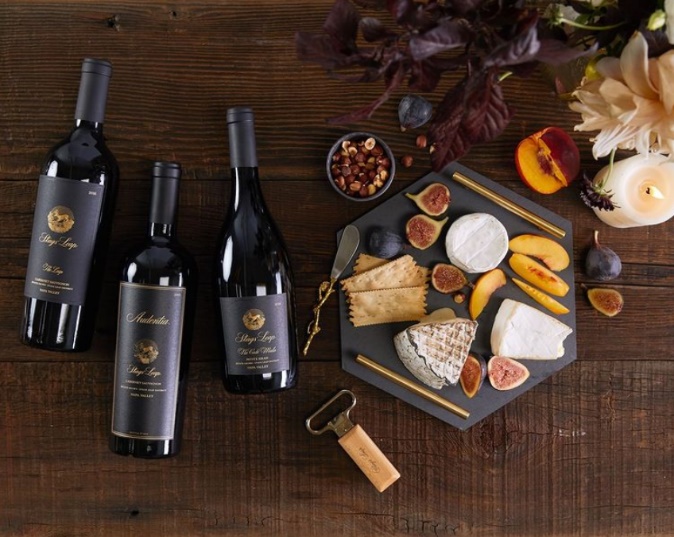 Stags' Leap Winery 2018 The Leap Estate Grown Napa Valley Cabernet Sauvignon is a classic Stags Leap District Cabernet. This vintage offers dark and alluring notes of black berry fruit, combined with a rich and mouth-enveloping texture. Bringing forth blackcurrant, cassis, dark raspberry, and black cherry aromas on the nose, along with delicate notes of allspice, cedar, and espresso, this Cabernet Sauvignon showcases an elegant depth and graceful structure of velvety rich tannins with a long, lingering fresh finish. Stags' Leap Winery 2018 The Leap Estate Grown Napa Valley Cabernet Sauvignon is $120.Visit https://www.stagsleap.com/.
ABERFELDY 12 Year Old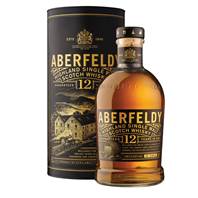 ABERFELDY 12 Year Old is a smooth, sweet dram that features a unique honeyed sweetness paired with notes of spiced vanilla, fudge and pineapple. It has ABV 40% and is 750 ml. ABERFELDY 12 Year Old is $60. Visit https://www.aberfeldy.com/us/en/.
Craigellachie 13 Armagnac Cask Finish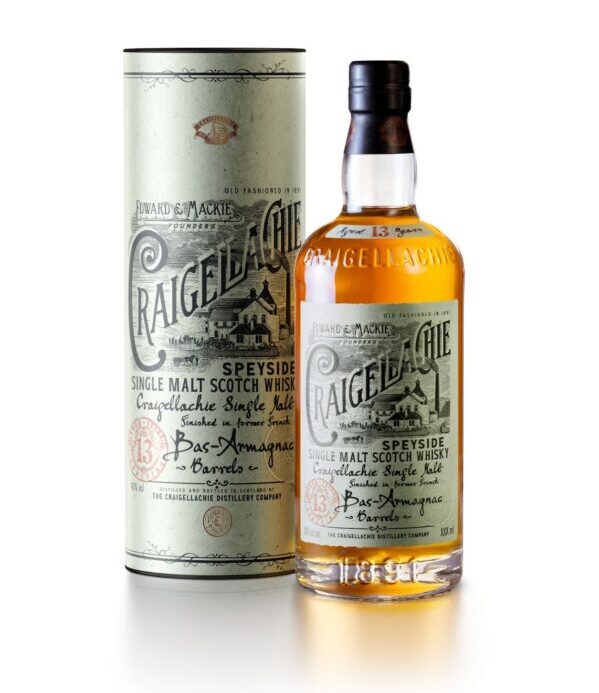 Launching August, Craigellachie initially matured for 13 years in American oak, in a combination of refill and rechar Bourbon barrels, the whisky was then transferred to Armagnac casks from the Bas Region, renowned for producing the best Armagnac. Tastes of baked apples dusted with cinnamon and notes of caramel shortcake are offset by signature syrupy pineapples and fiery bonfire night aromas. It has ABV 46% and is 750 ml. Craigellachie 13 Armagnac Cask Finish is $64.99. Visit https://www.craigellachie.com/.
Royal Brackla 12 Years Old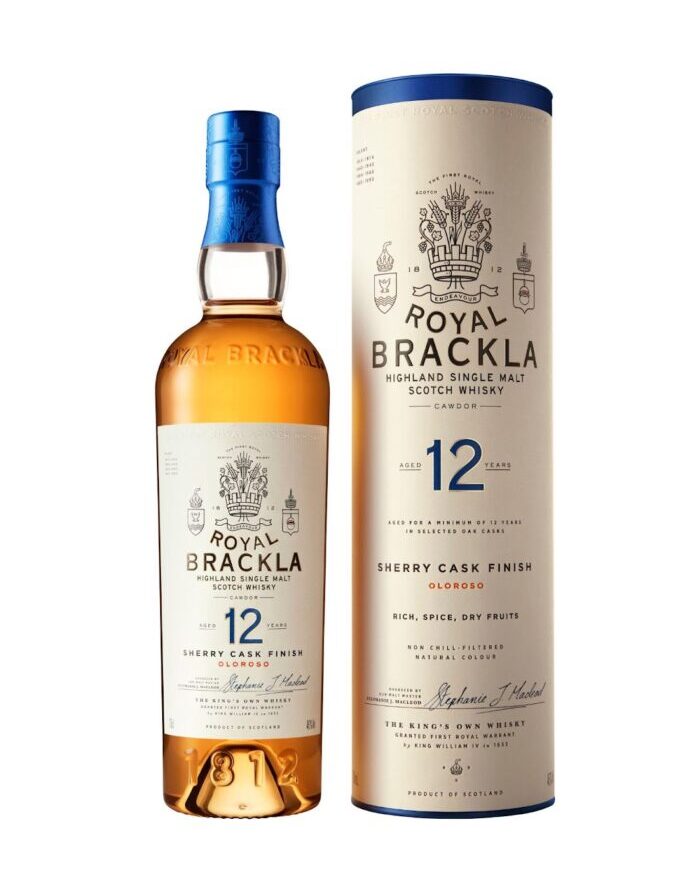 Matured in American Oak; combination of first-fill, refill and rechar. Finished in Oloroso sherry casks. Rich and exuberant — the full bodied spice of Oloroso, and the bright summer breeze of Royal Brackla elegantly combine as a smooth and inviting dram — ripe peaches, black cherries, chocolate covered almonds and muscovado sugar. It has ABV 46% and is 750 ml. Royal Brackla 12 Years Old is $70.99. Visit https://www.royalbrackla.com/.
ABERFELDY 18 Year Old Limited Edition finished in Tuscan Red Wine Cask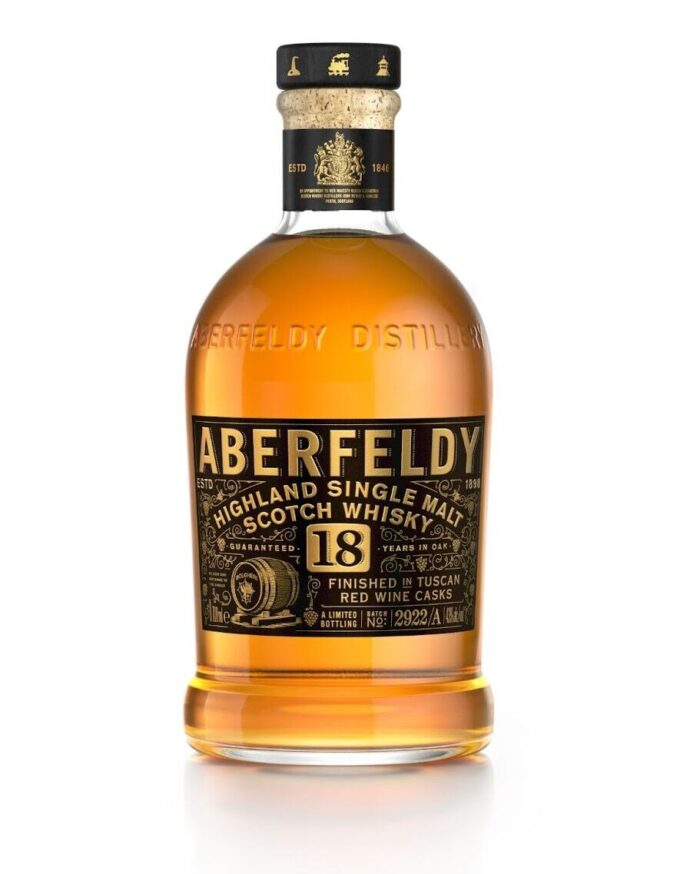 ABERFELDY Red Wine Cask Limited Edition series is a passion project of Malt Master Stephanie Macleod, with a focus on unique cask finishes that compliment and elevate the signature character of ABERFELDY. Stephanie uses her exceptional skills in sensory analyses to observe the maturation and flavor development in each cask until achieving the desired flavors, at which time the whisky is deemed ready to be bottled. This is the fourth cask finish in this award-winning series. ABERFELDY 18 Year Old Limited Edition is infused with heavy notes of cherry frangipane and vanilla spice with flavors of sliced green peppers and limes and finishing with soft oak. Visit https://www.aberfeldy.com/us/en/.
The post Holiday Gift Guide for Home Business Owners – 2022 Edition appeared first on Home Business Magazine.
Original source: https://homebusinessmag.com/lifestyles/success-lifestyles/holiday-gift-guide-home-business-owners-2022-edition/