Home Business Magazine Online
Ray Arrington Sr. has teamed with Steven Alvey to assist entrepreneurs with improving their email marketing.  If done correctly, email marketing can achieve high returns on investment. Most home-based business owners use or have used email marketing.  There are so many different ways to market, and the types and varieties grow each year.  But email marketing continues going strong, and should be part of any marketing tool box.
One of the key challenges in email marketing is to avoid spam, or spamming.  This can result in negative reactions from recipients of spam email and being blocked from sending emails from an email marketing host.  So it's important to consult experts in the field of email marketing, to reduce risk of spamming.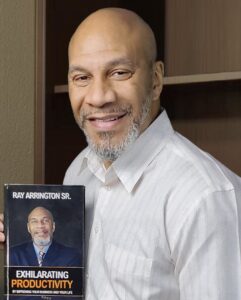 In addition to email marketing, Ray Arrington Sr. has a well-diversified background. He is the author of the book Exhilarating Productivity by Improving Your Business and Your Life.  Ray describes this as a playbook to increase your productivity, your focus, and your discipline.  As Ray Arrington puts it: "Eliminate distractions, SMASH procrastination, and crank your productivity up to a level you've never seen before! This book is going to help you break through the walls that have been holding you back for years."
Ray Arrington also provides business coaching. In this endeavor, he helps people interested in coaching to develop the right mindset and build the right skills in coaching. He developed a step-by-step guide on how high-ticket coaching is performed.  Ray Arrington also works in time management and focus. He has developed a step-by-step guide in time management. Specifically, he highlights the importance of shifting your focus to be more aware of your time. And identify the things that steal your time. Ray stresses that better time management can transform your life.
Ray Arrington Sr. is making his mark in the home-based business world.  To find out more about support he offers in email marketing you can visit RayArringtonSR.com/free
The post Ray Arrington Sr Focuses on Gaining an Email Marketing Advantage and More appeared first on Home Business Magazine.
Original source: https://homebusinessmag.com/business-spotlight/ray-arrington-sr-focuses-on-gaining-an-email-marketing-advantage-and-more/