Home Business Magazine Online
We are approaching the halfway mark of winter. Home business owners are revitalized after the holidays. In addition, they look forward to sunshine, green trees, flowers, and Valentine's Day. There are many fabulous products on the market today for this time of year for entrepreneurs, their friends, their families, and their "valentines."
The products featured in Home Business Magazine's Valentine's and Pre-Spring 2023 Gift Guide include ergonomic home office furniture, tasty treats, health and beauty products, clothing and accessories, and home products. Check out these products that make perfect gifts for home business owners to use themselves this pre-spring or to say, "thank you," "I appreciate you," or "I Love You" to their valentines.
FlexiSpot Soutien Ergonomic Office Chair
With its 3D lumbar support system, 135° lounge tilt and 4D adjustable armrests, the FlexiSpot Soutien Ergonomic Office Chair gives you the ultimate seating experience behind your desk. Featuring three height adjustment levels and a gentle rebound system, the elegantly curved backrest ergonomically conforms to the neck and spine for maximum headrest and lumbar support. The Soutien is adjustable in four dimensions, and the flexible armrests contour effortlessly to your arms and elbows for maximum comfort. Made from Italian-imported chenille and K+R temperature-sensitive fiber, its premium fleece mesh offers maximum ventilation and protects the most delicate fabrics.
A 45° backrest tilt lets you recline in comfort during your lunch break at work. Moreover, its adjustable seat depth enables you to customize your sitting experience according to your body shape. Featuring a best-in-industry Samhongsa Class 4 Gas Lift and certified by TUV/BIFMA/SGS with over 10000+ pressure test cycles means the Soutien can manage whatever you throw at it. The Soutien comes in black or grey. Price: $269.99. Visit https://www.flexispot.com/ergonomics-3d-lumbar-support-office-chair-oc10b-oc10g.

Troubadour Apex Backpack
This Troubadour Apex Backpack is perfect for your commute, gym kit, and day trips. Its lightweight waterproof fabric, lining, and zippers keep your gear dry. The padded section fits up to a 17" laptop. Multiple internal pockets are for easy organization. The backpack includes a zipped external pocket and two retractable bottle holders. It also includes a breathable back panel and ergonomic padded shoulder straps for comfort. A trolley sleeve slides over a suitcase handle. It is also available in a compact version. Price: $245. Visit https://www.troubadourgoods.com/collections/backpacks/products/apex-backpack?variant=43417929875688
Also visit Mujjo, which is now part of the Troubadour family, and check out its line of Slings and Messengers.

No Ruff Waves Men's Surf Tee in Charcoal
No Ruff Waves offers adventure apparel for dog dads. Stylish, soft, and lightweight, this surf shirt is a must-have for any dog dad's wardrobe. Shirts are true-to-size for men, and are made with 90% organic cotton/10% recycled polyester. They are easy care, machine washable – preshrunk, tagless, and crew neck – perfect for valentines. Fetch the Sun donates $2 to animal shelters for every shirt sold. Check their homepage to see whom your purchase will benefit this month. Price: $45. Visit
https://www.fetchthesun.com/product-page/no-ruff-waves-men-s-surf-tee-organic-cotton.

Cozy Earth Women's Bamboo Ultra-Soft Midi Skirt
Comfort meets class in Cozy Earth's first women's skirt made from the same softness of their Oprah-approved Women's Bamboo Ultra-Soft Jogger. Featuring two knee-length slits to offer free-flowing, feminine flair and ultra-soft brushed finish, this seasonless midi skirt offers endless styling options for valentines to look effortlessly elegant in less time. A drawstring stretch waist enhances comfort while patch pockets give your essentials a place to stay. The fabric is made with 62% Premium Viscose from Bamboo, 28% Acrylic, and 10% Spandex. Price: $124. Visit
https://cozyearth.com/products/women-s-ultra-soft-bamboo-midi-skirt?variant=41544978759860.
Uber Appliance's Air Fryer XL Deluxe
Backyard BBQ's? Summer celebrations? Family dinner night? Have no fear! Cook up all your family meals this summer with Uber Appliances Air Fryer DELUXE! It comes with a 5 quart basket so you have enough room to air fry an entire chicken! The basket is also dishwasher safe, so forget the hassle of cleaning up after yourself. The Uber Air Fryer XL features an easy-to-use touch display for temperature and time setting with temperatures ranging from 150 Fahrenheit to 400 Fahrenheit, the digital display also has several pre-set cooking temperature and time to perfectly cook chicken, steak, fries, wings and so much more with a single press of a button.
Cooking temperature is adjustable up to 400 degrees Fahrenheit for optimal hot air frying environment. You can cook your favorite fried foods without all the oil. Oil less air fryers are proven to reduce 80% of fat from fried foods. The gift receiver can make their favorite foods without all the fats with one multi-function countertop appliance. Furthermore, many clients find the plastic odor from air fryers off-putting, so Uber listened. By pre-venting the plastic at the factory, it becomes an odorless air fryer. The only smell that comes from the air fryer will be the appetizing aroma of the foods. Price is $109.00. It is available at Uberappliance.com, Amazon, Wayfair and more.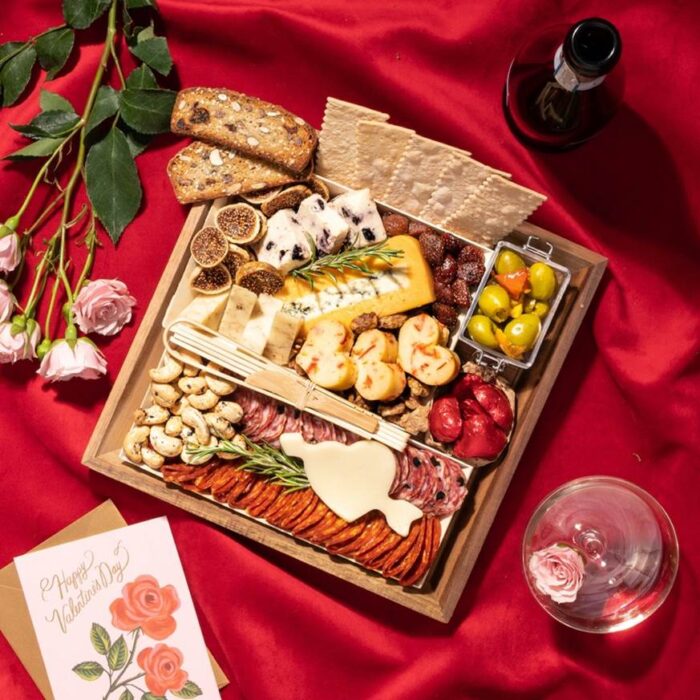 Boarderie Cheese Lovers Ciccetti Cheese & Charcuterie Board
Valentine's Day gifts can be tricky to pick, but no matter who you are treating this year, they'll be thankful to receive a Valentine's Day cheese and charcuterie board from West Palm Beach, FL-based Boarderie. Honored by Oprah Winfrey in November 2022 on her exclusive "Favorite Things" list and featured on ABC's 'Shark Tank" on November 18, 2022, Boarderie is the first and only company that is shipping completely pre-assembled, catering-quality cheese and charcuterie boards overnight, nationwide. Boarderie has changed edible gifting and "Shark Tank" investor Lori Greiner agrees … She accepted the chance to work with Aaron Menitofff (Co-CEO & Managing Partner) and Rachel Solomon (Co-CEO & Partner) to take their business to the next level.
Pictured above is the Cheese Lovers Ciccetti Cheese & Charcuterie Board. Included in box: 15 hand-selected artisan cheeses, meats, dried fruits, nuts and chocolates artfully-arranged and ready-to-serve, 1 box of rosemary and olive oil crackers, Acacia wood board (9in x 9in x 1.5in), Bamboo cutlery kit.
Boarderie's Limited Edition Valentine's Day Ciccetti serves 2-3 and arrives chilled, fully arranged and ready-to-serve in an acacia wood board. Simply cut open the freshly sealed pouch and enjoy. This board features 16 hand selected, artisan ingredients sourced from around the world for a perfectly balanced pairing.
Cheeses include: Huntsman 2-Layer, Peppadew Pepper White Cheddar, Truffle Gouda, Madagascar Bourbon Vanilla Cheddar, and White Cheddar Heart. Charcuterie includes: Angel's Black Truffle Salami and Salami Piccante. Accompaniments include: Dried Strawberries, Turkish Dried Figs, Candied Walnuts, Everything Seasoned Cashews, Tangerine & Chili Marinated Green Olives, Chocolate Hearts, Sun Dried Tomatoes, and Rosemary & Olive Oil Crackers.
Cheese Lovers Ciccetti Cheese & Charcuterie Board is $139.00. Check out their other amazing options for Valentine's Day and future celebrations. Visit https://boarderie.com/.
Good Molly's Cookies
Good Molly's, a woman-owned startup, offers delicious cookies in a variety of options that will delight your loved ones for Valentine's Day. Good Molly's

Bakehouse Cookies are handmade with premium and organic ingredients like Certified Gluten Free and Purity Protocol Wyoming Oats (without glyphosate) and Vermont Maple Syrup. You won't find any artificial ingredients or preservatives in their cookies — just pure, delicious indulgence! Just about everyone can enjoy Good Molly's

Bakehouse Cookies because they are gluten free, dairy free, egg free, soy free, peanut free, sesame free, tree nut free (other than coconut), and vegan.
Good Molly's Cookies are made in a gluten free, peanut free, tree nut free (other than coconut), and soy free facility. Dairy and egg are processed in the facility (in other products and on different days). Finished product is tested for gluten.
The Bakehouse Dozen Box includes 12 oversized 2-oz cookies (4 each of Sea Salt Double Chocolate, 3 each of Chocolate Chunk and Cinnamon Oatmeal and 2 each of Peppermint Brownie), makes for a great gift, anytime. Box measures 8″ x 8″ x 3″. The oversized cookies are perfect for sharing — or for keeping all to yourself. Eat or freeze upon receiving. Perfect for gatherings and celebrations. It is $39.95. Visit https://goodmollys.com/.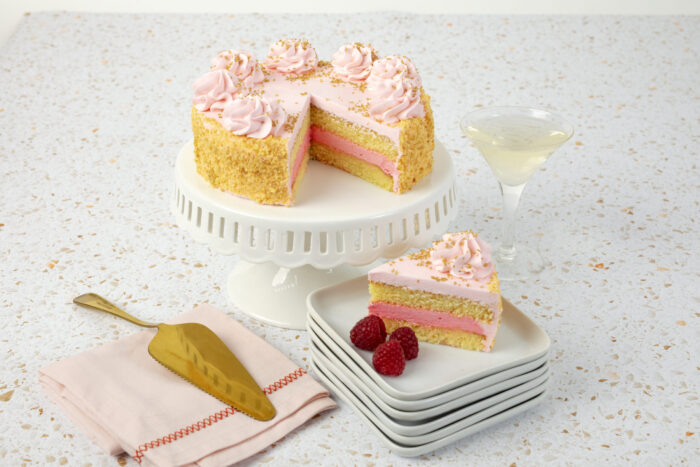 BakeMeAWish.com Valentine's Day Lineup
BakeMeAWish.com, the leading national online gourmet gifting company, has introduced two new unique flavored delights to their Valentine's day lineup, the Pink Champagne Cake and Chocolate Truffle Cake. There's no need for generic chocolate or candy hearts when you can send your message of love with delicious, fresh-baked treats from BakeMeAWish.com's beautifully crafted gourmet confections for Valentine's Day. Each gourmet gift comes with festive packaging and a greeting card to share your love. With guaranteed next-day delivery, you can be sure to spread the love anywhere! In keeping with their seasonal good-will efforts, 5% of sales support a variety of non-profit organizations through Bake Me A Wish! Cares. You can find BakeMeAWish.com on Rakuten.
The Pink Champagne Cake is a fluffy yellow cake with a hint of champagne flavor and a delectable raspberry cream inside. The Chocolate Truffle Cake is a unique chocolate cake experience with decadent chocolate cake that features chocolate truffle balls on top and is covered in chocolate sprinkles around the side. Send your special someone a message to feel extra loved this Valentine's Day with the"Happy Valentine's Day" themed cake and heart-shaped cake decorated with the classic "Be Mine."
Also included in the Valentine's Day lineup like the Solid Gold Valentine's Day Tower, JUMBO Valentine's Day Cupcakes, and the Heart-shaped Cookie Tin. For the romantics looking for chocolate, BakeMeAWish.com offers delectable chocolate truffles in their Classic Chocolate Truffle Gift Box and Deluxe Chocolate Truffle Gift Box. These truffles include a mix of dark, white and milk chocolates with creamy fillings like caramel, coffee or amaretto.
"Valentine's Day is the perfect time to send a sweet message of love to brighten someone's day!" said Joseph Dornoff, President of BakeMeAWish.com "It isn't just for couples and lovers. It's a great opportunity to let someone special in your life know you're thinking about them."
The Valentine's Day lineup from BakeMeAWish.com includes: Beloved Brownie Sampler ($42), Be Mine! Heart-Shaped Chocolate Cake ($60), Be Mine! Heart-Shaped Red Velvet Cake ($60), Solid Gold Valentine's Day Tower ($64), Valentine's Day Boutique Tower ($59), JUMBO Valentine's Day Cupcakes ($50), Mini Valentine's Day Cupcakes ($52), The Valentine's Day Basket ($55), Heart-Shaped Cookie Tin ($38), Pretty in Pink Valentine's Day Cake ($60), True Romance Valentine's Day Cake ($60). To order gourmet bakery gifts for family and friends for Valentine's Day please visit www.bakemeawish.com.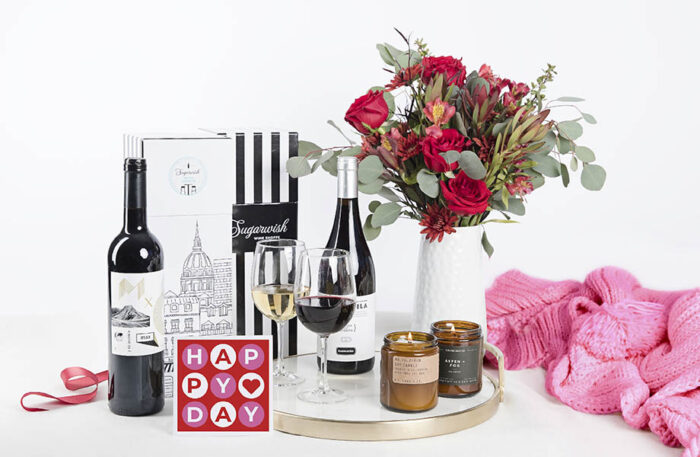 Sugarwish Valentine's Luxe
It's no surprise gift experiences have been named one of the biggest gifting trends for 2023. Experiences reign supreme as they are so much more personable, memorable (and fun!). With this in mind, Sugarwish has launched its most luxurious and extravagant gift experience of them all — The Sugarwish Valentine's Luxe. The new Valentine's gift experiences deliver even more choice (giftees can choose their own gift category) and then their favorite flavors, scents or varietals! The best part? Sugarwishes can be sent via email or text (or the app of their choice).
Sugarwish Valentine's Luxe starts at $35 shipped. It is the perfect gift for those that deserve something extra this heart-warming season! Giftees get to choose between Ultra Premium Wines and Wine Tastings, Beautiful Farm Fresh Flowers, Boutique Candles, or Candy!… and then they pick their favorites.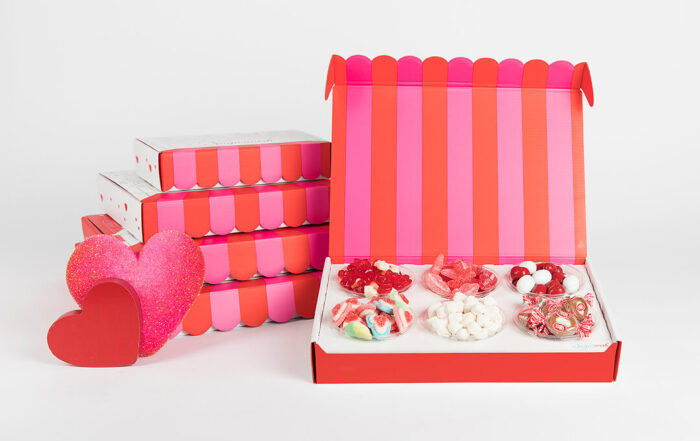 Furthermore, you can consider gifting Sugarwish Valentine's Treats. They start at $25 shipped. Send the perfect gift of candy, cookies, popcorn, snacks, coffee or tea to your entire Valentine's list! Your recipients will love you for it. Valentine's themed gifts arrive in limited edition pink and red striped boxes. Visit Sugarwish.com.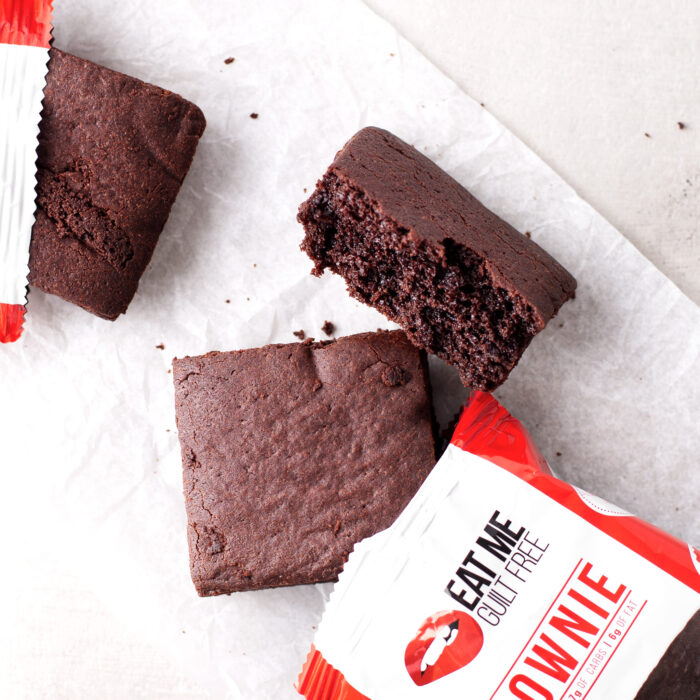 Eat Me Guilt Free
This Valentine's (or Galentine's) Day, treat your sweetheart or favorite gal pal to Eat Me Guilt Free – a health-focused line of bread, brownies, snacks and tortilla wraps. To celebrate Eat Me Guilt Free is offering 15% off on all brownies from February 13-19, 2023.
Cuban-American Cristie Besu started baking Eat Me Guilt Free treats straight from her very own kitchen in 2013 while working as a registered nurse and certified sports nutritionist. Eat Me Guilt Free was created to fill a void for Besu's original customers. She worked closely with clients to craft nutrition programs, helping them with everything from disease management to improving labs, to just being able to move and feel better about themselves.
Products are available for purchase at more than 9,000 independent retailers nationwide including Winn Dixie, United Supermarkets, Safeway, Giant Food, Albertsons, Market Street, Faire Market Place, GNC, The Vitamin Shoppe, Dick's Sporting Goods, Planet Fitness, Gold's Gym, Anytime Fitness, Go Puff, and Navy Exchange Stores as well as Amazon.com, Walmart.com and EatMeGuiltFree.com.
Here a few of EMGF's Valentine's Day brownie favorites:
Red Velvet ($38 – box of 12) – She may be smooth like velvet on the outside, but it's the inside that matters – and she's got it all! This red velvet brownie is filled with white chocolate chips, non-GMO, free of preservatives, protein-packed, and low-carb!
Tuxedo ($38 – box of 12) – Dressed to the nines and OOF' also fine, Eat me Guilt Free's Tuxedo brownie always makes an impression. A rich chocolate brownie, detailed with white chocolate chips. This snack will have you feeling oh-so-sophisticated.
Nothing But Chocolate ($38 – box of 12) – This protein-packed variety box is filled with nothing but chocolate brownies. For a limited time, enjoy 3 of each (Galaxy, Tuxedo, Original Chocolate, and PB Bliss) in ONE box! This one is for all the chocoholics out there!
In development for two years, Eat Me Guilt Free's new and improved formula has less sugar, is non-GMO and uses modified atmosphere packaging to exclude unnecessary preservatives. It features ingredients sourced in Europe, where regulations against food additives are more stringent than in the U.S. The new formula is packed with 14 grams of protein, and is low-carb, with approx. 200 calories per serving. While improving the quality of ingredients in its products, Eat Me Guilt Free remains focused on maintaining an unprecedented protein-packed and low-carb ratio. Visit https://www.eatmeguiltfree.com/.

doTERRA MetaPWR Supplement System
The MetaPWR system includes six supplement products designed to support your metabolic health on a cellular level. Products in the system are also available individually. The MetaPWR system helps you live your most powerful life, supporting your metabolism, energy, and health on a cellular level.* Designed to be used in a system, each MetaPWR product offers a specialty, while also supporting and enhancing the benefits of the other products. The MetaPWR System includes the following:
1. MetaPWR Metabolic Blend
2. MetaPWR Metabolic Blend Softgels
3. MetaPWR Metabolic Blend Beadlets
4. MetaPWR Metabolic Blend Satiety Gum
5. MetaPWR Metabolic Assist
6. MetaPWR Advantage with Collagen + NMN
For a limited time, this kit qualifies as an enrollment kit. Furthermore, it will include one year of doTERRA Wholesale membership for new doTERRA customers! Price: $238.67. Visit https://www.doterra.com/US/en/p/metapwr-kit.

Cozy Earth Women's Bamboo Jogger Pant
Our irresistibly soft Women's Bamboo Joggers have all the coziness of pajamas woven into a stylish silhouette that valentines can wear anywhere. With their flattering fit and phone-friendly side pockets, these super soft joggers will be your softest all-season staple wardrobe whether you are staying in or stepping out. This ultrasoft brushed fabric is made of 62% Premium Viscose from Bamboo, 28% Acrylic, and 10% Spandex. Awarded Oprah's Favorite Things 2020. Price: $124. Visit https://cozyearth.com/products/cozy-earth-ultra-soft-bamboo-jogger-pant?variant=31072660750433.

A3 Direct K Cup Drawer Organizer
A3 Direct K Cup Drawer Organizers allow you to keep all of your pods organized and easily accessible, saving you time and space in your kitchen. Store your coffee pods in style with these convenient k cup holders for counter display or tucked away in your drawers. Compatible with Keurig coffee pods, this acrylic Keurig coffee pod holder is a must-have for coffee-loving valentines and those who love to keep their countertops tidy. This k-cup holder conveniently stores up to twenty-five of your favorite K-Cup pods holders for counter display or tucked away in your drawers. Each drawer K Cup organizer is made of durable and lightweight acrylic sized 10.63″ L x 10.63″ W x 1.57″. Price: $23.99. Visit https://www.amazon.com/dp/B09PTJDDGH.

A3 Direct's Team Bride Bachelorette Cups
A3 Direct's rose gold bachelorette party cups are perfect additions to your party no matter the theme. Bridesmaid cups can hold up to 16 oz. of your favorite drink, making sure you never run on empty! Set of 11 cups include 1 white Bride Cup + 10 rose gold Bridesmaid cups! These cups will be ready for the party and after-party! Durable, reusable, and dishwasher-safe material. Price: $16.99. Visit https://www.amazon.com/dp/B07D537SCT. For additional A3Direct Party Supplies for a bachelorette party, wedding, or baby shower, check out the following:
– A3 Direct Bachelorette Party Games: https://www.amazon.com/dp/B07CMF2TK4 and https://www.amazon.com/dp/B07D52LKX4
– A3 Direct Bachelorette Cups: https://www.amazon.com/dp/B092LGMP91
– A3 Direct Bridesmaid Cups: https://www.amazon.com/dp/B08X6B328Z
– A3 Direct #1 Gender Reveal Team Boy and Team Girl Cups:
https://www.amazon.com/dp/B08QW82N1T

A3 Direct Bachelorette Sunglasses
A3 Direct's set of stunning bridesmaid sunglasses is perfect for a wild night out with the girls or just lounging by the pool. The stylish white and rose gold frame colors are sure to match any outfit too! These bachelorette party sunglasses are not just pretty! They are made with stylish reflective UV 400 lenses that will keep your eyes safe from harmful rays while still looking fabulous! A set of these classy vintage-styled bride sunglasses include one white pair of Bride and six pairs of rose gold Bride Tribe frames. Price: $22.99. Visit https://www.amazon.com/dp/B07GDTNMLZ.

A3 DIRECT LED Glasses
A3 DIRECT's set of twelve LED light up, glow in the dark sunglasses comes with twelve pairs of LED glasses in four colors (red, blue, green, purple) with batteries pre-installed, so you can use them right away. Moreover, they have 12 hours of life. Each LED glasses party favor is made to universally fit both adults and kids, making this fun and vibrant glow party favors pack a sure hit at your glow in the dark party or neon party. These light up sunglasses are perfect for adults' and children's glow in the dark parties, neon parties, birthday parties, parties for valentines, New Year parties, concerts, and more! Price: $15.99 for 12 Pack. Visit https://www.amazon.com/dp/B07DBYSR3M.

A3 Direct N2 Makeup Brush Organizer
Store all your favorite makeup brushes, eyeliner, and lip pencils with this acrylic makeup brush holder. With six large storage slots, you can fit all your brushes in a convenient and stunning way. Dimensions: 8.0″ x 4.5″ x 3.5″ / Slot dimensions: 2.25″ x 2.x25″. You will love how much the makeup brush organizer can fit! Store brushes of all lengths (especially long ones) without the fear of tipping thanks to its sturdy design and gripped bottom base. The N2 brush holder makeup organizer is made with premium scratch-resistant acrylic complete with a sleek black finish. This brush makeup holder will look great on your vanity or bathroom countertops. Price: $25.00. Visit https://www.amazon.com/dp/B01CT4EGFY.

Marbela Yamma Jamma Soap
Georgia based Marbela creates cruelty-free, handmade bath products that will help valentines enjoy their "me time," while also making you feel good about your purchase due to the brand's minimal environmental impact. Marbela's Yamma Jamma Soap offers the aroma of marshmallows roasting in the oven with brown sugar melting on top is a favorite childhood scent for many. Sweet Potato, Marshmallow, and Pumpkin. Made with Saponified Oils of: Olive Oil, Organic Virgin Coconut Oil, Shea Butter, Castor Oil, Vitamin E, Mica, Sodium Lactate (for hardness), Titanium Dioxide (natural colorant), Fragrance. 3.5 oz Handmade, Vegan Friendly, Cruelty Free. Price: $9.95. Visit https://marbela.com/en-ca/collections/handmade-artisan-soaps/products/yamma-jamma-handmade-soap.

Balance Your Buzz Cocktail Mixers
These vitamin and electrolyte drink mixers were formulated by a naturopathic physician to replenish what alcohol depletes for a better tomorrow. They are awesome for mocktails. Moreover, if you forgot to "Balance Your Buzz" the night before, these cocktail mixers work well as recovery drinks too! Healthy cocktails just became a thing! Balance Your Buzz Cocktail Mixers are easy to travel with 8-oz. vitamin infused, no added sugar packets that mix with alcohol for a delicious cocktail. Use them post-workout, hydrate while traveling, and boost immunity. Moreover, enjoy with valentines.
There is NO alcohol in these mixers. In addition, they are available in five delicious Passion Fruit, Mixed Berry, Coconut Blood Orange, Lemon Lime, and Apple Cider. They are keto-friendly, gluten-free, low calories, low carbs, and contain no preservatives or sugar. Moreover, they are vitamin-, antioxidant- and electrolyte-rich. Price: Variety 8-Pack (2 Of Each Flavor + 2 FREE Apple Cider) – $13.99. Visit thebuzzongifts.com.

Zoop Complete Pet Bundle: Health + Odor Grooming Wipes, Towels & Stain + Odor Pro Eliminator Spray
Zoop makes utterly genius pet solution products that are better for pets, people, and the planet. Zoop's nontoxic pet products are made without gross, unpronounceable ingredients — instead, they find powerfully simple formulations that work, every time! Zoop is a non-toxic pet grooming brand that allows you to clean your pet's fur, paws, and ears with ease and harm free. After use, your pet will feel refreshed and cleaner than ever with Zoop's effective Health + Odor Grooming Towels – 15 Count , Health + Odor Grooming Wipes – 60 Count, and Stain + Odor Pro Eliminator Spray. Price: $48.99. Visit https://zoopbrand.com/products/complete-pet-bundle.

Papadelics Trippin' Truffle Parm
Shiitake mushrooms have long been a part of Asian cuisine due to their diverse potential medicinal benefits such as activating the immune system, supporting heart health, and increasing energy levels. After all, shiitake mushrooms still account for over 25% of the world's edible mushroom production. Cue Popadelics, a line of crunchy shiitake mushroom chips that are vegan, non-GMO, and pack 6g of fiber and 3g of protein per 1.4 oz serving. They are available in three flavors — Trippin' Truffle Parm, Twisted Thai Chili, and Rad Rosemary + Salt. A portion of all sales of Popadelics supports various causes centered on health and wellness, including the Johns Hopkins Center for Psychedelic & Consciousness Research and their exploration of innovative treatments for improved mental health. Price: $30.00 for three bags (4 oz each). Visit https://www.popadelics.com or https://popadelics.com/collections/snacks-2/products/trippin-truffle-parm.

dōTERRA SuperMint Oil
Crisp, clean, and compelling, doTERRA SuperMint brings together CPTG® Peppermint, Japanese Mint, Bergamot Mint, and Spearmint essential oils for a powerfully refreshing blend. When diffused or used topically, doTERRA SuperMint offers valentines an invigorating and energizing aroma, creating an uplifting environment that is ideal for mental focus and enhanced stamina. Menthol—the primary chemical constituent of doTERRA SuperMint—promotes a cooling sensation when inhaled, which may contribute to feelings of open airways. When applied to the skin during a massage, its cooling effect may be soothing and comforting. This synergistic blend helps freshen the breath. In addition, it supports a healthy digestive system when taken internally. * Price: $42.67. Visit https://www.doterra.com/US/en/p/supermint-oil or for this product in beadlets for $21.33 at https://www.doterra.com/US/en/p/supermint-beadlets.

dōTERRA Motivate® Touch Encouraging Blend
Breathe in the refreshing, citrusy, and minty aroma of doTERRA Motivate as you set yourself up for success and strive to make the most out of every day. This blend includes hints of mint and citrus and can be applied in an easy roller on temples, wrists, and pulse points. Trying new things or developing healthy habits can be difficult or uncomfortable, causing you to doubt yourself or feel pessimistic. Positive self-talk, goal setting, and recorded progress are all effective ways to keep you moving forward.
As you work to find the courage to take the next step, roll on doTERRA Motivate Touch. Convenient and gentle, the roll-on essential oil blend is ideal for valentines with sensitive skin or children. Examples of its uses include: rolling onto your temples before a day of challenging work; applying to the back of the neck before giving a speech. Gliding onto the pulse points before participating in sports or other competitions. Price: $22.67. Visit https://www.doterra.com/US/en/p/doterra-motivate-touch-encouraging-blend-oil.

Plantmade Scalp and Beard Massager
Plantmade's Scalp and Beard Massager, a perfect gift for valentines, gets rid of dead skin cells and reduces dandruff. It removes excess build-up, dirt, and toxins. The soft silicone bristles exfoliate, providing gentle relief from itchiness. Moreover, they help you get to those hard-to-reach places. The massager stimulates blood flow to spark hair and beard growth at the follicles. It creates the perfect environment for a healthy scalp and beard. Price: $14. Visit https://www.weareplantmade.com/products/scalp-and-beard-massager.

Earlybird Full Spectrum CBD Gummies
Earlybird is an Austin-based recreational hemp company that makes gummies and tincture formulated to make you feel good. It is one of the first companies to formulate a full-spectrum hemp edible with an intentional microdose of natural THC from hemp that delivers a consistent, relaxing experience and puts a smile on your face. Earlybird's Full Spectrum CBD Gummies target ~2.5mg of natural THC from hemp in each serving. They come in strawberry, watermelon, lemon flavors or of a flavor trio. Price for three pouches: $29.99. Visit: https://earlybirdcbd.com/collections/cbd-edibles/products/full-spectrum-cbd-gummies-4-pack?.

PlantMade's Origin Hair Growth Kit
PlantMade offers Ppure, plant-based, and powerful formulations designed to target your unique hair issues. This wellness hair care brand strives to give you healthy and hydrated hair! Mend and repair damaged hair and strands. Reactivate "sleeping" follicles to fill in those bald spots. Reduce excessive breakage and shedding. PlantMade's Origin Hair Growth Kit products are made of 100% vegan, plant-derived ingredients. PlantMade's Origin Hair Growth Kit includes Drizzle – Hydrating Mist, Soil – Hair/Beard Soufflé, and Inches – Strengthen|Grow|Mend. Price: Separately Starting at $29.00, or all three in the Origin Hair Growth Kit for $91.00. Visit https://www.weareplantmade.com/collections/all-products/products/origin to purchase PlantMade's Origin Hair Growth Kit or https://www.weareplantmade.com/collections/all-products to purchase products separately.

BLITHE Pressed Serum Line
BLITHE's Pressed Serum Line consists of skincare products of highly nutritious compressed serums that feature cold-pressed technology and slow fermentation. They offer deeper nutrition than a regular serum and better absorption than your normal cream or moisturizer for the face. The cold pressed serum contains highly concentrated nutrition of natural ingredients found in the world's longevity regions. It is a smart multi-tasking product that makes your daily skincare routine simple, effective, and quicker while offering you more spare time in an otherwise busy life of working city women. This Pressed Serums are available in four types to target your skin concerns:
1. Pressed Serum Tundra Chaga 1.68 fl oz to improve skin elasticity
2. Pressed Serum Crystal Ice Plant 1.68 fl oz to soothe irritated skin
3. Pressed Serum Velvet Yam 1.68 fl oz to moisturize skin
4. Pressed Serum Gold Apricot 1.68 fl oz to brighten skin tone
Price: Starting at $34 per serum. Visit blithecosmetic.com.

BLITHE Bubbling Splash Mask
BLITHE's Bubbling Splash Mask contains extract of Aloe Vera, Avocado, and African Whitewood that are full of Vitamin A, C, and E and help soothe sensitive skin, control excessive sebum, and minimize pores. This innovative mud mask provides a deep cleanse and minimizes/tightens pores. A blend of clay from Canada and glacial water from Alaska, the mask removes impurities and excess oil and decreases pores without drying the skin. It leaves skin looking healthy and fresh. The mask can be used as a mud or foam mask (add water for it to be foam). It's great for a quick exfoliation or an at-home spa day! Vegan, Cruelty-Free, Gluten Free, Hypoallergenic. Price: $24 for 4.0 fl oz. Visit https://www.blithecosmetic.com/collections/cleansers/products/bubbling-splash-mask-indian-glacial-mud.

TableTopics®
Looking for an effortless way to spark conversations at the dinner table? Call the family around, put away the electronic devices, and get gabbing with TableTopics®! Each card features a fun or thought-provoking conversation starter that will get everyone thinking and sharing about new and favorite things. Choose from these fun themes: Kids, Teen, Infomania Family. Starting at $9. Visit www.tabletopics.com.
AncestryDNA
You can discover where your family is from without even leaving your living room. Discover your story through the world's largest online collection of family history records — including over 3 billion international records. You can follow your family's journey across continents and trace your heritage to the countries where it began. Building your family tree is the first step to making new discoveries — and Ancestry® makes it easy. The names, dates, and places you add to your tree help them search their record collection for life details and hidden ancestors. Once you start your tree, Ancestry® will begin to comb through their collection and add possible details and discoveries to it. These hints are exciting clues that could lead to new ancestor connections, stories, and insights. Visit https://www.ancestry.com/.
The post Home Business Magazine's Valentine's and Pre-Spring 2023 Gift Guide appeared first on Home Business Magazine.
Original source: https://homebusinessmag.com/lifestyles/success-lifestyles/home-business-magazine-valentines-pre-spring-2023-gift-guide/