Home Business Magazine Online
Whether you run a business and want to convert your fleet to all-electric delivery vehicles, for example, or you are a homeowner who'd like to have an EV charger installed on their driveway to charge up your plug-in hybrid overnight, you are going to need the right kit. Not all EV charging installations are future-proof for the next generation of electric vehicles and not all installers think ahead to ensure that the equipment is sited in the best locations. Read on to find out what to expect if you opt for a professional installation and why it pays to turn to experienced EV installers.
Site Surveys and Suitability
To begin with, many commercial sites need to be surveyed by an installer before an installation can be optimised. Otherwise, you might end up with your EV chargers being located in the wrong place where they cause pinch points and access issues. A survey will also help the installation company to assess which sort of EV chargers will be most suited to the site.
In fairness, in many domestic situations, a survey won't be needed unless there are site-specific access problems. If you have a driveway or a garage on your property, then this stage can often be bypassed. However, your installer should want to see your electrical distribution board before proceeding. A photo is usually enough but if they don't ask for one, they might not be as professional or experienced as they seem.
Ordering the Right Equipment
No professional EV charger installation should proceed without suitable equipment. As mentioned, you'll want units that can charge your current all-electric or hybrid but also be compatible with newer models when they come onto the market. EV manufacturers like Easee, Hydra and Sevadis are all quite common and well-established in the UK market today but there are other options worth exploring. Make sure your installer is familiar with all the leading brands. Asking them to supply your charger may be a good move, too, since they can sometimes provide favourable rates.
In addition, make sure that the EV charger you end up ordering offers dynamic loading. This will help if you want to get the best out of the unit when charging. It can be particularly useful if you will be using it to charge more than one electric vehicle or if you need to maximise your charger for the fastest charge-up possible. While 7kW units are often suited to domestic installations, commercial properties may find it is preferable to spend a bit more to obtain a more powerful 22kW charger instead.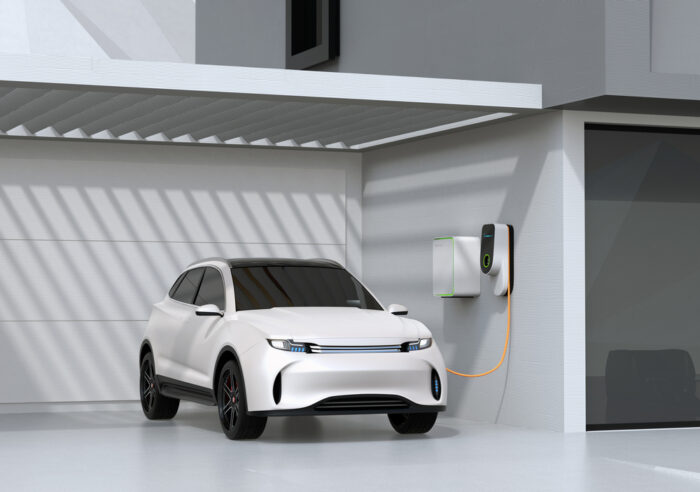 Wallbox and Floor-Standing Chargers
Regardless of the installer or manufacturer you choose for your EV charger, there are two main types of units to choose between. Floor-standing chargers can be located in any location because they are self-supporting. These are ideal for car parks and commercial installations where you will charge people to use your charger. Typically, they can be sited in the middle of four parking bays so that they can be accessed from all sides. Look out for additional installation costs associated with protective bumpers and surrounds, however.
If you opt for a wallbox charger, then obviously you will need a wall nearby where the unit can be mounted. Not all wallbox chargers look the same, however. Some can be very utilitarian in their appearance and resemble the sort of thing you would expect to see at a garage forecourt. If you want a unit that will blend in with the architecture of your home, then be prepared to shop around before you have your wallbox fitted for you.
Armoured Cables and Electrical Work
If you already have a power outlet close to where the EV charger will be installed, then there may be no extra work that is needed. If not, then it is possible that your installer will have to run a power cable from your distribution board or fuse box to the EV charger. Given that these units tend to carry higher loads than the average lighting ring, you will have to take into account the extra cost of armoured cable or external trunking if the installation is to be safe and weatherproof. Armoured cables can usually be disguised or even run underground if the sight of them puts you off.
Demonstrations and Warranties
For an EV charger installation to be truly complete, it should be demonstrated to you by the company that fitted it. According to Go Electrix, one of the most experienced installation firms working in Essex and London these days, demonstrating how EV chargers work is important from a safety perspective. Of course, any electrical work that has been conducted at your home or business premises should only be carried out by NICEIC-accredited electricians.
In addition, ask for an impartial inspection of your installation by a qualified electrician who didn't install it for you. Only truly professional installation companies will offer this service, something that is crucial for complete peace of mind following an installation sign-off. After all, you don't want to find out several months after you have been using your EV charger that there is a fault that isn't covered by the manufacturer's warranty because something was wrong with the initial installation. Note that warranties of 12 months are standard but some manufacturers offer longer guarantee periods.
Grant Funding
Finally, you should expect some government support with your home EV charger installation. Ask your chosen installer about accessing the OZEV grant scheme which means that hundreds of pounds — thousands in the case of commercial installations — can be wiped off your final bill. The government encourages people to have charging equipment installed by paying for part of the costs. However, it can be awkward to fill out the application forms which are a bit technical. Seek an installer who can guide you through the process or, better still, do it for you. This way, you'll stand a better chance of getting the full award that you are entitled to claim.
The post Professional EV Charger Installations: What to Expect appeared first on Home Business Magazine.
Original source: https://homebusinessmag.com/businesses/go-green/professional-ev-charger-installations-what-to-expect/