Home Business Magazine Online
As an entrepreneur, your first impression is important. An attractive, high-quality wardrobe is not only a great way to boost positivity in your first impressions, but you'll also feel more confident as you move through your daily business. With the temperature cooling down and the crisp mornings greeting your new days, you're probably getting warmer attire hung and ready in your closet. With every season change, it's always a good idea to freshen up your wardrobe with new staple pieces to elevate your style and boost your confidence. If you're seeking the latest fall fashion must-haves, we've got you covered. Below is a list of high-quality, professional and comfortable fashions that will elevate your fall wardrobe and boost your confidence as you move through your work weeks.
Stegmann Women's Original 108 Wool Clog
Also available in Men's!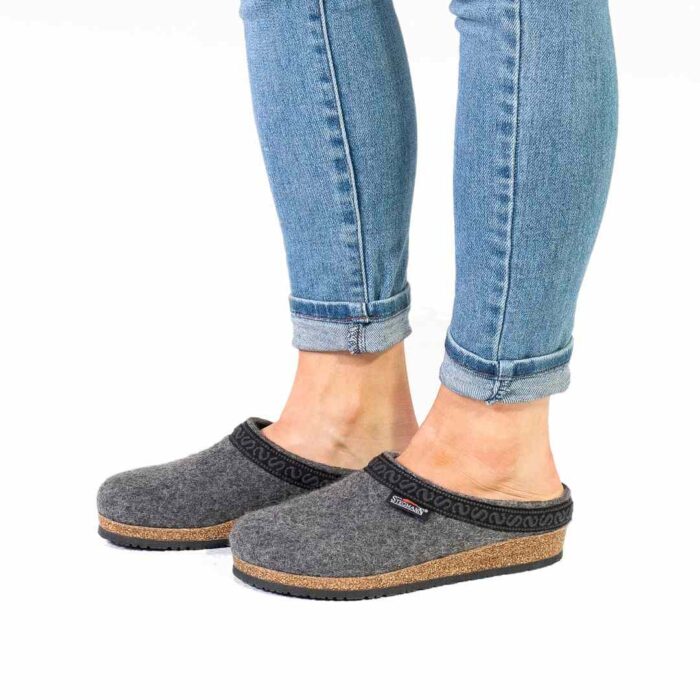 Nothing says Fall Fashion more than a pair of wool clogs and Stemann has some of the coziest and most functional around. Stegmann's Original 108 Wool Clog comes in both male and female versions. This clog is their most popular shoe for men and women. Their smooth, soft Merino wool felt wraps your foot in comfort, while their orthopedically shaped cork & latex sole provides impressive support and cushioning for your feet and back. This is a Medium (B) width clog with a generous toe box. Stegmann recommends ordering your usual shoe size if you plan to wear socks or have a higher volume foot. They recommend sizing down 1/2 size for barefoot wear, or if you prefer a snug fit.
Stegmann's Original 108 Wool Clogs are designed for indoor and outdoor wear. This clog does not have a removable insole or insert – the upper is a single, seamless piece of wool. The 108 Wool Clog features a Merino wool blend upper, a shaped cork & latex support sole, structured arch and metatarsal support, and cushioning with medium-level firmness. As a product of Austria, you can expect quality second to none. The 108 Wool Clog comes in a variety of attractive shades to choose from. Retails for $145 at stegmannusa.com.
Tolani Jonna Emerald Kimono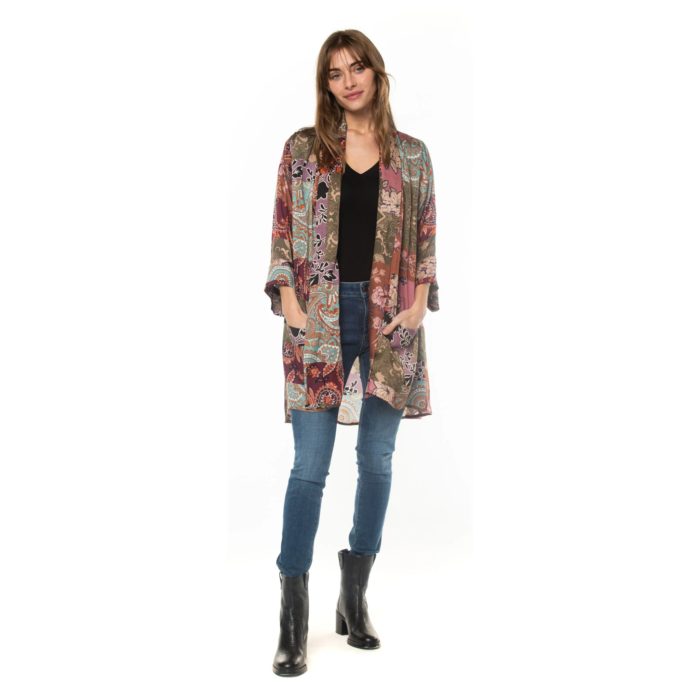 Growing up in North India, Alka Tolani of Tolani Collection had the opportunity to travel extensively, exposing her to the rich customs and heritage of cultures all over the world. Throughout her many travels, Tolani was always on the lookout for the most splendid colors, cuisines, and of course – clothes. Today, Tolani's designs are teeming with motifs from the art, the architecture, and the vivid brilliance of the world that continues to inspire her. The Tolani Jonna Emerald Kimono features soft, earthy tones that are perfect for Fall fashion. From your home office to your lunch meetings to your after-work adventures, this beautiful kimono-style wrap will take you there. With its silky-soft fabric and a fit tailored for elegant, sweeping movement, this wrap is as close as you can get to having wings of your own. This beautiful kimono is 100% viscose and comes in one size. Retails for $184 at tolanicollection.com.
Moral Code The Jade Mule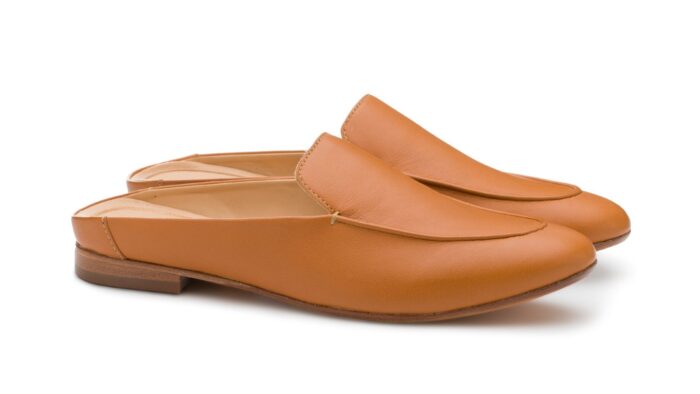 Moral Code is a brand that creates purposeful and long-lasting leather goods that you not only will look good in, but feel good about. For four generations they've always put quality first and not just for their products, but for their people. They monitor every aspect of their supply chain and ensure they deliver nothing but premium goods and an excellent working environment. The Moral Code Jade Mule is an essential flat to every women's shoe collection. The Jade takes it a step further by combining a beautiful design with eco-friendly materials, making it a mule that you can wear with confidence. This beautiful shoe features an Olivenleder® vegetable tanned leather upper, Chrome-Free leather lining for easy breathability, and sustainable threads made from recycled materials. With a leather padded, recycled foam footbed, this means The Jade forms to the shape of your foot for the comfort you need to move through your day. It's available in Cognac and Blush. On sale for $129 at moralcode.com.
Buckaroo Bling Spiny Oyster Hoop Earrings with Turquoise Accent
Buckaroo Bling is a small, handcrafted jewelry brand based in Kalispell, Montana. All their jewelry and accessories are made by a real person, made by hand, and made in Montana, USA. They are registered with the State of Montana and authorized to use the exclusive Made in Montana logo on their products. In the production of Buckaroo Bling jewelry and accessories, only US labor is used and they aim to source all materials in the US, in particular the turquoise, leather, and metals. If any of these are sourced elsewhere (e.g. turquoise from Mexico), this will be clearly shown in the product description.
Buckaroo Bling's Spiny Oyster Hoop Earrings with Turquoise Accent are office-friendly, limited edition, and made of sterling silver. Not only are they perfectly suited for any type of business casual outfit, but they also bring warmth with fall hues of deep orange reminiscent of all the pumpkin spice goodness associated with fall weather. At only 1 inch in diameter and a price of $80 per pair, they are a perfect little accent to brighten anyone's day. You'll love dressing these with your warm sweaters or scarves. Retails for $80 at buckaroobling.com.
Cozy Earth Bamboo Tapered Pant
Elevate your fall wardrobe with Cozy Earth's luxuriously simple designs crafted from only the best materials. Cozy Earth personally selects only the best supplies with an eye towards premium quality, responsible production, cutting-edge technology, and natural materials.
The softness and stretch you know and love from Cozy Earth's classic pants are now in a modern, tapered cut. Crafted from a lightweight bamboo viscose, Cozy Earth's Bamboo Stretch Knit Tapered Pants feature a flattering drape and tapered leg for those who prefer a more refined look. The adjustable drawstring and side pockets add comfort and utility to this stylish silhouette for your cozier days in the office. You'll love that Cozy Earth's enhanced weave prevents pilling and helps their products last longer. On sale now for $104 at cozyearth.com.
Kasper Banded Waist Stretch Crepe Sheath Dress
Kasper is known for priding itself on delivering exceptional quality and style with their best-selling collections. Their best sellers have become iconic pieces in the world of women's clothing, representing the epitome of sophistication and elegance. Kasper's Banded Waist Stretch Crepe Sheath Dress is a tailored piece that perfectly pairs with cardigans and blazers for a range of polished looks. Crafted with their stretch crepe with strategic banded seam details along the waist and sides that flatter the figure, it's a confidence-boosting staple you'll love wearing for years to come. This elegant dress features a sheath silhouette, an invisible zipper at the center back, and a vent extension for ease of movement. Additionally, it is knee-length, sleeveless (with extended cap sleeves), and has a crew neck. It comes in four color variations. Retails for $89 at kasper.com.
Masai's Nuria Collared Midi Dress
Established in 1992 by two siblings from Copenhagen, Masai is a clothing brand designed to accent the creative lives of women everywhere. Masai Copenhagen creates thoughtful, long-lasting collections with artistic influences, featuring their signature, flattering shapes crafted for movement and effortless comfort. Masai's Nuria Collared Midi Dress gives your Fall Fashion a touch of 50s nostalgia. Its soft jersey fabric is tailored in an oversized cut, so it falls loosely and comfortably over the body. The dress is designed with side slit pockets and a black shirt collar and cuffs in crisp cotton that contrasts beautifully with the yellow pattern. You can wear this beautiful dress with a pair of high boots for a stylish look and it fabric is thick enough to wear on its own those milder Autumn days. For those crisper days, it would look so chic with a complementary overcoat. Its shape fits as 'Oversized', its fabric is 97% Viscose and 3% Elastane, and its length is 45″ (size Medium). Retails for $238 at masaicopenhagen.com.
French Knot Sedona Hat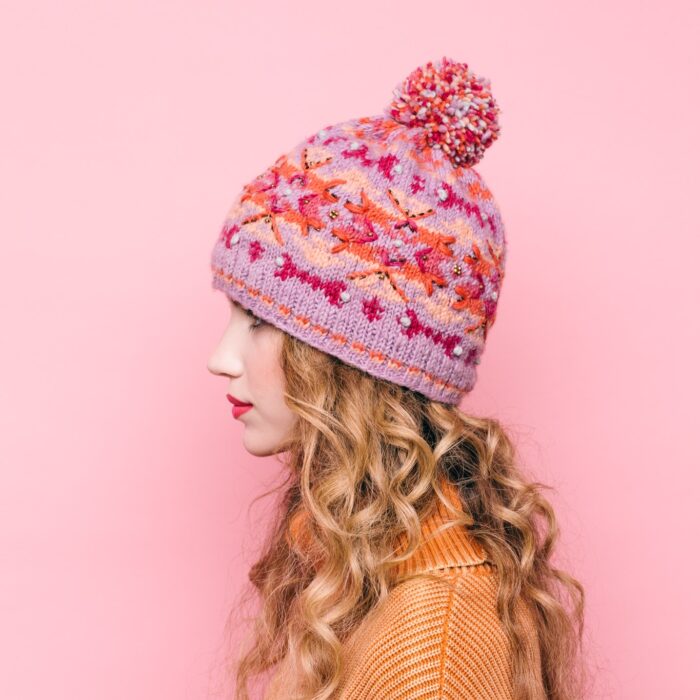 French Knot's hand-drawn designs highlight intricate embroidery, a glowing color palette, and beautiful embellishments that recall a vintage, feminine feel. In mixing beautiful patterns with warm and cozy yarns, French Knot accessories appeal to women of all ages and also last for generations to come. Inspired by vintage southwestern textiles, the French Knot Sedona Hat's knit patterns reflect similar motifs to ikat textiles. The feminine execution mixed with beading and embroidery gives this hat a unique artistic feel. Its fleece inner lining keeps your head warm as you are running to and from your home office. Retails for $85 at frenchknot.com.
Red Wing Heritage Women's Mocha Oro-iginal Classic Moc

This Fall 2023, Red Wing Heritage adds a warm, mocha leather to their best-selling silhouette, the Classic Moc. Red Wing first made the Classic Moc in 1952 and since then, it's grown into one of the most beloved lifestyle boots in the world. The 6-inch Moc is a staple of the Heritage line, fully tailored for women. It uses softer leather for a faster break-in period and its hydrolysis-resistant polyurethane Traction Tred outsole provides extra comfort at a lighter weight. The boot's iconic Moc toe construction and Puritan triple-stitching is an unmistakable symbol of Red Wing quality. The timeless staple is constructed with a Goodyear leather welt, allowing for years of daily wear.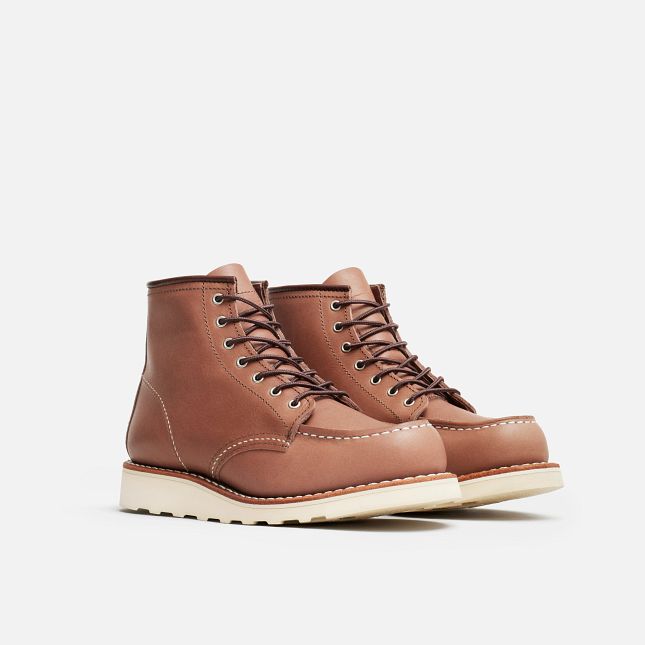 Perfect for every look, the unique tone of Red Wing Heritage Mocha Oro-iginal Classic Moc is as essential as the classic black boot, pairing perfectly with all your fall fashion must-haves. The Classic Moc truly tailors to you. A new pair of Red Wing Women's Heritage footwear should fit comfortably tight on foot, with enough room to freely wiggle toes. As you wear the footwear, the leather upper, insole and cork filler will mold to your feet, creating an increasingly personalized fit over time. This product is proudly made in the USA. Retails for $309.99 at redwingshoes.com.
Shahkaar's Beige Pashmina Scarf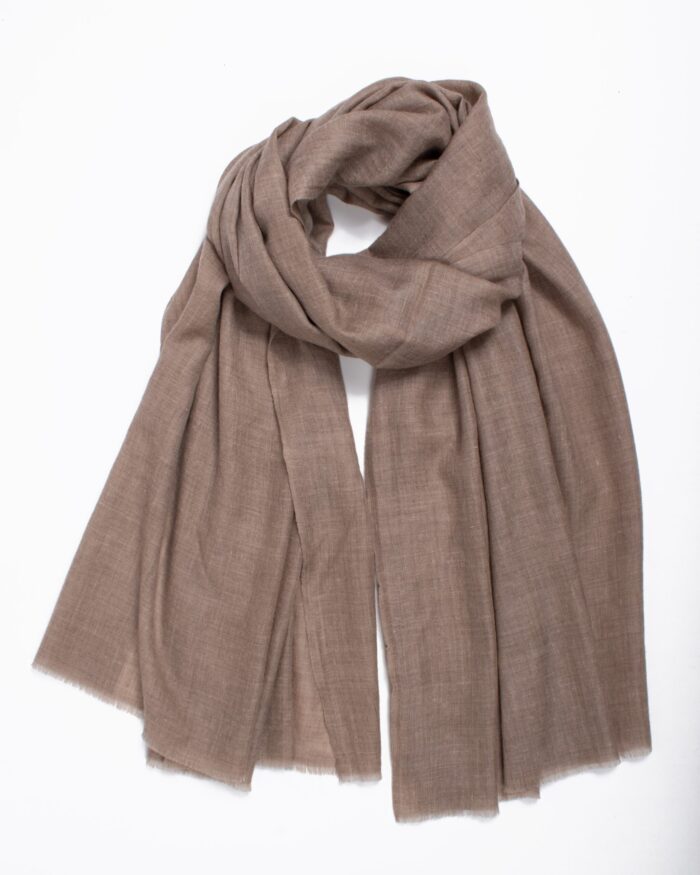 Indulge in the epitome of luxury and sophistication with a meticulously handwoven Kashmiri pashmina shawl from Shahkaar. Shahkaar is a word taken from the rich Urdu language meaning 'A Masterpiece'. This is the word that appositely expresses their dexterity as every single production of theirs is a masterpiece in itself.
Shahkaar's Beige Pashmina Scarf is an exquisite accessory that is perfect for the shift from summer to fall, adding warmth and sophistication to any outfit. As a busy entrepreneur it is important to have pieces that are versatile enough for both casual and dressy occasions. Shahkaar's Beige Pashmina Scarf can be dressed up or down depending on your occasion and is very comfortable to wear. Crafted by skilled artisans using traditional techniques, this exquisite accessory showcases the unparalleled softness and warmth of authentic pashmina wool. Retails for $129 at shahkaar.in.
Armitron Tilly
Armitron timekeepers provides Entrepreneurs stylish watches to be on time for meetings and deadlines. This Fall, step into the world of classic elegance with the Armitron Tilly Collection. These delicate rectangular watches are pure sophistication with traditional Roman numeral markers. They'll compliment any outfit you choose whether it be work-from-home casual or business formal for those more important meetings. The Armitron Tilly is available in genuine leather croco bands (black and honey) as well as metal or ceramic bracelets – offering an array of styles ready to elevate any look. An Armitron Tilly is for one who appreciates timeless sophistication, grace, and style. Retails for $65 at armitron.com.
KiraGrace Sleeveless Turtleneck and Renew Ultra High Waist Yoga Legging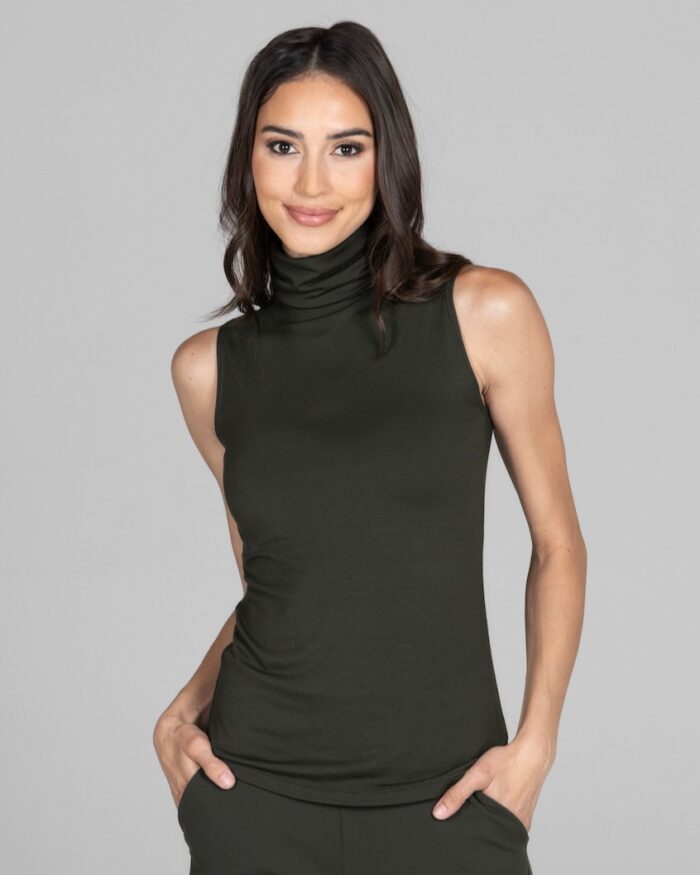 KiraGrace is a yoga clothing company based in San Diego, California. Their designs are intended to be an elegant extension of you and your life. KiraGrace's Sleeveless Turtleneck is a year-round essential, but especially perfect for Fall! Made from super soft, luxe fabric, this classy & elegant top can be dressed up or down depending on the weather and occasion. It features light compression so it is form-fitting for moderate support, has an elegant mock neck silhouette, and is made in the USA (of imported fabric). It also offers the KiraGrace Luxe in that it feels ultra-soft and luxurious and comes in the colors Loden Green, Black, and Black Current. Retails for $98 at kiragrace.com.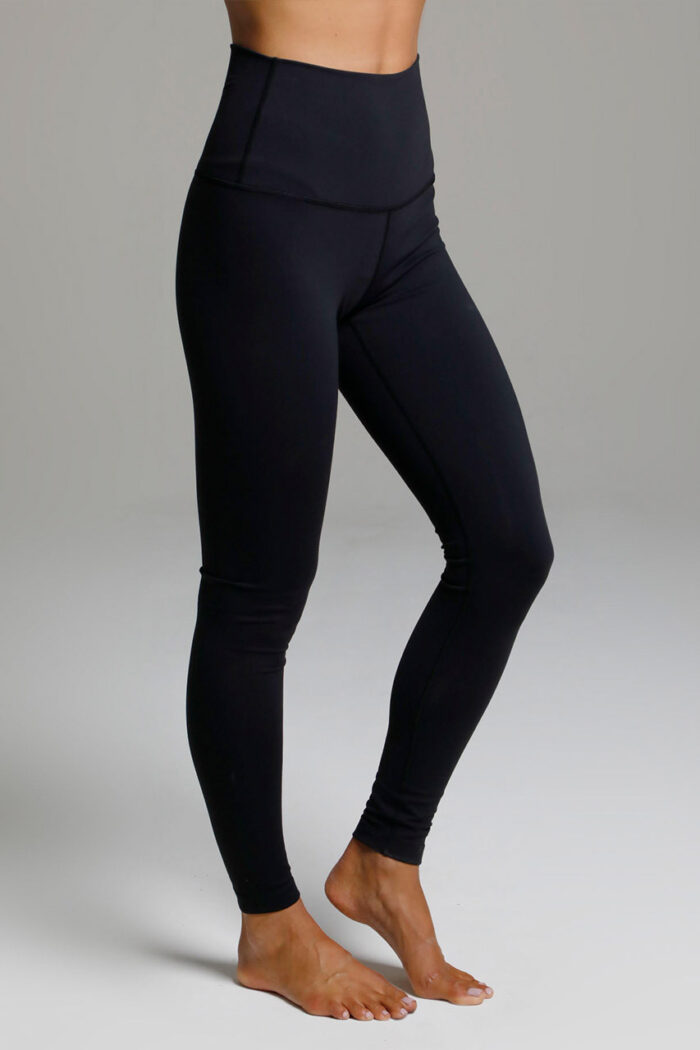 A nice pair of black leggings is a must-have Fall wardrobe staple in every entrepreneur's wardrobe. KiraGrace's Renew Ultra High Waist Yoga Legging: Black compliments your Fall sweater looks in your home office and thereafter accompanies you to your yoga sessions to decompress. Made with premium fabric for a richer, smoother feel, this classic black legging supports you with an ultra-smooth "no-dig" waistband all season. These fantastic leggings feature the KiraGrace PowerStrong: Supplex/Spandex. *SUPPLEX® combines the traditional appeal of cotton with the performance benefits of modern fiber technology. Supplex fabrics are breathable, hold their shape, and dry faster than cotton. Supplex manages moisture and keeps its vibrant color wash after wash. Retails for $98 at kiragrace.com.
Gigi Pip Zephyr Rancher
Gigi Pip offers chic and trendy hats that are a great staple piece for any wardrobe, and would tie together any business fit so nicely! Starting from the design room in Salt Lake City, Utah, Gigi Pip hats go through as many as 70+ steps before arriving at your doorstep, ensuring your hat is of the highest quality. Their mission is to build confidence in women and the many hats they wear. Gigi Pip offers hats in warm, neutral tones, making them easy to mix and match with any other pieces from your fall wardrobe.
Gigi Pip's Zephyr Rancher stiff brim hat is made of 100% Australian Wool and is flattering on everyone. Its teardrop crown paired with a stiff, medium upturned brim makes this style hat universally flattering. This must-have fall fashion essential can be styled up or down for any occasion. It offers great sun protection for those sunnier fall days all while keeping your head warm. The Zephyr Rancher fits true to size and comes with an adjustable inner sweatband for an added custom fit. It comes in a variety of attractive shades. Retails for $129 at gigipip.com.
J'EVAR Lariat Solitaire Diamond Necklace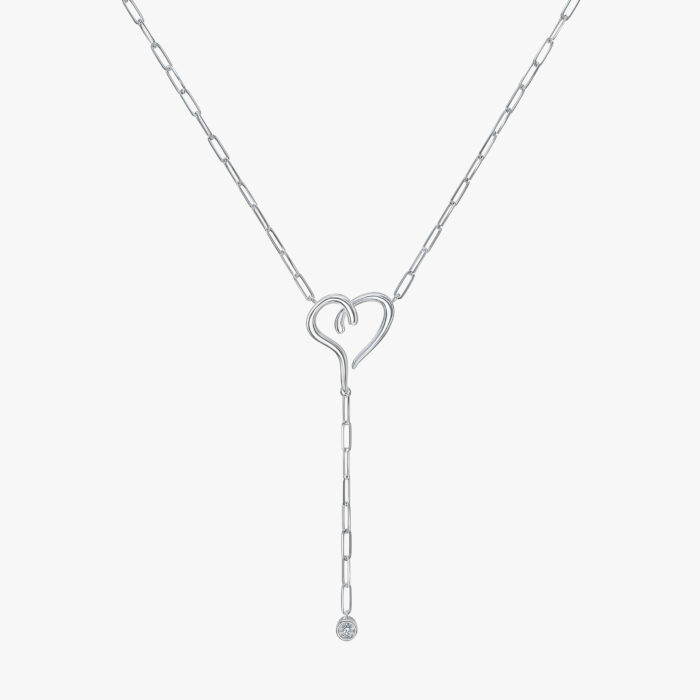 J'EVAR is a new sustainable fine jewelry brand from the pioneer behind the lab grown fine jewelry marketplace. J'EVAR Diamond Jewelry is made with the finest type IIA lab grown diamonds, the purest in the world. They are committed to creating stunning jewelry that's environmentally conscious. The company uses only solar-grown lab diamonds and recycled gold as well as carbon-neutral shipping. They also champion transparency in all aspects of their business. With J'evar, consumers can feel good about the jewelry they wear while looking and feeling their best.
J'EVAR's Lariat Solitaire Diamond Necklace, from their Beating Hearts Collection, is that perfect accent of elegance you are looking for to match your cozy sweaters and chic blazers. Both bold and subtle, this elegant paperclip diamond heart necklace makes an effortless style statement. Its metal is 100% Recycled Sterling Silver and its total Diamond Weight is 0.10 CT. The paperclip chain is made in Italy. With its generous, long silhouette, the way the lariat falls makes this a perfect accent piece on any of your fall outfits. The singular carbon-neutral type IIa lab grown diamond has been sourced from the House of ALTR- the world's purest. Retails for $325 at jevar.co.
KOOSHOO Hair Accessories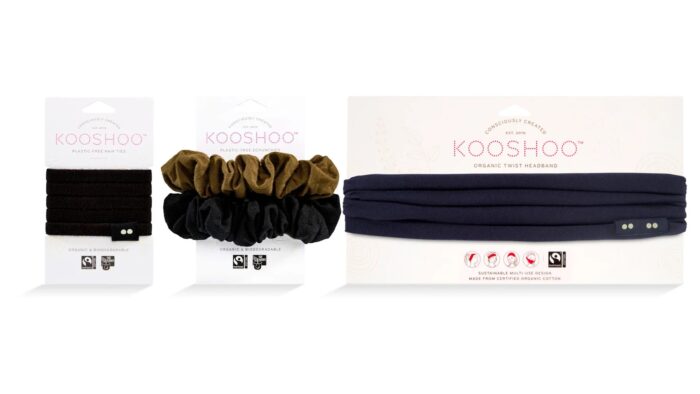 KOOSHOO are the makers of the world's first Plastic-Free Hair Ties. They also make Plastic-Free Scrunchies and Organic Cotton Headbands. KOOSHOO loves tones that evoke cozy feelings and some of their top tones this time of year are the warm and spicy shades of falling leaves and hot drinks. KOOSHOO's Curated Bundles are perfect for experiencing a little bit of everything they have to offer. Their bundles are convenient, save you money (the bigger the Bundle, the bigger the discount), and give you a selection of their hair hero products. For example – Are you a barre-lover? If so, their Be Active Bundle is a great choice. Need something for a day of pampering? They've got a Spa Day Bundle! Want to keep it simple and safe? The Understated Bundle is a fine choice to get a little bit of everything in darker Fall shades. Curated Bundles start at $26.95 at kooshoo.com.
Passion Lilie Cranberry Organic Wrap Dress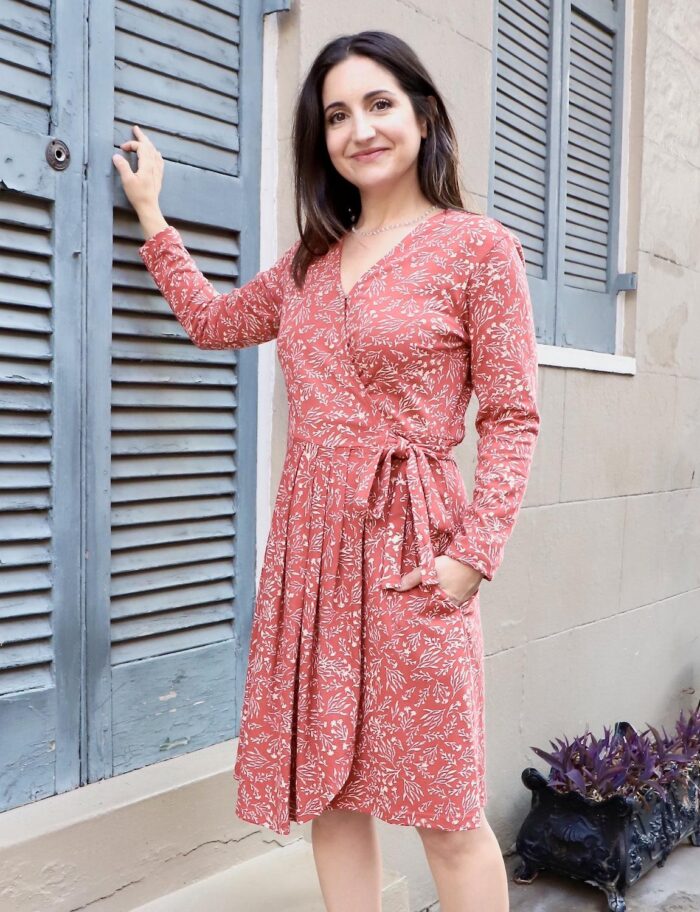 Passion Lilie is a fair trade fashion brand based in New Orleans. They blend classic silhouettes with handwoven ikat and playful block prints to create pieces that are both timeless by design and effortless to style. Designed with comfort and fit in mind, each item is ethically handmade in small batches in India by producers and artisans dedicated to preserving heritage techniques.
Passion Lilie's Cranberry Organic Wrap Dress is a light cranberry-colored floral wrap dress that is both cozy and festive. Paired with flats, heels or boots, this dress is a stunner for any occasion. The Cranberry Wrap Dress has front pleats, a hook and eye closure at the bust and side pockets. This dress is curve friendly and flattering for all body types, including those who are showing in pregnancy! Their cranberry floral-wrap dress is great for nursing or pumping mothers as well. This dress features 100% organic jersey cotton, is hand-block printed with organic dyes, and is Fair Trade. Retails for $118 at passionlilie.com.
Fisher's Finery Women's 100% Pure Cashmere Ribbed Knit Scarf Newport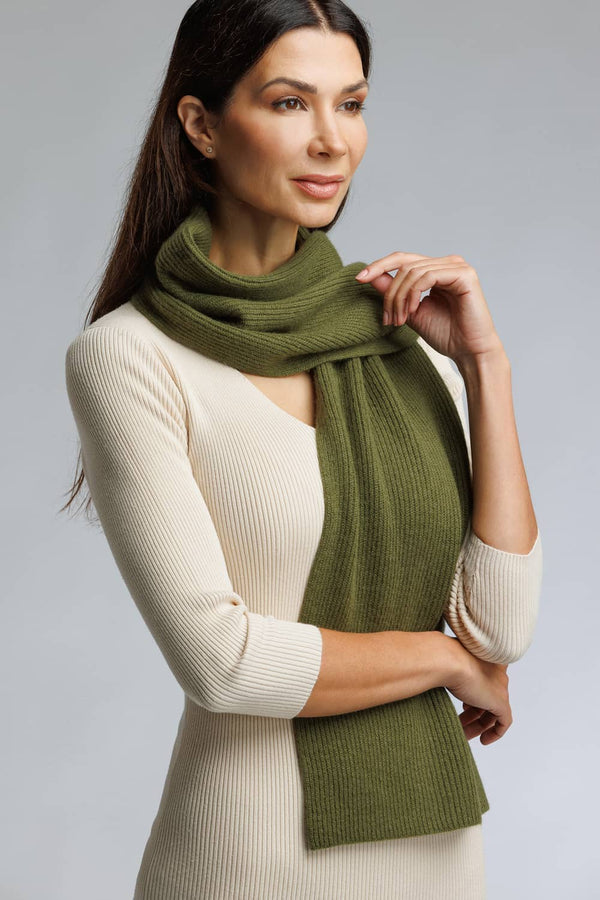 Fishers Finery prides themselves in being a wellness and self-care brand that designs and sells the highest quality clothing and household goods. Made of silk, cashmere, organic cotton, and bamboo viscose, every Fishers Finery product is the definition of luxury. The Fisher's Finery Women's 100% Pure Cashmere Women's Cashmere Ribbed Scarf Newport is a high-quality, versatile accessory that will complete your fall and winter outfits. Made from 100% pure cashmere wool, this scarf is designed to keep you warm and protected from the cold weather chill. It features a ribbed knit design and comes wrapped in a custom gift box. The scarf is pill-resistant and ultra-soft, providing both comfort and style. With its generous size of 72″ by 12″, you can knot it, wrap it, or let it hang for different looks. This beautiful scarf comes in a variety of colors to meet your styling needs. Retails for $89 at fishersfinery.com.
Duluth Trading Co Women's Free Swingin' Flannel Shirtdress and NoGA Naturale Cotton Leggings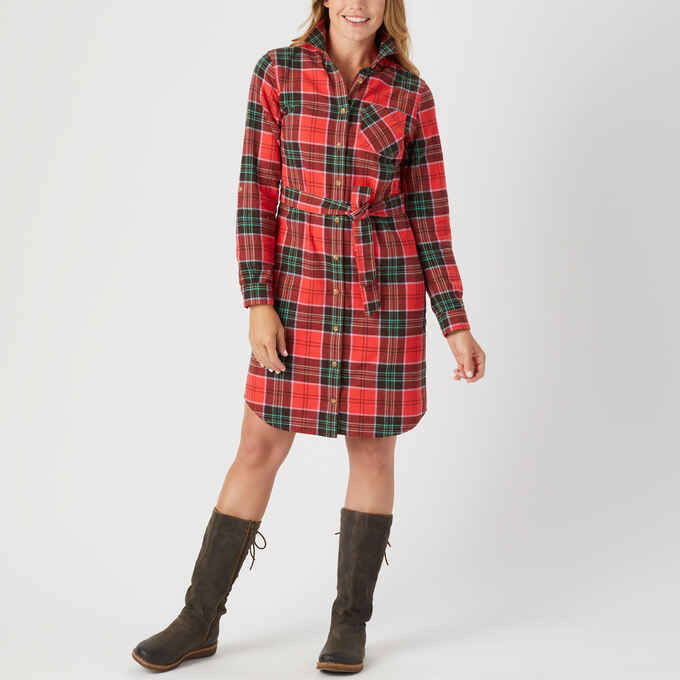 Duluth Trading Co. Stands by the craftsmanship of their functional, durable gear. They strive to one-up average with every product they make. They make stylish and functional wear for both men and women that are not only perfect for Fall but for the whole year-round. Duluth Trading Co Women's Free Swingin' Flannel Shirtdress is a plush and cozy 5.3-oz. 100% brushed cotton flannel shirt dress with a flattering cut that subtly cradles curves. Its matching waist tie lets you customize the fit, but it's the details like Reach Gussets

, a bi-swing back, convertible sleeves and low-profile pockets that make this shirtdress so darn work-ready. This perfect fall shirt dress comes in the patterns of Sunset Red Mountain Plaid (shown in the picture) and Black White Buffalo Check. Retails for $79.50 at duluthtrading.com.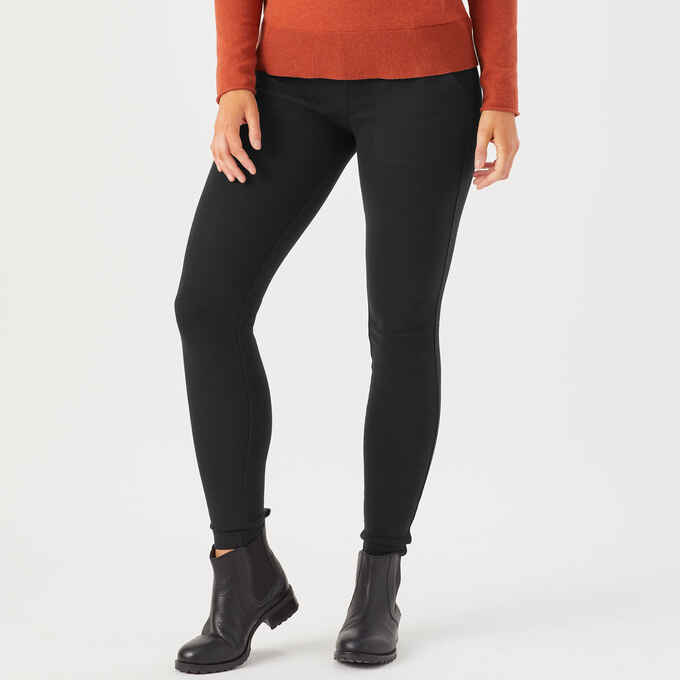 A good pair of warm cotton leggings are Fall Fashion Essential must-have. Duluth Trading Co. NoGA Naturale Cotton Leggings feature thicker, ultra-breathable interlock fabric that disguises lumps and bumps without constriction. You'll appreciate their extra-wide waistband smooths your midsection without squeezing. These incredibly comfortable cotton leggings have two front pockets that offer plenty of room for your personals, offer built-in UPF 40+ sun protection, and sit high-rise about the waist. These are leggings that are polished enough for the office – and they come in a variety of business-friendly color options. Retails for $59.99 (Jet Black) at duluthtrading.com.
The Pearl Source 5.0-5.5mm White Akoya Round Pearl Stud Earrings
The Pearl Source only focus is pearls. They've been in business for more than 20 years, as one of the largest importers of Freshwater, Akoya, Tahitian and South Sea pearls worldwide. Because they create all jewelry pieces in-house, they ensure that every order adheres to the highest standards of pearl quality available anywhere.
The Pearl Source's 5.0-5.5mm White Akoya Round Pearl Stud Earrings are a must-have fall fashion essential in your wardrobe. Delicate in size, yet powerful in glow, this pair features Japanese Akoya pearls that measure 5.0-5.5mm, ideal for a sophisticated daytime look. Select the fine metal tone of your choice, as well as the desired pearl quality and pick your favorite shade out of our stunning range featuring immaculate white, soft ivory and delicate rose. These will match wonderfully with any of your fall sweaters or scarves and will quickly become one of your daily outfit staples. Retails for $109 at thepearlsource.com.
Threads Opaque Contour Tights
Threads Opaque Contour Tights are 60 denier tights with their signature Threads contoured waistband. Thread tights are made in Italy by their factory partners in Castel Goffredo (in Northern Italy), also known as the global capital of hosiery since the 70s. These are made using double-covered yarn and have a smoother finish, making them less likely to static and stick to your clothes. Threads are just the comfortable and functional tights you are seeking for your fall wardrobe attire. You can wear them with your favorite dress or skirt, or under your pants as an extra layer for warmth. And you'll love they can be washed cold on a gentle cycle and hung to dry. Retails for $21 at yourthreads.co.
TOPO Designs Dirt Crew – Women's
TOPO Design's Dirt Collection starts with organic cotton seeds, fresh dirt, and water. Each of their garments is sewn first, then small-batch dyed with GreenScreen® certified dyes, keeping toxic chemicals out of your skin and reducing water usage by over 90%. The organic cotton used has extra-long fibers that provide stronger, more durable, yet softer fabrics. TOPO Design's Dirt Crew – Women's offers unparalleled comfort and style with this version of a classic varsity crew neck style sweatshirt. This crew feels soft and broken in from the start, like pulling your favorite go-to sweatshirt out of the closet. Pair it with leggings, jeans, or your favorite sweatpants. This is a crew neck you'll love to wear all season long. It comes in a variety of attractive shades and also comes in a men's version. Retails for $99 at topodesigns.com.
BLUNT Umbrella Classic
The BLUNT Umbrella is designed for moments of vulnerability, allowing you to move through life with ease, confidence and joy. Each component is meticulously engineered, working in perfect harmony to give you the confidence to brave the wild. BLUNT Umbrella offers five different sizes to meet your needs when you're caught in the rain or need some protection from the sun. Each BLUNT Umbrella is made up of four primary modular components – the canopy, frame, shaft and handle. This thoughtful and innovative design allows for easy repair and maintenance.
The BLUNT Classic is ideal for impromptu protection in a serious downpour – en route to work, school, or walking the dog. At 120cm wide, this iconic, full-length stick umbrella can withstand all elements, day in, and day out. Engineered with every element considered, the Classic is designed to endure and be handed down through generations. BLUNT Classic's system of individually engineered hardware components (frame, tip and canopy) work in harmony to create a high-performing, aerodynamic structure. It's ideal for one but can fit another small human (or pet) underneath. It comes in a variety of classic colors but also fun patterns to meet your styling needs. Retails for £80 at bluntumbrellas.co.uk.
The post Fall Fashion Must-Haves for Female Entrepreneurs appeared first on Home Business Magazine.
Original source: https://homebusinessmag.com/lifestyles/fall-fashion-must-haves-entrepreneurs/